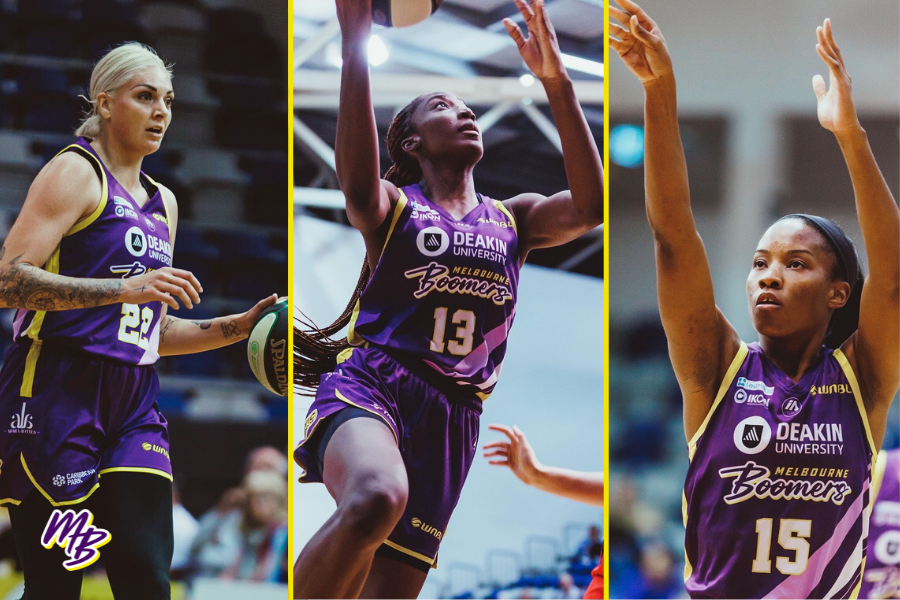 April 5, 2022 | Melbourne Boomers news
This season's WNBL All-Star teams were announced earlier this week with three Boomers named, after what has shaped up to be an ultra-competitive home and away season.
Betty Watson Youth Player of the Year, Ezi Magbegor, has also been named on the All-Star WNBL first team, with star import, Lindsay Allen, and Boomers' captain, Cayla George, making the All-Star second team.
Magbegor had a stellar home-and-away season for the Boomers, averaging 16.1 points, and 7.7 rebounds, and topping the league on blocks per game (1.6).
A formidable member of the national women's team, the Australian Opals, Magbegor made her Olympic debut at the Tokyo Olympics last year, averaging 12.5 points and 4.5 rebounds per game.
When speaking of her fellow teammate's accomplishment, George said, "Ezi is one of the best, if not the best, humans I have ever crossed paths in my life."
"All of the awards and successes she achieves in her lifetime on and off the court will be absolutely deserved!"
"Playing with her on the court these past four seasons with the Boomers and the Opals has been nothing short of incredible."
Lindsay Allen, made her return for her third season with the Boomers, injecting her class and grit.
Allen made the journey back to the Boomers alongside fellow United States import and Indiana Fever (WNBA) teammate, Tiffany Mitchell, after being unable to play in the league last season.
Allen averaged 13.5 points a game (fourth highest in the league) and sits in the top 10 of the league for average assists (3.7) this season. She is also one of a special type of player whose hard work in carrying her team may not always be blindingly obvious on the stats board.
"This recognition means a lot. I think it just speaks to the team that we have and, who we are led by in, Guy Molloy," says Allen.
"It couldn't have been done without them and I'm appreciative of the opportunity the Boomers have given me."
George is not surprised in the least that Allen achieved this accolade and cannot speak highly enough of her All-Star teammate.
"L.A. (Allen) is one of the best point guards I've ever played with," says George.
"The amount of respect and love I have for her is off the charts. I'm not surprised that she has achieved this accolade this season!"
George herself stood out this season, the Australian Opal equalling fourth in the league for blocks with Perth's Lauren Scherf, and achieving an average three-point percentage of 37.9 (fifth in the league). She is nothing but appreciative when speaking of her recognition by the league.
"This season will always be one for the history books for a lot of reasons," says George.
"The recognition of individual awards is always a nice feeling but this year, with the team we have assembled, I'm just grateful to have crossed paths with these amazing, talented women."
How these players speak of each other is nothing short of an example of how club culture has contributed in how they have been able to achieve so much in such a tough season.
"Both L.A. and Ezi will be sisters for life!" Says George.
"That's probably the best thing about playing this game – the people you meet along the way."
Allen admits it's been a very special experience to be able to play with Ezi and Cayla, "They make my job easy as a point guard," she says.
"They're beyond talented and skilled – of course, as Opals players – but they're some of the greatest people and teammates I've been able to meet in my basketball journey."
"I'm grateful to have played with them for three seasons up to this point."
"I also want to recognise Tiff (Mitchell) and Tess (Madgen) for what they've done this season, the Boomers could've had all five starters on the first and second teams, and their contributions certainly do not go unnoticed."
The two teams are selected by coaches and captains at the end of the season from a list of 20 players who received MVP votes during the regular season.
Coaches and captains can't select players from their own team. Players are selected on their season performance rather than position.
WNBL ALL-STAR FIRST TEAM: Jackie Young (Perth Lynx), Anneli Maley (Bendigo Spirit), Brittney Sykes (UC Capitals), Steph Talbot (Adelaide Lightning), Ezi Magbegor (Deakin Melbourne Boomers)
WNBL ALL-STAR SECOND TEAM: Lindsay Allen (Deakin Melbourne Boomers), Marina Mabrey (Perth Lynx), Alanna Smith (Adelaide Lightning), Cayla George (Deakin Melbourne Boomers), Kelsey Griffin (UC Capitals)