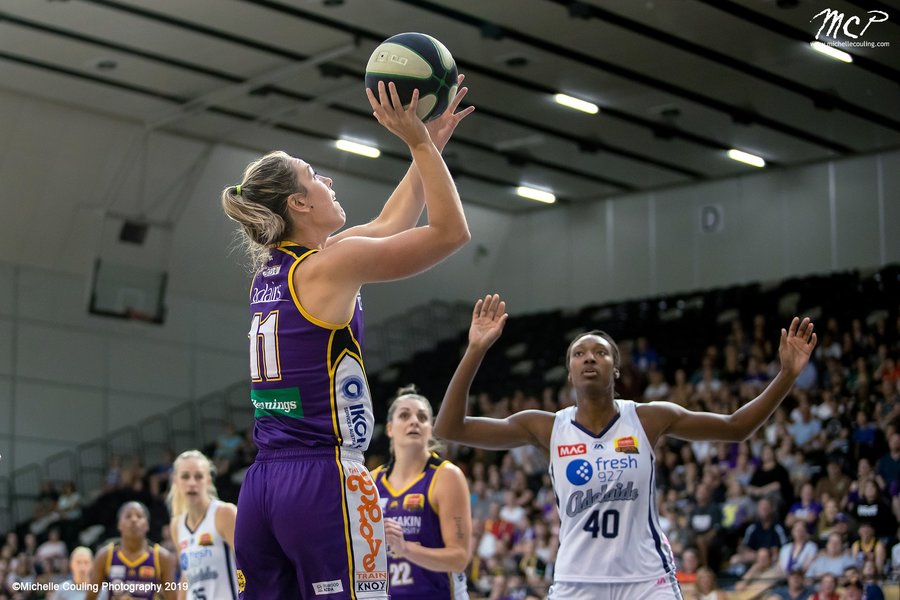 January 30, 2019 | Melbourne Boomers news
The Deakin Melbourne Boomers will play the Adelaide Lightning in a must-win Semi-final game two this Thursday in Adelaide from 7:30pm.
The Boomers need to win in order to set up a deciding game three re-match at the State Basketball Centre this Sunday February 3.
The Boomers fell short to the Lightning in game one of their Semi-final series at home on Sunday night as they struggled to click offensively.
However, Melbourne will be looking for revenge this time around and with an 8-2 on-the-road record this season, the Boomers enter the match-up full of confidence.
The Boomers also bet the Lightning on all three occasions in the regular season, including a 15-point victory in Adelaide in Round 14.
Looking for somewhere to watch the game? The Wantirna Club are hosting a viewing party for Boomers supporters and members on their BIG screen.
SEMI-FINAL GAME DAY INFO
WHO: Deakin Melbourne Boomers vs Adelaide Lightning
WHEN: Thursday January 31
TIME: 7:30pm tip-off (Melbourne time)
WHERE: Titanium Security Arena, Adelaide
BROADCAST: The game will be televised LIVE by Fox Sports (ch.506).
SPECIAL OFFER
All Boomers fans wishing to watch the game from Melbourne are encouraged to head to the Wantirna Club (350 Stud Rd, Wantirna South) to see the Boomers on the BIG screen. Entry is free and there will be Boomers merchandise for sale as well as food/drinks available to purchase at bar prices.
FINALS MERCHANDISE
Come and buy your 2018/19 Finals t-shirt and limited-edition finals poster at the Wantirna Club viewing party on Thursday night from 6:30pm.
Deakin Melbourne Boomers
The Boomers will be looking to get a strong start and make impact on the scoreboard early, following the loss of last week's game due to shooting inaccuracy.
All Boomers players are in full health, with coach Guy Molloy having a full list to select from.
The Boomers have bet the Lightning on all three occasions in the regular season, with their on-the-road win over in Adelaide their most dominant victory against them.
Adelaide Lightning
The Lightning will relish the opportunity to play back in front of their home crowd this Thursday as they look to cement their Grand-final series spot.
In their game one Semi-final meeting, the Lightning held the Boomers to their second lowest score of the season.
Despite Nia Coffey facing a collision with Boomers Lindsay Allen in their last contest, she is expected to return to play on Thursday.
PLAYERS TO WATCH
Deakin Melbourne Boomers
Ezi Magbegor: In her first finals game, Magebegor was the bright spark in the Boomers tough loss, scoring a team-high 14 points on an outstanding 100 per cent shooting.
Lindsay Allen: Allen has had some big outings against the Lightning this season, averaging 15 points per game across their three regular-season meetings.
Adelaide Lightning
Nia Coffey: The Round 15 Player of the Week and WNBA import was huge for the Lightning in game one of the Semi-finals, scoring 16pts for the game along with finishing on 8rebs.
Nicole Seekamp: Seekamp scored a game-high 18pts in the last match-up against the Boomers while also leading with 8asts.
SOCIAL MEDIA
Keep up-to-date on game day with our live coverage on Twitter (@MelbourneBoomer), get a behind-the-scenes insight on the day by following us on Instagram (@melbourneboomers) and like us on Facebook (facebook.com/MelbourneBoomers/).
GAME BROADCAST
Game two of the Semi-finals is being televised LIVE on FOX Sports Australia channel 506 from 7:30pm.
NEXT UP: SEMI-FINAL GAME THREE
The Boomers have to win game two in order to take it to a game three decider on Sunday February 3 at the State Basketball Centre from 7:30pm.