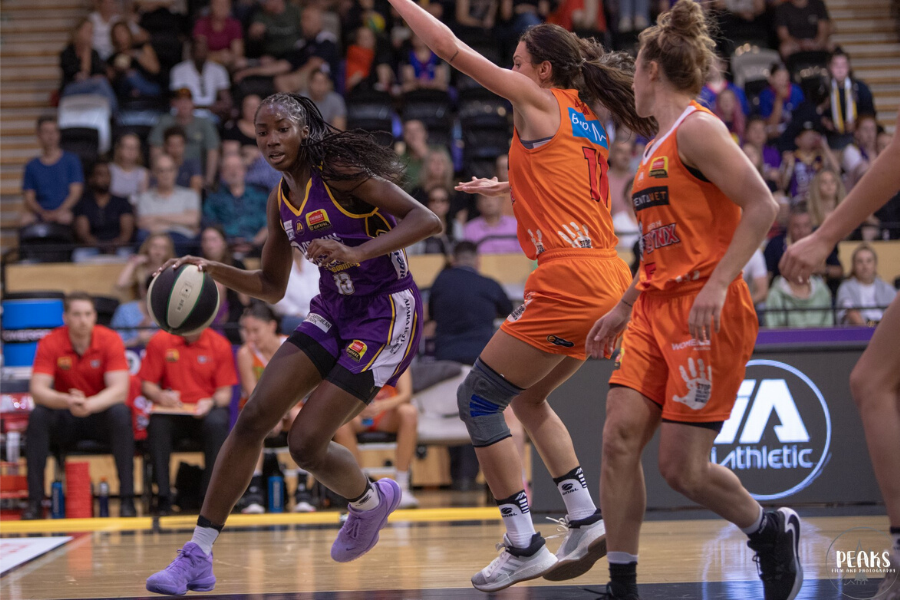 December 11, 2019 | Melbourne Boomers news
After a nail-biting win on Sunday, where the Deakin Melbourne Boomers snatched victory from Perth Lynx in the fourth quarter at the State Basketball Centre, the two teams will meet again in Perth this weekend.
The Boomers are sitting comfortably in third place on the WNBL ladder, whilst Perth's battle for one of the finals spots continues, making this a crucial match  for the home side.
Boomers head coach Guy Molloy is expecting a stern test this Sunday and believes luck hasn't favoured Lynx this season.
"I know they've had a lot of overtime defeats and then the injury to [Imani] McGee-Stafford and bringing [Ariel] Atkins in late; they've had some significant hurdles," he said.
"If you're a fan looking at it and you wonder why they haven't clicked and won those games, the reality of it is when you experience the injury troubles they've had with their imports, and then those early overtime defeats, it rocks your confidence.
"They're a really good team and they'll find their way and I think it's a really dangerous game for us."
SATURDAY NOVEMBER 9TH
Who: Deakin Melbourne Boomers vs Perth Lynx
Time: 1:00pm (Perth local time)
Where: Bendat Basketball Stadium
Live Stats: Will be available here.
MEMBERSHIP
There's still time!
We have a massive offer on our four-game memberships –  buy one adult and get a junior free! You don't want to miss out on this awesome deal! Buy your membership here!
TEAM NEWS
Deakin Melbourne Boomers
The Boomers have the highest steal count in the league this season, accumulating 103 steals in the first eight rounds.

The Boomers are on an equal eight wins with the UC Capitals, placing them just below the reigning champs on the WNBL ladder.
Perth Lynx
Perth is proving dominant on the boards this season and have recorded the second highest rebound count so far with 452 rebounds, including 298 defensive and 154 in their offensive play.

Perth have only won three games this season and are currently sixth on the ladder, two wins behind Adelaide who currently hold the fourth spot.
PLAYERS TO WATCH
Deakin Melbourne Boomers
Kalani Purcell – whilst Purcell is undoubtedly one of the Boomers' strongest defensive players she has been improving her offensive game with each week that passes. Purcell made seven points in both matches in round eight for the Boomers.
Maddie Garrick – once again the co-captain was fierce for the Boomers' double header in round eight, she top scored for the match against Perth with17 points to go with three rebounds and four steals.
Perth Lynx
Imani McGee-Stafford – put on a strong display against the Boomers on Sunday, making a double-double (11 points, 11 rebounds) and is averaging 9.6 rebounds per match this season.
Maddison Allen – leading the league in blocks this season, Allen has made 23 over 11 matches, averaging 2.1 per game. Allen made three blocks against the Boomers in round eight and 12 points.
SOCIAL MEDIA
Keep up to date with all the Boomers live tweets on Twitter (@MelbBoomers) and take a behind the scenes peek into the life of being a Melbourne Boomer by following us on instagram (@melbourneboomers) and don't forget to Like us on Facebook for all the latest updates and news (facebook.com/MelbourneBoomers/).
We love seeing your photos at the games or in your Boomers merch! So tag us in your photos #BoomersFamily #ItsOurTime.
GAME BROADCAST
The game will be live streamed to the WNBL website.
NEXT UP
In a Christmas Derby clash the Boomers will next face Adelaide Lightning at the State Basketball Centre on December 22nd.