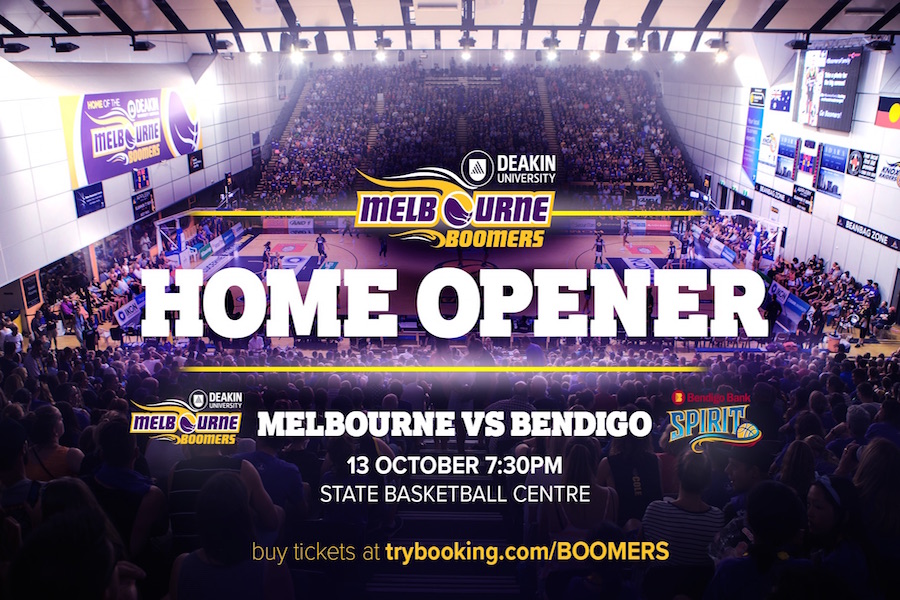 October 9, 2018 | Melbourne Boomers news
THE DEAKIN MELBOURNE BOOMERS will step on the court for their first game of the Chemist Warehouse WNBL 2018/19 season when they host Bendigo Spirit this Saturday 13 October at the State Basketball Centre from 7:30pm.
Proudly presented by Deakin University, the Home Opener will feature lots of giveaways and plenty of fun, including a FREE t-shirt for the first 3,000 fans with thanks to Chemist Warehouse and Ostelin.
With the Boomers looking to expand upon their impressive 2017/18 season, a massive crowd is expected for this Saturday night's showdown. Fans are encouraged to purchase reserved seats online at www.trybooking.com/BOOMERS
General Admission tickets will be available at the door, while memberships are still available online and at the game.
GAME DETAILS
Who: Deakin Melbourne Boomers vs Bendigo Spirit
Date: Saturday 13 October
Time: 7:30 PM
Doors Open: Tickets sales from 5:30pm / access to court from 6:30pm
Location: State Basketball Centre, Wantirna South (High Street Rd exit off Eastlink)
Ticket Price: Can be pre-purchased online HERE or at the door (subject to availability) – Adults $20, Concession $15, Juniors $10 (17yrs & under), Family $50.
MEMBERSHIP
Join the Boomers Family by visiting the foyer for membership purchases and enquiries from 5:30 pm until half an hour after the game. Memberships also available online at www.trybooking.com/BOOMERS
MERCHANDISE
Stock up on the new-season Boomers merch, check it out from 5:30 pm until half an hour after the game.
TICKETING
To further encourage the rise in pre-booking tickets online, the Boomers have set the same pricing for online purchases (Reserved Seats) and tickets at the door (General Admission).
Online: Online bookings are for reserved seats. Go to www.trybooking.com/BOOMERS to buy your tickets.
At the game: General Admission only tickets will be available to purchase at the door on game day. These are subject to availability, and with a big crowd expected it's suggested you make sure you arrive early to ensure you don't miss out.
TEAM NEWS
Deakin Melbourne Boomers
1. The Opals quartet – Ezi Magbegor, Jenna O'Hea, Cayla George and Steph Talbot – will be available for the game and are all expected to play.
2. Maddie Garrick, who is one of six returning players for the season, will also be available for the game following her recovery from a minor ankle injury.
3. Jaz Shelley, Sarah Boothe and Lindsay Allen will all be making their WNBL debut.
Bendigo Spirit
1. After finishing last-placed in the WNBL 2017/18 season, the Spirt will be hungry to redeem themselves in the season ahead.
2. Bendigo performed well in their pre-season, playing the Boomers four times, winning one game in the Triple Crown last month.
PLAYERS TO WATCH
Deakin Melbourne Boomers
Lindsay Allen: The 23-year-old point guard has joined the Boomers fresh off a WNBA season with the Las Vegas Aces. The 4-year starter out of Notre Dame is expected to make a big impact in the team this season.
Sarah Boothe: The Boomers signed the 195cm centre this year and she will take on her first season of WNBL, following two dominant seasons in Victoria's State League (Big V).
Bendigo Spirit
Maddy Wild: The Spirit re-signed the back-up centre and home-grown star earlier this year, and she will be looking to take further steps in her second season for the Spirit.
Jamie Scott: The 23-year-old point guard Canadian international was recruited this year by the Spirit, and is another player who has just returned from the World Cup where she represented Canada.
AFTER THE GAME
Come on court and meet the team! Boomers players will stay on court for up to 45 minutes post-game to chat and sign autographs with all the fans. Dexter the Mascot will also be there to say hello.
JUNIOR CLUB ACTIVATION
The Boomers have 80 partnering grassroots clubs and associations supporting the team in the WNBL 2018/19 season. Those featuring in Saturday night's game include;
Pre Game
• Ball exchange – South East Eagles
Half Time
• AND1 Cup – U12 & U14 teams from Casey Cavaliers & Craigieburn Eagles.
• U14 Skills Challenge – representatives from Oakleigh Raptors, Banyule Hawks and Maroondah Magic.
SOCIAL MEDIA
Keep up-to-date on game day with our live coverage of the game on Twitter (@MelbourneBoomer), get a behind-the-scenes insight into the day by following us on Instagram (@melbourneboomers), and like us on Facebook (facebook.com/MelbourneBoomers/).
At the game? Tag us in your basketball photos using the hashtags #TimeToBelieve, #BoomersFamily and #PurplePower.
LIVE STREAM
For those not at the game, you can watch it live on the Boomers Facebook page.