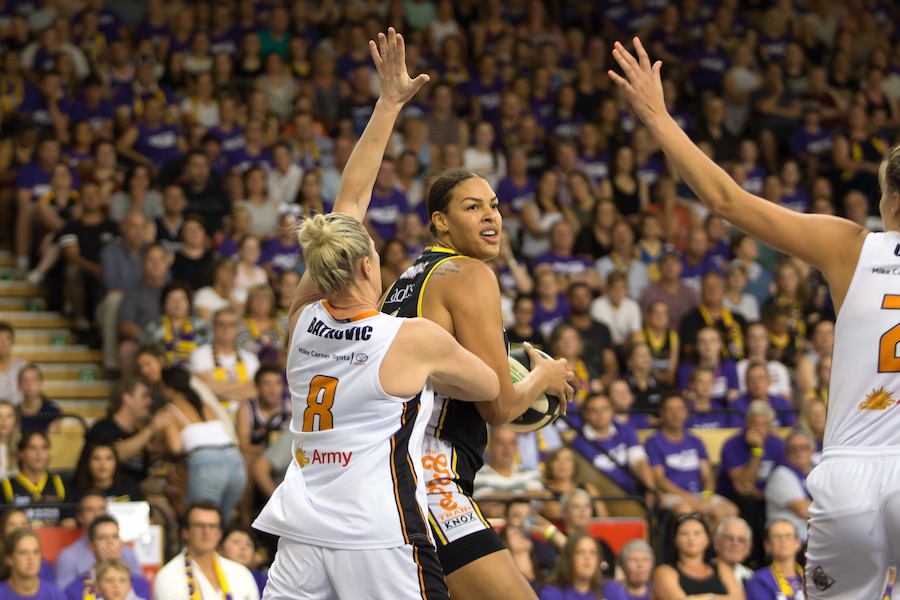 January 18, 2018 | Melbourne Boomers news
In amazing scenes, the Deakin Melbourne Boomers have clinched a one point win over the Townsville Fire to keep their championship dreams alive.
In front of a capacity crowd of 3,655 at the State Basketball Centre, the Boomers roared to the finish, with a clutch layup from Liz Cambage in the dying moments of the game sending the fans into a frenzy.
Melbourne's calm heads down the stretch combined with Liz Cambage's offensive prowess brought the Boomers home, the final seconds some of the most thrilling of the WNBL season.
Cambage was a standout in the second half, acting as a driving force in her team's fourth quarter comeback, scoring the game's last four field goals (Kelly Wilson's free throws the only other score in that time).
Louella Tomlinson and Kalani Purcell turned the Boomers defence up another notch on the court. After struggling with rebounds in Game 1, the Boomers made it clear in the second half that they weren't going to let Townsville go without a fight.
Tomlinson put forward one of her best performances this season to finish with 9rbs, 2ast, 2blks, while Purcell remained consistent as always in defence to finish with 7pts, 10rbs, 2stls.
Cambage said that the vocal support from fans and members drove the team to steal the win.
"I was just happy to get the win…We put ourselves in a corner and really fought our way back and I honestly think the first six quarters of this series hasn't been us, we've been playing kind of scared, with a lack of confidence and that second half, I think we finally came alive and showed everyone what our game was, and that's our game," said Liz.
The win pushes the Grand Final Series to a third game for the first time in WNBL history, with the Boomers now to face Townsville in the deciding game on Sunday night in Townsville at 7pm Melbourne time.
All Boomers fans wishing to watch the game from Melbourne are welcome to head to the Wantirna Club (350 Stud Rd, Wantirna South) to watch the game amongst their Boomers Family on the big screen.
More details to follow.