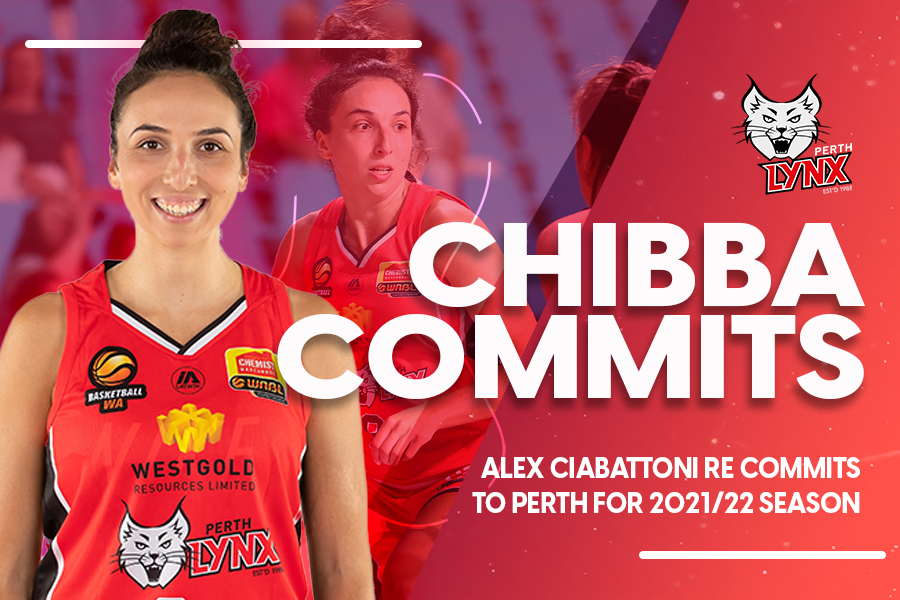 June 24, 2021 | Perth Lynx news
The Perth Lynx are excited to welcome back fan favourite Alexandra Ciabattoni for the 2021/22 Season. After suffering an ankle injury just before the WNBL Hub Season in Northern QLD, Chibba still managed to play significant minutes on the court and show her impressive versatility.
Playing 11 games, Ciabattoni averaged 25 mins court time, 10 points a game and 3 rebounds. Assistant Coach Keegan Crawford noted, "After a frustrating injury start, Chibba provided a key factor to the group. In addition, her size at her position provided a matchup nightmare for opposition teams"
Head Coach Ryan Petrik knows the upside of having someone like Alexandra in the team, saying, "Everyone knows Chibba's a talented basketball player, but it's her versatility and the fact she can legitimately play 3 positions well, which we love. We want to play a positionless style of basketball largely, and Alex helps us do that."
"Unfortunately, last year, she busted her ankle badly right before we left for the hub. Up until that point, I've never seen her play better basketball. I don't think it was a coincidence Chibba's ankle improving in the 2nd half of the hub season saw a direct correlation with us playing a much better brand of basketball; she's critical to what we do."
The WNBL 2015/16 Rookie of the Year has continued her excellent form in the NBL1 West conference with an impressive season so far with the Rockingham Flames. A key component of their roster, she is averaging 17 points, 4 assists and 5 rebounds in her 9 appearances.
Chibba is excited to get back playing with the Perth Lynx, "I think we played a great and exciting brand of basketball last season, which made coming back an easy decision. We have a big challenge ahead of us, but I think Coach Petrik is putting together a team that will be competitive and will see us playing into the postseason"
The Perth Lynx roster for WNBL 2021/22 now features Darcee Garbin, Alex Sharp, Ashleigh Isenbarger, Lauren Scherf, Emma Clarke and Alexandra Ciabattoni.
24 JUNE 2021
END
For more information: 
Brent Dawkins
Perth Lynx General Manager
brent.dawkins@basketballwa.asn.au