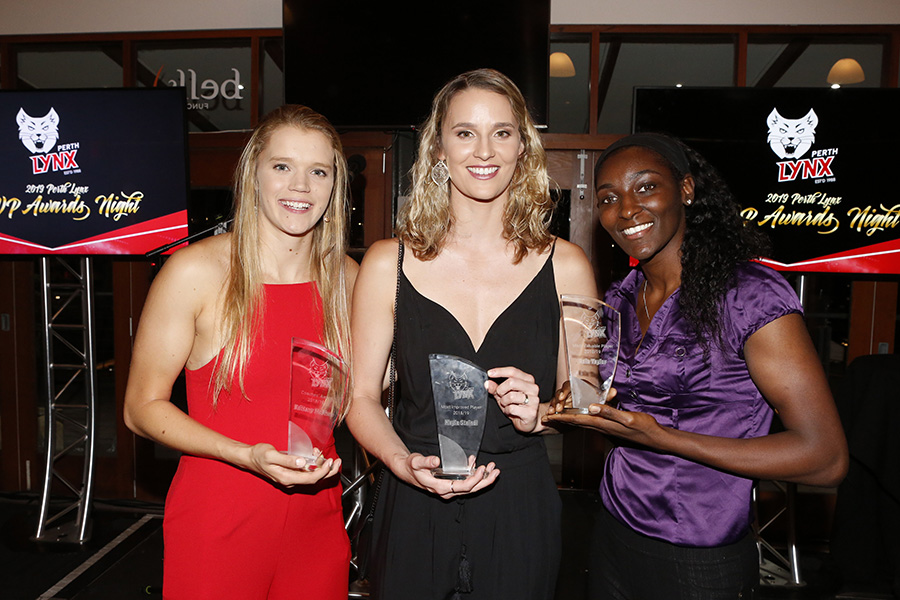 February 11, 2019 | Perth Lynx news
Asia Taylor has headlined the Perth Lynx MVP Awards night, taking home the Perth Lynx Most Valuable Player award for the 2018/19 WNBL season.
In her first season with Perth, Taylor averaged 18.91 points, 8.09 rebounds, 2.09 assists and 1.82 steals per game.
The star import set career highs in total points, three point makes, steals and blocks, and was one of the most heavily scouted players in the league.
In her third season in the WNBL, Taylor was named in the WNBL Team of The Week six times, the second-most by any player.
The Perth Lynx Coaches' award went to Brittany McPhee after her impressive first season in the WNBL, where she averaged 13.61 points, 6.87 rebounds and 1.83 assists per game.
McPhee had her breakout game with 32 points in a win over the Townsville Fire in round two.
With her elite defence on display every game, Katie-Rae Ebzery was awarded the Perth Lynx Best Defensive Player.
Ebzery guarded an array of elite players through the season, and was given WNBL Life Membership by the league.
After making strides year after year, Kayla Steindl was recognised as the club's Most Improved Player for the 2018/19 season.
Steindl's defence was highlighted as a major factor, and was in the starting lineup every game this season.