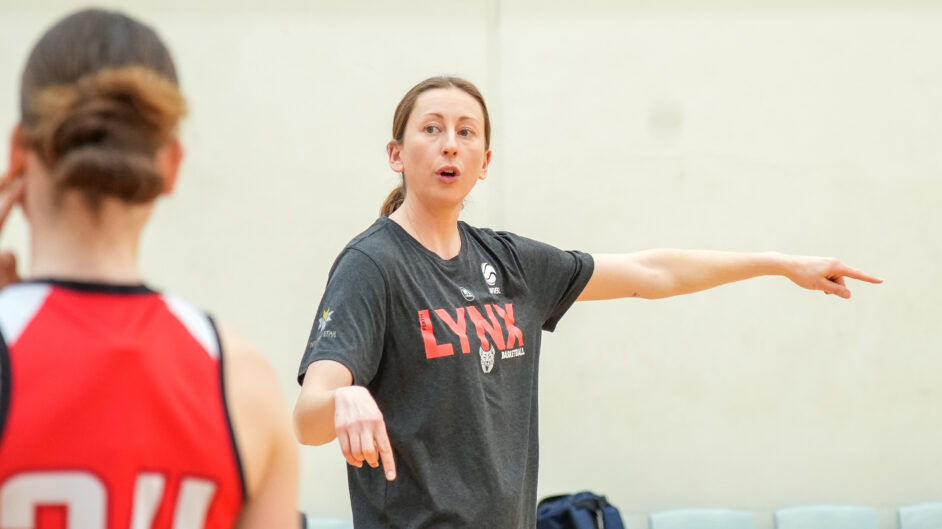 November 10, 2023 | Perth Lynx news
Nat Burton made a career around the world out of being a standout defensive player and she's proud of the way the Perth Lynx are focusing at that end this WNBL season even if it's the high octane offence getting all the attention.
The Lynx made the perfect start to the 2023/24 WNBL season last Friday night beating the Sydney Flames 85-71 at Bendat Basketball Centre ahead of being back home this Saturday to play host to the Adelaide Lightning.
Burton is back part of the Lynx coaching staff for a third season under head coach Ryan Petrik and alongside Brad Robbins on the back of her glittering playing career in the WNBL, for the Australian Opals, in college at West Virginia, in Europe and locally in the NBL1 West competition.
She even gave a brief thought to resuming her WNBL playing career this season, but opted against it to continue in her coaching role and couldn't be more delighted with that decision, and with the way the Lynx started the season.
Being impressed with the defence
What Burton liked the most from the season opening win against the Flames last Friday night was the performance at the defensive end.
The offence on this team the way it's built is always going to be there, but to hold the Flames to just 71 points with shooting 37 per cent from the field and 19 per cent from deep was a terrific start.
For the Lynx to also win the rebounding count for the game, to score 14 points from the 12 Sydney turnovers, and there was plenty for Burton to like especially about the defensive performance.
"The first game had a lot of things to it, a lot of good and then a lot of things that we need to work on," Burton said.
"You're always going to get that early in the season but the fact that we could play really good defence, I loved.
"Brad and I were both defensive players and that's why we've been brought into the coaching staff the last three years to bring our knowledge as players, but also that defensive mindset to help Ryan.
"To see that come through like it did in that first game was really encouraging because we've been giving it more time, more focus in our training sessions and all through pre-season, and that first game was a great example of the type of team we want to be."
Importance of defensive mindset
You don't have the type of playing career that Burton has had without being gifted at both ends of the floor, but it's defensively she always took the most pride and she's doing the same thing now as a coach.
Any good offence always flows better if it can be run on the back of getting defensive stops, and the Lynx are no different and that's why Burton is so pleased to see their growth at that end of the floor.
"I may be biased because I was a heavily focused defensive player, but it's not rocket science that you're going to get your energy from defence and it's obviously going to affect your offence," Burton said.
"So just connecting the parts in the players' minds literally when they're out on the court, and understanding how defence can impact your offence makes you realise it's worth focusing more on your defence.
"Then you can just allow your offence to flow and in my mind that's the key to it all so I think we're just trying to connect those dots a little bit.
"We're never going to not focus on offence and Ryan is phenomenal at the offensive side of things, but I think maybe we're seeing things being brought together better this season than previously."
Preparing for Adelaide Lightning
Next up for the Lynx is another home game this coming Saturday night at Bendat Basketball Centre against the Adelaide Lightning who split their opening two matches in Round 1 with a win against the UC Capitals and loss to the Melbourne Boomers.
With a talented roster featuring the likes of Issie Bourne, Izzy Borlase, Jocelyn Willoughby, Brianna Turner and former Lynx guard Lauren Mansfield coached by Nat Hurst, Burton knows that the Lynx will have their work cut out against them.
"We are not sure exactly what to expect because they are a very unpredictable team. They go out and play fast, they play hard and it looks like they just go out and play basketball," Burton said.
"They will make reads, they will just go out there and clearly have got some structure in place, but they have the license to play out of that.
"That means for us we have to be ready for anything and you've got to understand each individual player's strengths, weaknesses and how we're going to defend them. We just have to go into the game understanding that and kind of letting it unfold."
Being part of coaching staff
Burton is now in her third season as an assistant coach with the Lynx following her last WNBL season at the Sydney Flames back in the shortened hub season in 2020.
While it's taken some time to flick that switch from playing professionally to coaching in the WNBL, and still juggling playing at NBL1 level, she couldn't be enjoying the challenge more in this next phase of her basketball journey.
"I am enjoying it and I love being a part of a team at this level still. I would really miss it if I wasn't involved in a way and it has come with its challenges, and every year there's a new layer of growth for me as a coach," Burton said.
"I'm still playing in the NBL1 obviously so I feel like I have a foot in both worlds so that can be a bit tricky to juggle at times swapping between roles.
"But I'm trying to bring both together and I do have to push myself to do that because it can be hard. I've found it a challenge to go from understanding the game on the court to now being on the sideline and watching with a different lens.
"That's been my challenge and year three I've learned so much, and will continue to learn so much but I'm constantly trying to bring that playing perspective, and my passion for the mindset and off-court side of things into how I am present with my role at the Lynx."
Deciding against returning as a player
While Burton is enjoying her journey into coaching after her glittering WNBL, Opals and overseas playing career, she is still playing at a high level with the Warwick Senators in the NBL1 West.
She remains one of the best bigs in the competition so it was no surprise that the conversation did come up between her and Petrik about the potential of her making a WNBL return this season to add some depth and experience to the front court.
That was on the back of a standout season at the Senators where she surpassed 200 games in the league and averaged another 11.7 points, 7.1 rebounds and 2.3 assists.
"I did seriously consider coming back to playing because I'm still enjoying it at NBL1 and upon talking to Ryan, we talked about if I should step back into the playing side of things," Burton said.
"I gave it a lot of thought and for a while there I could have gone either way with it, but I think I realised that I didn't want to step fully back into that playing world, and I didn't want to give what I would need to give to be able to play the way I want to play.
"It takes a lot and I didn't want to do that anymore, and I was really comfortable with that decision and at the end of the day, I didn't want to do it.
"I really am interested in this coaching side now and how it's going to integrate with the work I'm doing with athletes off the court, and what the role will look like in the future I don't know.
"But right now I do really enjoy stepping away from playing at this level and making myself learn how to be even better at this role."
While there's no question Burton could have been more than handy again for the Lynx on the court, if she was to do that she knows that the mindset switch to becoming a professional basketballer again after coming to terms with retiring would have taken over her life.
She ultimately decided she wasn't willing to do that and the bonus is now she gets to instead help the Lynx bigs like Emily Potter and Ash Hannan play well instead.
"I'm really happy with my decision in the end. If I had that burning desire to get out there and get on the court, and play, I would do it, but I don't," she said.
"I'm OK with that and maybe for a while, maybe three years ago, I might not have been ready for that and still felt I had more to give on the court. But I'm at the stage now where I want to help other people play at that level and I don't feel the need to do that myself."
Working alongside Brad Robbins
Not only are Burton and Robbins the assistant coaches with the Lynx once again this WNBL season, but they will also be on board together at the Senators for the NBL1 West season in 2024.
Robbins has been appointed the coach at Warwick and with Burton committed to continuing to play, she's looking forward to seeing what they can do together as player-coach.
"It will be interesting having Brad as my coach and getting to work alongside him every day is really good for me to learn from him," Burton said.
"I think we work really well together and we're constantly bouncing ideas off each other and drawing from our own experiences.
"I'm sure he'll be a great head coach and it will be interesting to step into that of having him as my coach and me as a player, it will be a different way of doing it. But I'm sure we'll have plenty more conversations about what we'll do and how we'll be able to bring that to the Warwick team next year."