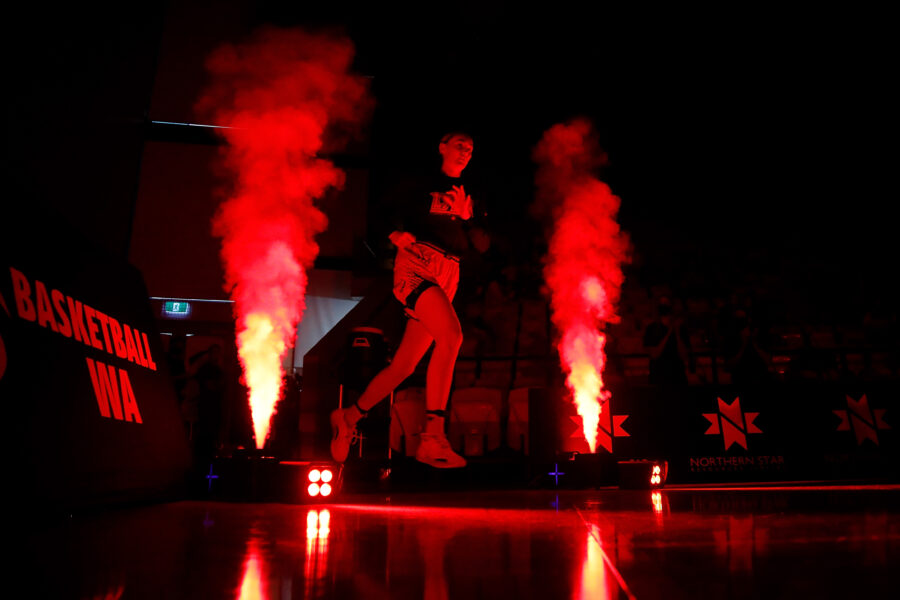 April 5, 2022 | Perth Lynx news
Darcee Garbin is within touching distance of living out a dream of lifting up the WNBL championship trophy alongside one of her best friends for her hometown team, but she knows full well the Melbourne Boomers won't be in a giving mood.
Garbin might have already tasted WNBL championship glory twice with the Townsville Fire in 2016 and 2018. She also knows what it's like to win rings with Ryan Petrik as her coach and with Sami Whitcomb as her teammate having done that with the Rockingham Flames in 2014, 2015 and 2019.
However, if Garbin can help lead the Perth Lynx to their drought breaking WNBL championship either on Wednesday night in Grand Final Game 2 at Bendat Basketball Centre, or if necessary on Saturday back in Melbourne, it's going to be hard to top in terms of career highlights.
For so many reasons, this is a championship that very likely could top all others.
Firstly, Garbin is a West Australian local and helping the Lynx win the first championship in 30 years and break that drought that stretches back to 1992 when the Perth Breakers were successful would mean the world.
Then you consider what the last two years have been like thanks to the COVID global pandemic since Garbin made the decision to return home to continue her WNBL career after five seasons in Townsville.
She had to wait until last month to play a first home game with the Lynx since she played for the club last when they were the West Coast Waves back in 2015 while spending all of the 2020 season in the North Queensland hub and then with everything this season has thrown up.
Through it all, in her first season as captain, Garbin has led from the front admirably and the Lynx went on to finish the regular season in second position, then beat the UC Capitals to advance to the Grand Final and deliver a dominant Game 1 performance in Melbourne to beat the Boomers.
To then know she's doing it for her home state, she has a long-standing relationship with her coach and a host of teammates including fellow Australian Opal Whitcomb, and this championship would mean the world to Garbin.
However, she also knows that the Boomers come to Perth on Wednesday night desperate to send the series into a Game 3 as they chase their own fairytale farewell for coach Guy Molloy and a first championship in 11 years.
"They are going to come in fired up ready to try anything and everything to turn it around to get it to Game 3," Garbin told SEN WA.
"It's really hard because I think our game plan was great and we really stuck to it so there's not really too much we can change with that. But we just have to make sure we bring our energy and intensity, and hopefully get the job done."
Garbin never played for the Lynx under the ownership of Jack Bendat with the club's administration under the Perth Wildcats banner, but the difference to what she's now seen from behind the scenes at the club from being the Waves a decade ago to the Lynx now is stark.
Then when Garbin considers what the last two years have been like since Basketball WA took back over the running of the Lynx and she feels nothing but a great sense of pride for all the work that has gone in to have them one win away from that championship.
"Our admin have had the license the last two years and it's been chaos. They've dealt with two COVID seasons and they've been absolutely amazing," Garbin said.
"We've had five home games in two years so what the club has been able to do is absolutely amazing. I've got no doubt that Ryan will always recruit good imports after all he was the first to recruit Sami Whitcomb into the state league and look at her now.
"He's always going to put together and it's great that he's got the support of Basketball WA to do that. I'm really proud of where we've got to."
Garbin is trying to not think too far ahead to the prospect of lifting the championship trophy alongside Petrik either on Wednesday or Saturday nights this week, but she knows that if it were to happen, it's going to be one experience that will take some beating.
"It's pretty surreal to think that we could potentially wrap this whole thing up on Wednesday on our home court," she said.
"I really think it does make it mean even more everything we've been through. We packed up on the 30th of December to relocate to Ballarat to start the season, and we were away for seven weeks in the end after getting locked out.
"We thought the borders were going to open and then they didn't so we've dealt with a fair bit of adversity this season. Then it was a bit crazy last week and we didn't know what was going to happen with the semi-final series but we've finally made it here. I think if we're able to win it then it will make it extra special that's for sure."
Garbin fully understands the history of basketball in WA and what it would mean to win the franchise's first championship since 1992, but as one of the more senior players now in the team with championship experience, she's doing what she can as captain to keep her teammates grounded.
"When we train every day you see the banner from 1992 is hanging up in the stadium so everyone is well aware of it," Garbin said.
"We don't want to put too much pressure on ourselves but we understand that it would be really, really nice to win it especially when it's 30 years later since the last one.
"We're a fairly young team so I guess it's just about using those experiences to let the girls know that nerves are good, and how to channel that energy to make sure that people are psyching themselves out of the game. It's just all about making sure everyone is prepared and ready to go."
It's amazing how things all come back around as well. Garbin wanted to step out of her comfort zone initially when she went to play at the Townsville Fire where she could learn and develop under two of the country's greatest ever bigs, Suzy Batkovic and Cayla George.
She shared two championships along the way with them and by the time she returned to the Lynx for the 2020 season, she was that versatile quality big that her younger teammates in Perth could learn and develop under.
Now all of a sudden it's that power forward match up the Grand Final between Garbin and George that will be pivotal to deciding the championship, which she can't help but pinch herself about.
"It's a bit of a full circle moment. I remember those days playing for West Coast Waves when we weren't that great, but the opportunity to go and play in Townsville behind not only Suzy Batkovic but also Cayla George who is my opponent this week that I was excited about," Garbin said.
"Those two were such professionals and had played for the Opals, and just learning from them was amazing.
"I knew I wasn't going to play a lot of minutes to start with, but I just kept picking their brains and even now if I bump into Suzy when we do go up to Townsville and she's always open for a chat. They taught me a lot and I think it has been nothing but great for my development coming back to Perth now."