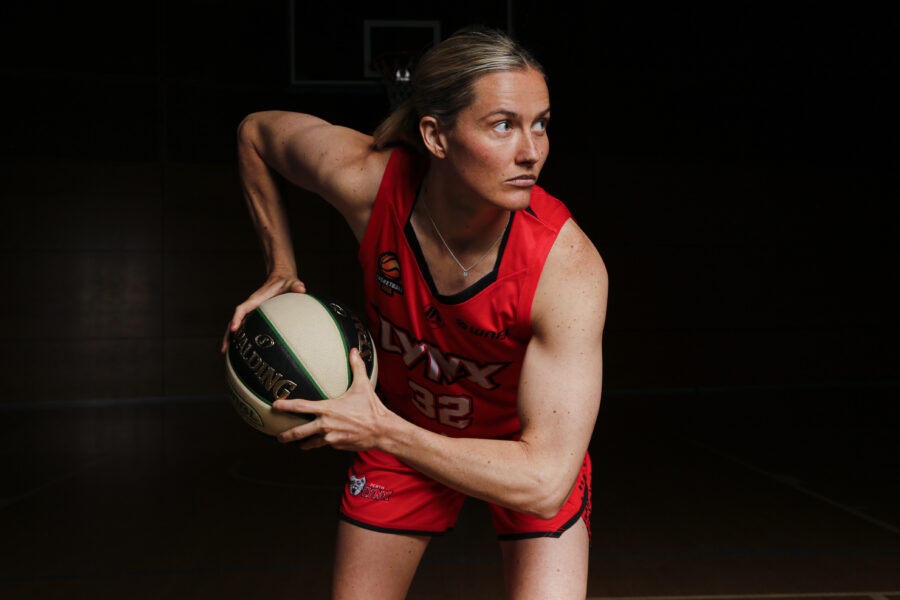 January 6, 2022 | Perth Lynx news
In a lot of ways Western Australia is where the career of Sami Whitcomb really took off and now as she returns to the Perth Lynx for the 2021/22 WNBL season, she'd love nothing more than to help bring a championship home.
When Whitcomb was initially recruited to come down under and play in the SBL, now NBL1 West, with the Rockingham Flames, she was a precocious talent, but there were no guarantees of the professional basketball career that was to come.
Following her college career at the University of Washington, the Californian made a solid start as a pro in Germany, but really there were no huge expectations when recruited by then Rockingham coach, and current Lynx boss, Ryan Petrik.
What was to unfold was the start of a remarkable run with the Flames with Whitcomb the star and Petrik as coach. They would win championships in 2014 and 2015 with Whitcomb the league's MVP for three consecutive seasons.
Not only that, but Darcee Garbin came through part of that success in Rockingham too and now the trio with Petrik the coach, Garbin the captain and Whitcomb the star player and part of the leadership group, are looking to replicate that in the WNBL at the Lynx.
Whitcomb has gone on to remarkable success since that start with Rockingham, winning two WNBA championships at the Seattle Storm, representing Australia with the Opals and being a three-time WNBL All-Star.
But she'll never forget that it all started with the Flames and then the Lynx.
"It's really great that the three of us have come together again. It's kind of a long time coming really having got Darcee back to Perth, me coming back and Ryan being coach," Whitcomb said.
"It's something that for me I've been wanting for a long time and it's absolutely great that we've been able to make it happen.
"I've wanted to be a WNBL teammate of Darcee for a long time and then knowing what a calibre of coach Ryan is as well from my experience in the SBL, I'm excited to be playing for him again but for him to get this opportunity that he deserves.
"It's going to be fun to go through this experience again and hopefully we can replicate that same success again just at a higher level."
Having proven herself a winner wherever she has played winning two WNBL and two SBL championships along her glittering career, Whitcomb would now love nothing more than to bring Perth its first WNBL championship since 1992.
"I'm not just saying this, but coming into the season I think we are capable of winning it all," she said.
"Obviously that depends on whether or not we all come together like we need to so we can make that happen, and if we can find that chemistry quickly and figure out what works best off of each other, and with each other.
"It's nice to think about how much fun we are going to have and how we are going to win, but the reality is we will have to work hard because we are coming up against really good sides and we'll have to be switched on every night.
"We are going to have to click as a group and I'm excited to see how we come together, but we do have a group that's capable of something special. We are obviously potent offensively but I think when we are locked in we are a capable defensive team too.
"There will be hiccups along the way as we figure things out but it's going to be exciting to start doing that."
With a team featuring regular Opals members Garbin and herself, exciting imports Jackie Young and Marina Mabrey, and then the likes of Ash Isenbarger, Alex Ciabattoni, Alex Sharp, Lauren Scherf and Emma Clarke, Whitcomb sees no reason the Lynx can't be shooting to win the title either.
"If we could achieve that for Perth, it would be really special. I really do love playing in Perth and WA in general doesn't always get a fair shake in terms of recognition sports wise," Whitcomb said.
"So winning a championship here for the WNBL would be really exciting for a whole range of reasons, but more than anything because this is really where I got my start in a lot of ways and from here, I've gone on to play in the WNBA and everything else. So to be able to come back and be able to win a championship would be really special."
The Lynx have now played their first game of the WNBL season belatedly, a narrow loss to Adelaide on Sunday, and it was a nervous wait beyond that for Whitcomb awaiting all clear to be able to sign for the 2021/22 season.
Eventually she was given the all clear just days out from that first game and while entering a season five rounds into it was unique and not quite ideal, for Whitcomb it wasn't really the worst result.
"It's been a long pre-season obviously for the team and it has been challenging to be waiting to take part in the season, but now we are just excited to get our season going after that wait," Whitcomb said.
"In terms of the clearance and everything that was so far out of my hands and I just had to wait for it to take care of itself, but I was committed to the Lynx and was working as much as I could with all the girls to get ready for the season.
"I was fully committed and everything but there was just this thing hanging over my head wondering if it was going to happen and not knowing when it was going to happen. It was stressful from that point of view but outside of that it was great being back in Perth with the family and all of that.
"I also enjoyed being with the group but just wanted everything to be sorted out because it just dragged on for too long."
Seeing the first month of the WNBL season go on without the Lynx was a little frustrating, but the reality was Whitcomb might not have been able to be part of it from the start.
There are also positives in the sense that the playing group got to spend more time together before being thrown into games, they were able to see how the rest of the league was settling and how teams were playing.
It was a positive approach Whitcomb decided to take.
"It was really frustrating and disappointing to have the season going on without us initially, but I feel like if we can take the silver lining from it, we got some extra time to practice and prepare, and learn from what the other teams were doing," Whitcomb said.
"We could see what they were doing and what's working, and what's not working. It gave us that extra scout time because we could study the games that were going on.
"It also gave us a bit more of an opportunity to work out what will work and what won't for us, and to integrate the new players into the group as well. So with that extra time we had there are some positives to take away and that's what we tried to focus on instead of how much it sucked not being part of it.
"It was obviously a different experience not being part of it from the start, but we are here now and we will feel even more frustrated if we don't make the most out of this opportunity. We have been ready and waiting, and hated it, now we can't afford to take our time getting into the season. We need to hit the ground running."
Whitcomb last played in the WNBL at the Lynx in the 2017/18 season, and she is expecting the standard of the league to now be just as high, if not better, both because of the quality imports and the development of the local players that has been accelerated.
"From what I've seen, at a minimum the quality of the league looks to be as strong for sure as before," she said.
"If you take the calibre of imports coming in as well and I think that definitely increases it, but even last year without having imports and the opportunities local Australians received, I think that only serves each of them well.
"That has strengthened the standard overall too just because players who aren't typically given a lot of minutes, they were given bigger roles and developed because of that. So the standard of the league is really high and I expect it to be just as tough as last time I played here, if not tougher."
Another positive from the delayed start to the season for Whitcomb was the chance to spend some time back home with wife Kate and their son Nash.
"Around Christmas time I really enjoyed spending time around them and it was nice to have a little bit of a break from the hectic basketball schedule that you get caught up in at times where you are always going from one thing to the next," Whitcomb said.
"You don't often have much control over that, but this was a nice to get back home with the family in Perth to recharge a little and I can't wait to get back underway on the court again with the Lynx."
Written by Chris Pike