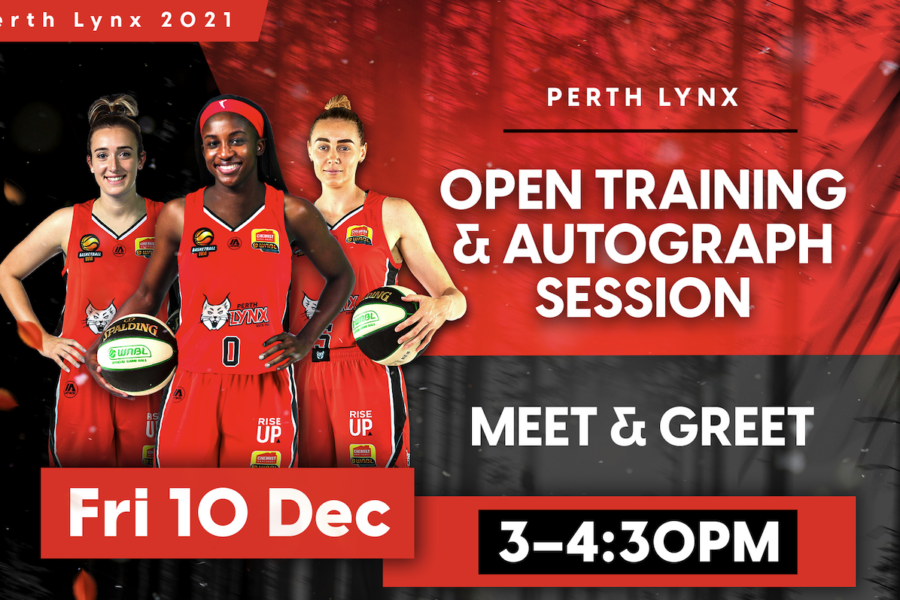 November 24, 2021 | Perth Lynx news
Before we head off on the road for January, we want to see you all!
Join us at Bendat Basketball Centre on the 10th December 2021 at 2:30PM to watch the team train with an autograph session to follow after.
2:30PM – Doors Open
3:00PM – Training
3:45PM – Autograph Session
4:15PM – Event End
𝘓𝘪𝘮𝘪𝘵𝘦𝘥 𝘵𝘪𝘤𝘬𝘦𝘵𝘴 𝘢𝘷𝘢𝘪𝘭𝘢𝘣𝘭𝘦. 𝘔𝘶𝘴𝘵 𝘴𝘩𝘰𝘸 𝘵𝘪𝘤𝘬𝘦𝘵 𝘤𝘰𝘯𝘧𝘪𝘳𝘮𝘢𝘵𝘪𝘰𝘯 𝘵𝘰 𝘮𝘦𝘦𝘵 𝘵𝘩𝘦 𝘵𝘦𝘢𝘮 𝘢𝘯𝘥 𝘨𝘦𝘵 𝘺𝘰𝘶𝘳 𝘢𝘶𝘵𝘰𝘨𝘳𝘢𝘱𝘩𝘴.