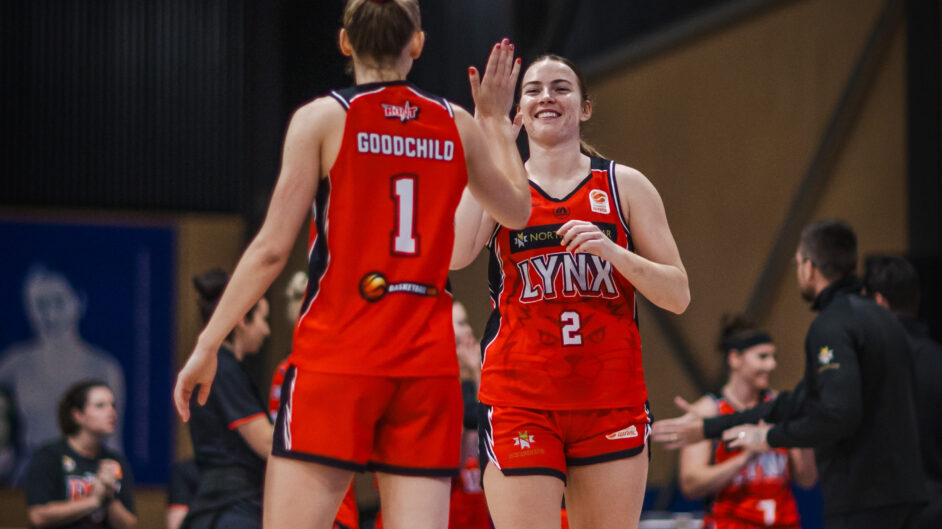 October 28, 2023 | Perth Lynx news
It's been quite the remarkable last 12 months for new Perth Lynx guard Steph Gorman and now she can't wait to begin living out her dream of playing in the WNBL.
This time last year and Gorman wasn't quite sure what she wanted to do with her basketball and where her future lied as she weighed up some options to make a fresh start coming off an NBL1 South season with the Bendigo Braves.
Prior to that and Gorman had attended college at the University of San Diego before returning home to play with the Albury-Wodonga Bandits and then move to Ballarat in 2022.
What has ended up transpiring has been the year of her life and it's all happened in a city she had never previously ever been to.
Gorman came to Perth for the first time to play in the NBL1 West season with the Cockburn Cougars and by the end of that season, she was instrumental in her team winning a first ever women's championship and was named the league's Best Defensive Player and voted Grand Final MVP.
On the back of that, Lynx coach Ryan Petrik couldn't help but be impressed and now she has the chance to live out the dream of playing in the WNBL for the upcoming season as the move to Perth continues to be the best decision she ever made.
Feelings ahead of rookie season
Gorman is 23 years of age coming into her first season in the WNBL and she can't hold back her excitement about that season opener on Friday night against the Sydney Flames at Bendat Basketball Centre.
"I'm really excited actually. It's been something I've been waiting a while for but I'm really stoked that it's finally around the corner now," Gorman said.
"I definitely feel ready but it does still feel a bit surreal to be honest just because it's such an amazing opportunity. I think those three games in Brisbane really helped and made me feel ready now for what to expect in the season itself."
Come so far in 12 months
There's little that Gorman can do except pinch herself when she thinks about what has happened in her basketball career over the past 12 months.
Coming off the NBL1 season of her life, her dream of getting to play in the WNBL is now about to become a reality and to top it all off, she might very well have found a place to live she will never want to leave in Perth.
"It's kind of unbelievable really when you do start to take a step back and think about what this past year has been like," she said.
"I definitely do have to pinch myself sometimes with how well it's gone because it's pretty incredible. I just feel so lucky for the opportunities that I've been able to have and for the place I'm in now. It is crazy how fast life can flip around when you think about it."
Coming straight into WNBL pre-season
It's been all go for Gorman as well since arriving in Perth having arrived just before the NBL1 West season with the Cougars, then going through that campaign and straight after winning the championship was the NBL1 National Finals the following weekend at Joondalup.
From there it was straight into WNBL pre-season and even straight after this season with the Lynx and Gorman will be straight into a second year playing at the Cougars trying to defend their NBL1 West championship.
But she wouldn't want it any other way.
"I think it was nice to go straight from playing games and into training so you can come in with a good level of fitness ready to go," Gorman said.
"Obviously it's a step up to be in the WNBL so you have to adjust to that and being out there with everyone who can play at such a high level.
"Everyone is so switched on, everyone picks up the play so quickly and we can move on straight to the next thing. I've really enjoyed being able to play with such high-calibre athletes and it's been really fun, but challenging too.
"I just feel like every day I'm getting better and am learning from people who have been around this level for years and have had so many cool experience. I just feel lucky to be around it."
Guarding Goodchild/Atwell at practice
Gorman proved herself a tremendous on-ball lockdown defender throughout the NBL1 season leading to the Best Defensive Player award and then her performance in the Grand Final on MVP and former Lynx forward Alex Sharp was brilliant.
But now during this pre-season it's gone up another level for Gorman having to spend the majority of the time guarding teammates Amy Atwell and Miela Goodchild. She's learning plenty every single day and is seeing the level it gets to in order to play in the WNBL.
"It's been really good and good for my game to spend so much time going against them. I know that anytime I might slack off a little bit and they just highlight that straightaway, and that's a good thing because they want us to be the best we can as a team," she said.
"But players like that also can identify your weaknesses and then go and attack them so it's been good for me defensively to be able to stay on top of the ball. I've had to think all the time and I can't take any plays off with them because they're just so good.
"Then offensively just by watching them and learning what they do has helped me learn so much quicker by seeing them do it, and then try to replicate it. It's been so good for my game to learn from them at both ends of the floor."
Season opener is now so close
It's now under a week before Gorman will make her WNBL debut on Friday night for the Lynx against the Sydney Flames at Bendat Basketball Centre, and she can't wait.
"I have tried not to think too much about that first game too much and have been trying to take it day by day, but the pre-season has been great in making me feel prepared for it," Gorman said.
"And just by going against such great athletes every day I feel like it's such a good for the preparation. So I do feel prepared and there's a mix of being nervous and excited in there, but mostly excited I would definitely say."