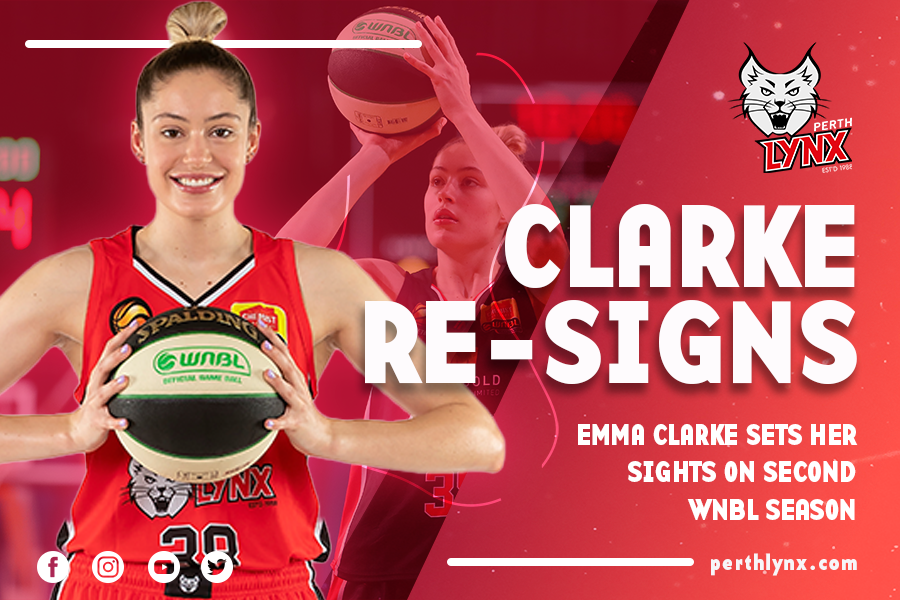 May 12, 2021 | Perth Lynx news
The Perth Lynx squad has been further strengthened with the re-signing of the six-foot-one guard, Emma Clarke. Debuting in the WNBL during the 2020 hub season in Northern QLD, Clarke was a late call up to the team after the late omission of Sami Whitcomb.
Walking into a team the week before the season starts would be challenging for anyone, but Clarke took it in her stride. Using her experience from playing at the University of Colorado to her advantage, she quickly adapted to a new system.
The Basketball Australia's Centre of Excellence graduate averaged 16 minutes playing time and 3 rebounds a game during the WNBL 2020 season. Scoring 54 points across the season also meant she was a threat forward.
Perth Lynx Assistant Coach Keegan Crawford has no doubt this is the beginning of a successful WNBL career, saying, "Emma had an impressive start to her professional career showing flashes of the offensive weapon she can become.
Clarke's solid hub season didn't go unnoticed by Head Coach Ryan Petrik, "For a rookie, we like what she did for us in the hub season. She's still really young, but she's long with a great wingspan and presence defensively and an enormous amount of talent and upside. We can't wait to see her unlock."
Clarke is excited to be back with the Perth Lynx for the upcoming season, saying, "Playing under Ryan and Keegan in last year's hub season was a positive learning experience for my first year in the WNBL. This year I hope to elevate my growth as a player and step up to the challenges that the season might throw at us. I'm excited to compete against very talented players and be surrounded by an awesome group of people as well as being able to play in front of WA's emerging talent and fan base."
The Perth Lynx roster for WNBL 2021/22 now features Darcee Garbin, Alex Sharp, Ashleigh Isenbarger, Lauren Scherf and Emma Clarke.
For more information: 
Brent Dawkins
Perth Lynx – General Manager
E: brent.dawkins@basketballwa.asn.au