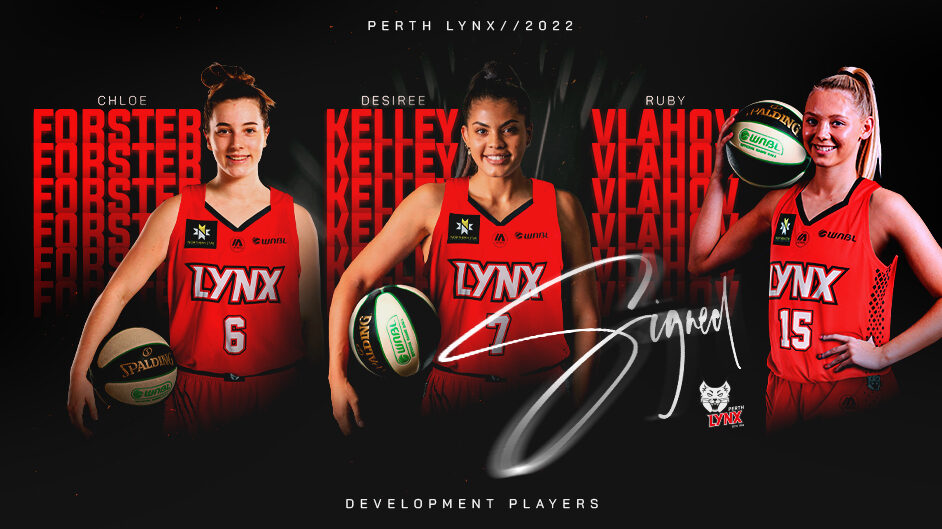 September 20, 2022 | Perth Lynx news
The Perth Lynx are excited to announce the completion of their roster with the signing of Chloe Forster and Desiree Kelley as Development Players and Ruby Vlahov as our Amateur for the 2022/23 season.
Chloe Forster
The Perth Lynx are excited to add Development Player to the list of accomplishments Chloe Forster has achieved this year.  After winning both the NBL1 West Grand Final and the inaugural NBL1 National Championship Forster knows what it takes to play with and against WNBL talent.  During the NBL1 West season, playing for the Warwick Senators, Forster averaged 13.67ppg and 5apg, shooting at 34.5%, and shone in the National Championship Final with 18pts and 5ast, shooting at 40%.
Chloe had this to say, "Playing in the WNBL has been an absolute dream of mine since I started playing basketball, so I couldn't be more excited to be a part of the Perth Lynx this season.  I am so beyond grateful to be able to train and play alongside some of Australia's best players, and cannot wait to jump at any opportunity that is given to me".
Head Coach Ryan Petrik said, "Chloe was a training player for us last season and improved very quickly during pre-season before we had to relocate over East. Really looking forward to seeing what she can do with an entire season of WNBL practice".
Desiree Kelley
With over 200 SBL and NBL1 games played for the Willetton Tigers Desiree Kelley brings a wealth of experience to the Perth Lynx squad.  This NBL1 West season Kelley averaged 14.88ppg, 3.46apg and 6.70rpg, shooting at 38.04%, leading the Tigers to the Grand Final.  Being captain for the Willetton Tigers Kelley brings leadership and a high basketball IQ to the team.
Des had this to say about the opportunity, "I'm excited to be given an opportunity to be involved with a WNBL program such as the Perth Lynx. It is something I've been working towards and feel as though it is the right time for me to give it a go! I'm looking forward to working with Ryan and the coaching staff as well as being a part of a playing group that is filled with amazing talent. I can't wait for it all to start!"
Head Coach Ryan Petrik said, "Des that kicked my backside time and time again when I coached against her in the women's side of SBL. Another tall guard that can really shoot it and should fit straight into a WNBL environment from day 1".
Ruby Vlahov (Amateur)
The Perth Lynx are excited to have young gun Ruby Vlahov in the squad on an amateur contract.  In her first season of NBL1 West Vlahov averaged 9.67ppg and 4rpg shooting at 47.14%.
ENDS
For more information:
Rob Clement
Perth Lynx CEO
E: rob.clement@basketballwa.asn.au