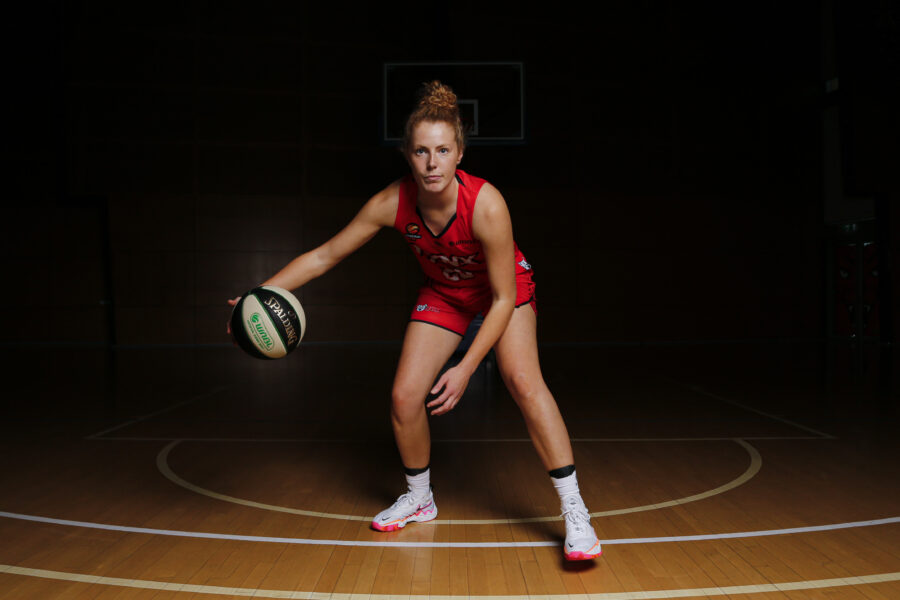 January 7, 2022 | Perth Lynx news
It was only 15 months ago when Ash Isenbarger wasn't sure if she still had a WNBL future, but now she is part of the Perth Lynx leadership group and can't hide her excitement and privilege she feels with that responsibility.
Having started her WNBL career at the Lynx back in the 2015/16 season having come through a standout junior with the Lakeside Lightning where she started playing as a 15-year-old in 2012, the newly married Isenbarger wasn't sure of her future ahead of the 2020 season.
Isenbarger had played a standout West Coast Classic season for the Lightning which replaced the SBL, now NBL1 West, competition in 2020 but surprisingly, for a long time she remained unsigned to a WNBL team coming off spending the previous two seasons with the Melbourne Boomers.
However, she ended up returning to her hometown Lynx for the 2020 season that was played in the North Queensland bubble and now not only does she remain on the roster for the 2021/22 season, she does so as part of the leadership group.
With Darcee Garbin captain, Isenbarger and Sami Whitcomb round out the three-person leadership group for the Lynx and it's an honour and privilege the 24-year-old forward can't hide her excitement about.
"Sometimes I still look at the players that I'm playing with and I was that young kid looking up to them for so long so I pinch myself," Isenbarger said.
"It really is a privilege and there's not really any other word to describe it. It's something that not everyone gets to experience and I'm very proud that I get to.
"Any leadership position or just any position on a team in a pro league is something that I try really hard to not take for granted because it's such a privilege.
"When you think back to where I was about 18 months ago, it's pretty crazy, but I'm really grateful for this position I'm in and it's just worked out however it's meant to. Lots of hard work has gone into it and a lot of blood, sweat and tears have been put into it so I'm really happy to be where I am."
It has been unprecedented times in so many ways with the way the world has changed thanks to COVID-19 and for Isenbarger and the Lynx, that meant they had to watch on the opening month of the WNBL season without being part of it.
They finally got to join the fold on Sunday in a thrilling season-opening match up in Adelaide with the Lightning before now settling in Ballarat as their home base for at least the next month.
Isenbarger tried to take the positives out of the situation and is now just glad that they are part of the season, and hopes to be able to help the team build some momentum quickly.
"It has been the longest pre-season in history so I think my feelings are mutual with the rest of the team, and the coaching staff that we are just really excited to actually get to hit the court again in a competitive situation against other teams in the league," Isenbarger said.
"It's kind of weird that teams are five or six games into it already and we've just had our first, but we couldn't be more ready to be part of it.
"It's so weird that the first month happened without us and it was a little bit strange watching the rest of the league playing games, and keeping up with what's going on without being part of it.
"But we just tried to prepare the best we can by having scrimmages and just getting ourselves into that game mindset even though we weren't playing proper games yet.
"We were just trying to make things as game like and realistic as possible from our end but it is obviously hard to replicate real games. We did the best we could though."
While happy to have a base in Ballarat to tackle this stretch of road games, Isenbarger can't help but be excited for the eventual return home for the Lynx and those scheduled home matches at Bendat Basketball Centre in February.
The Lynx haven't played a home game since the end of the 2019/20 season, but for Isenbarger the wait to play in red in front of the home fans stretches back much further.
"It literally feels like forever since I played a home game in Perth especially because my two seasons before that were with Melbourne so it was weird coming back to play at Bendat as an opposition player," she said.
"I'm looking forward to playing at Bendat as part of the home team to have the home crowd behind us. I can't wait to play in front of our fans as well as our friends and family, and that's something that really changes an atmosphere for a game. I'm really looking forward to that and I just hope it happens now."
While it was a delayed start to the season for the Lynx, there's every reason to have high hopes of what the team is capable of with the squad including regular Opals members Garbin and Whitcomb, exciting imports Jackie Young and Marina Mabrey, and then the likes of Alex Ciabattoni, Alex Sharp, Lauren Scherf and Emma Clarke.
Isenbarger is excited by the squad put together from coach Ryan Petrik, general manager Brent Dawkins and operations manager Lauren Breen, and can't wait to now see what they can all do out on the floor together.
"We are playing in one of the top leagues in the world so I think that if any team doesn't come fully prepared to play any day then you'll get found out so we have to make sure we are ready to go every game," Isenbarger said.
"But with Ryan, Brent, Lauren and everyone involved, they put together an awesome squad and I'm just really excited to hit the ground running and to be part of a unique program in that we have some big names obviously.
"I'm just excited to get going with this team and for us to gel and click as a group on the court, and off the court as we get to know each other more and spend so much time together away from home."
While excited to be getting started in the WNBL season, Isenbarger is only human and with a husband, family and friends back home in Perth, she hopes to be able to get back without any hiccups come February when the West Australian borders are scheduled to open.
However, with so much uncertainty she'll be holding her breath that it goes to plan like everybody else but she is grateful to have got to spend Christmas back at home before embarking on this journey on the road with the team.
"I'd be lying if I didn't say it was a little bit nerve-racking just because it's unprecedented. It's unpredictable every day but it's doing something that I love and I can't play basketball at this level forever," Isenbarger said.
"So you just have to take your opportunities as they come and just try to make the most out of it despite all the craziness. Spending time with family especially on big holidays is something really important to both Jack and I.
"It's a bit of a bummer that his family is back in the US but eventually our goal one day is to have both of our families together whether it's in Indiana or in Australia for Christmas.
"That would be great one day but it's a bit weird because last season we went to the hub knowing that when we came back the whole season was done. But with this season, we will come back and then there is still a whole bunch of the season to go.
"There's a plan and a schedule, but who knows if that will end up happening so you just have to roll with it."
Written by Chris Pike