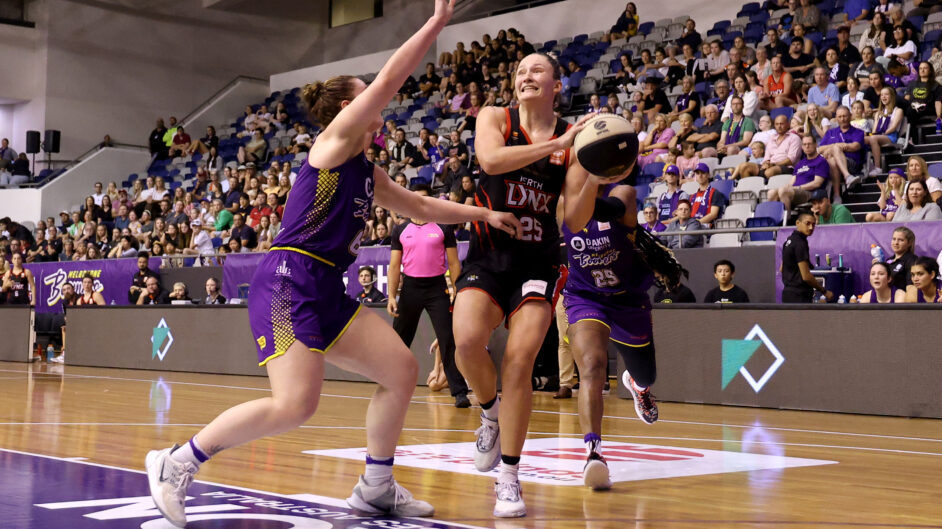 January 29, 2023 | Perth Lynx news
The Perth Lynx are playing some insatiable basketball right now and delivered a tremendous performance minus captain Sami Whitcomb to beat reigning WNBL champions the Melbourne Boomers 91-82 on Sunday.
Just over two weeks ago and the Lynx hadn't managed to beat a top four team yet this season. Now with seven straight wins overall, that's three against teams in the top four and all of a sudden Perth is banging the door down for a playoff spot this WNBL season.
How the Lynx got the job done
The Lynx blew the game open with 33 points in the second quarter including four three-pointers from Amy Atwell.
She had six triples to half-time and 19 points with the Lynx leading 56-46, and then holding out the Boomers on the way to the eventual nine-point win.
The Lynx ended up pulling down 45 rebounds to 39 from the Boomers including 13 at the offensive end to seven for 16 second chance points to 10.
Perth also scored 18 points from the 17 Melbourne turnovers while shooting 21/23 at the foul line compared with 6/8 for the Boomers.
It's a seventh consecutive victory for the Lynx to improve them to a 9-5 record on the season to be knocking on the door of all the top four teams now – Southside Flyers (12-4), Melbourne Boomers (11-4), Townsville Fire (10-4) and Bendigo Spirit (11-5).
Who the standout performers were
In the absence of captain Sami Whitcomb, it was going to take a team effort from the Lynx to continue their winning streak and that's exactly what they got, but also a brilliant shooting performance from Amy Atwell.
Atwell hit six three-pointers for 19 points in the first half alone before finishing the game with 27 points and four rebounds while knocking down 7/14 from beyond the three-point line.
Robbi Ryan put together one of her strongest showing of the season for 19 points, six rebounds, four assists and two steals on 8/14 shooting with Tayah Burrows producing a WNBL career best with 15 points, two rebounds and two assists.
Lauren Scherf produced eight points, 12 rebounds and two assists in her 200th WNBL appearance with Chloe Bibby adding nine points and four rebounds, and Alex Sharp three points and five boards.
Jessie Edwards also had three points, Mackenzie Clinch Hoycard three points, three rebounds and two assists, Emma Gandini two points, and Chloe Forster her first two points in the WNBL.
Tiffany Mitchell and Kristy Wallace both scored 22 points for the Boomers with Olivia Nelson-Ododa adding 19 points, six rebounds, three blocks and three steals, and Cayla George nine points and 11 rebounds.
How the game played out
On the back of winning six straight, the Lynx scored the first four points through Lauren Scherf and Amy Atwell but then the Boomers came out and hit the next eight points before Alex Sharp steadied Perth with a three-pointer.
Atwell soon knocked down a couple of three balls to bring the Lynx close and then leading into quarter-time a Tayah Burrows inspired 8-0 run put them in front, and they remained up 23-22 by quarter-time.
Atwell's stunning shooting start continued with her knocking down another pair of three-pointers to start the second quarter. She was only just warming up and hit another basket before a Robbi Ryan three-point play.
Atwell's fifth three-pointer completed an 8-0 run with the Lynx lead out to double-figures. Then to close out the first half three-pointers for the Lynx to Ryan, Chloe Bibby and Atwell's sixth of the half saw them lead 56-46.
That saw Atwell have 19 points with her team up 10 but the Boomers made a strong charge to open the second half and with a 15-5 run, had drawn scores level.
However, the Lynx responded impressively to close the third quarter on a 12-1 run including Atwell's seventh three of the game and an and-one conversion from Burrows to see them head into three quarter-time leading 73-62.
The Boomers weren't going to go down without throwing everything at a fourth quarter comeback and when Tiffany Mitchell scored late, the home team had all the momentum and had cut the lead to five.
Perth continued to hold firm, though, and got some crucial late stops before Bibby made a tough turnaround jumper and then Burrows secured the nine-point win at the foul line.
What's next for the Lynx
Having now completed three road games over the past eight days and winning in Sydney, Bendigo and Melbourne, the Lynx return home for two crucial match ups with the Townsville Fire this week.
The first match up at Bendat Basketball Centre is on Wednesday night before the two teams go at it again on Saturday.
CYGNETT WNBL ROUND 12
PERTH LYNX 91 (Atwell 27, Ryan 19, Burrows 15)
MELBOURNE BOOMERS 82 (Mitchell 22, Wallace 22, Nelson-Ododa 19)