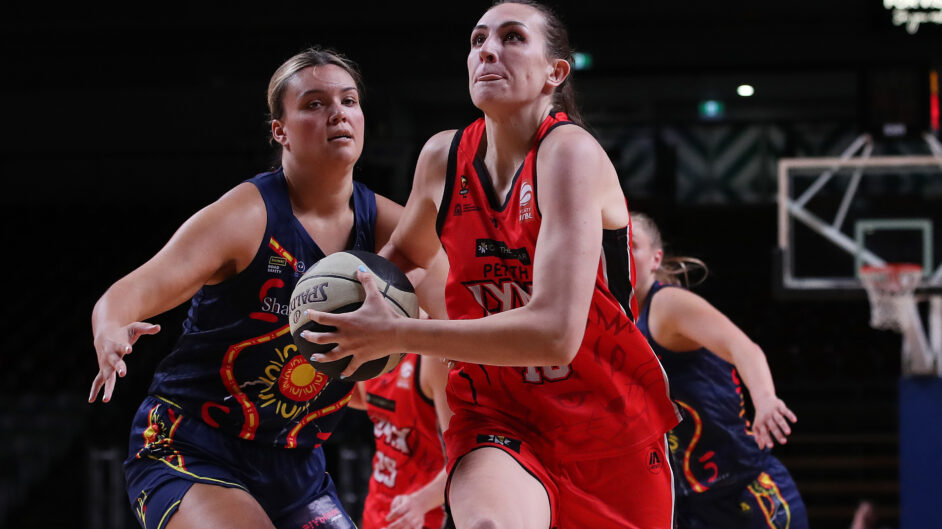 March 2, 2023 | Perth Lynx news
The Perth Lynx locked in their WNBL finals appearance 24 hours earlier but want to maintain momentum for next week's series with the Townsville Fire and held out the Adelaide Lightning to win 97-93 on Thursday night.
The Lynx confirmed their place in the WNBL finals when Townsville beat the Bendigo Spirit to open Round 16 on Wednesday night meaning that no matter what Perth does in these two final road games, they will be finishing fourth and playing the Fire in the semi finals starting next week.
How the Lynx held on to win
The Lynx dominated much of the match up against the Lightning at the Adelaide 36ers Arena on Thursday night with Sami Whitcomb and Chloe Bibby scoring 10 points apiece to help their side to a 25-20 quarter-time lead.
That Perth lead blew out beyond 20 points during the second quarter and then with five minutes to play, the Lynx were in control leading 94-72.
With nothing riding on the result, coach Ryan Petrik decided to empty the bench but the Lightning didn't and as a result scored the next 17 points to make a real game of it.
Lauren Mansfield and Marena Whittle were instrumental in the home team closing to within five points, but the Lynx held them out for the four-point win to improve to an 12-8 record on the season.
Who the standout performers were
Chloe Bibby continued her outstanding first season with the Lynx by leading the scoring with 22 points for the game on the back of shooting a supremely efficient 10/15 from the field.
Captain Sami Whitcomb was terrific also with 21 points, four rebounds and three assists including knocking down 5/11 from three-point territory.
Vice-captain Lauren Scherf might have scored just the six points on four field goal attempts, but was a huge contributor in every other area finishing with 15 rebounds, 10 assists and two steals.
Amy Atwell added 17 points for Perth, Robbi Ryan 13 points, Alex Sharp six points and six rebounds, Jessie Edwards four points and three assists, Mackenzie Clinch Hoycard four points and three rebounds, and Tayah Burrows four points.
Jacinta Monroe ended up top-scoring for Adelaide with 23 points to go with 13 rebounds, four steals and three assists. Marena Whittle added 22 points and Lauren Mansfield 20 along with eight assists.
How the game panned out
Amy Atwell opened the game in perfect fashion knocking down an open three-pointer and then it was all Chloe Bibby. She made the next four baskets for the Lynx to give them an 11-6 advantage with her scoring eight of those 11 points.
Adelaide did respond going on an 11-4 run to take a 15-13 lead but then it was time for captain Sami Whitcomb to take over for the Lynx.
She scored 10 points to close out the opening period including back-to-back three-pointers and that helped the Lynx take a 25-20 advantage into quarter-time.
Atwell started the second quarter in familiar fashion dropping a pair of bombs from beyond the arc and that forced the Lightning into a timeout after just two minutes with the Lynx leading 31-22.
Alex Sharp scored five quick points for the Lynx, Whitcomb dropped consecutive three balls once again and then when Jessie Edwards came on to give Lauren Scherf a breather and scored back-to-back baskets, Perth was up 48-33.
Bibby stretched that Lynx lead to 17 points and out beyond 20 just before half-time with a three-point play. Only a prayer on the buzzer from Jacinta Monroe for Adelaide cut the Lynx lead to 57-38 at the major break.
Whitcomb (18 points) and Bibby (17) combined for 35 of the 57 Lynx points in the first half combining to shoot 13/21 from the field with Scherf scoreless, and shotless, but instrumental in the lead with eight rebounds, six assists and two steals.
Perth's lead was back out beyond 20 early in the third quarter thanks to a three-pointer from Robbi Ryan but the Lightning were determined to make a game of it and ended up scoring the next six points.
Adelaide did end up getting it back to a 14-point ball game after a three-pointer to Chelsea Brook too, but the Lynx continued to have the answers and Ryan led the assault with eight straight points for the Lynx.
That included hitting a triple and converting a three-point play, and by three quarter-time the Lynx were in control leading 82-65.
The Lynx's lead was 20 again when Bibby hit a three ball to open the fourth quarter. Another from deep by Whitcomb stretched that advantage to 21 and then back-to-back buckets to Mackenzie Clinch Hoycard saw Perth in control up 22 with just over five minutes to play.
With finals already locked away, Lynx coach Ryan Petrik emptied his bench but the Lightning kept playing the game out and got on a roll scoring the next 17 points in a stunning run to set up a thrilling finish.
Lauren Manfield and Marena Whittle both knocked down a couple of three-pointers in that 17-0 run with the Lynx lead cut to five points with a minute to play.
Petrik brought back his starters for the Lynx and they steadied the ship enough in that final minute getting some key stops and with Scherf and Sharp closing the deal at the charity stripe for the eventual four-point win.
What's next for the Lynx
The Lynx have one more regular season game to play and that is on Saturday in Canberra against the UC Capitals. From there is the WNBL Awards night on Sunday and then the finals get underway with Perth locked into a semi-final match up with the regular season champion Townsville Fire.
CYGNETT WNBL ROUND 16
PERTH LYNX 97 (Bibby 22, Whitcomb 21, Atwell 17)
ADELAIDE LIGHTNING 93 (Monroe 23, Whittle 22, Mansfield 20)