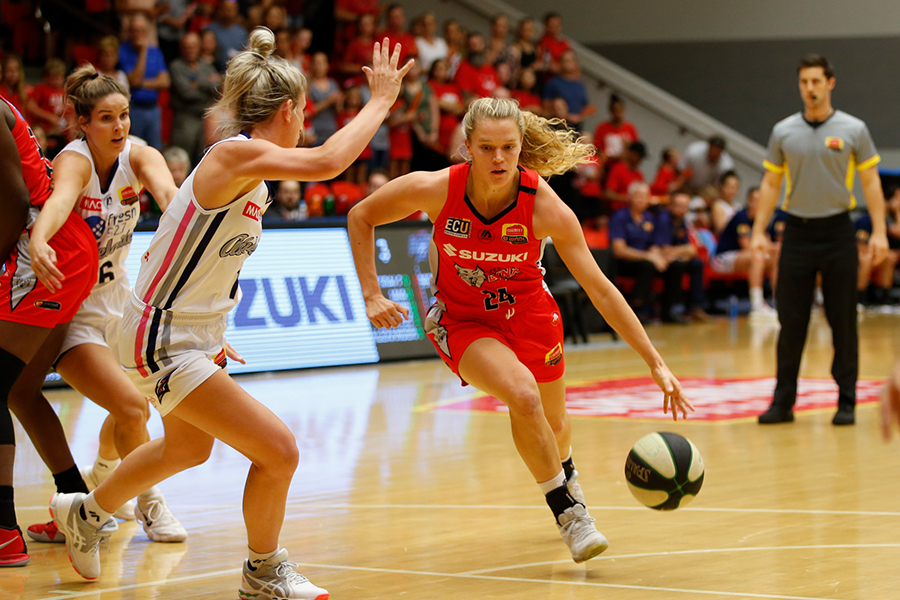 January 20, 2019 | Perth Lynx news
The Perth Lynx have fallen to the Adelaide lightning in an overtime thriller, in Perth on Saturday night, 81-82.
The Lynx lead for most of the game, but a late rally from the Lightning put them over the edge when it counted.
Coach Andy Stewart said when the game is so close, it's hard to pin down exactly what caused the loss.
"There's lots of things that cost us the game, and that's the problem with a one-point loss, is that you can come up with 20 things you wish you could have back," he said.
Ali Schwagmeyer lead the way with the scoring for the Lynx, putting up 19 points, eight rebounds and four assists.
Schwagmeyer said the loss wouldn't shake the team's confidence as they go forward to the first final next week.
"It doesn't weigh too much on our confidence, because you can see what we can do when we execute the game plan," she said.
"We know that when we execute the game plan and we get defensive stops we can do it."
Asia Taylor filled the stat sheet yet again, with 15 points, seven rebounds, two assists, two steals and two blocks.
With every team contributing $100 per three-point make, the Lynx helped contribute $900 to Lifeline Australia, with the WNBL matching every team's donation, making their total $1800.
The team's focus will now totally be on Canberra as they approach a best-of-three series with the Capitals, starting next Friday night.
Stewart said they will take a few things from this loss, but most importantly will get ready for game one of the finals.
"We're prepping for Canberra, we'll review this game, and there's some lessons to be learnt from it, but the main thing is to get ready for Canberra in six days time," he said.
Tickets are now on sale for our home game in the first round of the semi finals, Thursday 31 January.
Perth Lynx 81 (Schwagmeyer 19, Taylor 15, Ebzery 12)
Adelaide Lightning (Coffey 20, Alexander 17, Clydesdale 17)