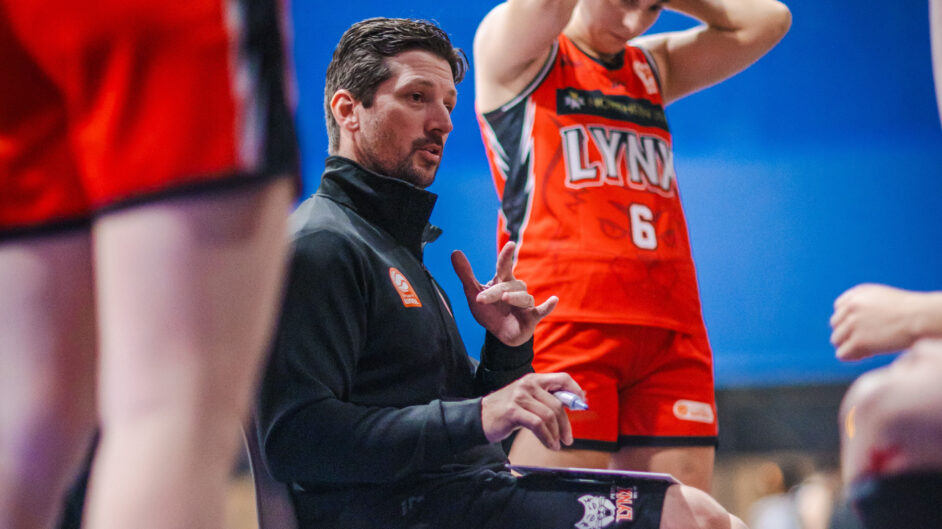 October 28, 2023 | Perth Lynx news
The countdown is on for the start of the WNBL season with Perth Lynx coach Ryan Petrik happier to have just about a full squad back on the practice floor to get ready for the home opener against the Sydney Flames.
Some sore bodies have hindered things a little over the past couple of weeks for Petrik and the Lynx since an impressive three-win display at the River City Rebound in Brisbane as part of the pre-season with victories against the Sydney Flames, Townsville Fire and Adelaide Lightning.
The Lynx are now finalising preparations for the season to start on Friday night against the Sydney Flames at Bendat Basketball Centre. Petrik is happy enough that everyone will be available at this stage barring emerging centre Ashlee Hannan.
Final preparations for season
Coming off the three wins at the River City Rebound where the fast pace the Lynx will be looking to play with this WNBL season was clearly on show, Petrik was happy with how the pre-season preparations were coming along.
Things haven't quite gone as smoothly since with some niggling injuries to several players creeping in, but those look to have subsided now for the most part and he is feeling good about the season opener on Friday night.
"I was feeling good until our first training session back from the Brisbane tournament," Petrik said.
"We had a really good lead up to that but have just had a whole bunch of bodies go down since then over the last eight to 10 days. But now we've just been able to have our best training session this week since then with some bodies back on the court.
"But in talking to the other coaches, it seems like every team has had something similar with the injuries.
"Going through a bit of adversity with practice isn't always the worst thing, it's about how you respond and thankfully we finally had a good session so I'm feeling a bit better now than I was on Tuesday afternoon."
Anyone in doubt for season opener
Petrik has been relieved in recent days to have closer to his full squad available at practice in the lead up to the WNBL season opener.
At this stage, it looks like Hannan will be the only player unavailable to take on the Flames and while that's disappointing for Petrik because he is excited by what she can offer, he's relieved the other sore bodies seem to be on the improve.
"Ash Hannan did her ankle really badly in skill work outs the day before we went to Brisbane and that sucks because we really wanted to watch her play and get some reps into her," he said.
"She's either looked like a rookie or an All-WNBL player at practice so far. She's had glimpses of showing some incredible stuff and she's unlikely for Round 1 but is progressing well. At this stage everyone is looking like they are on track to be right to play."
How good was it to play real opposition
Without an official WNBL pre-season tournament and the challenges it presents to play rival teams given the travel involved, and the lack of genuine opposition to play locally, it's not always easy for the Lynx to play against strong opponents leading into a season.
That's why Petrik was so relieved to get the chance to take part in the River City Rebound and to play the games against Sydney, Townsville and Adelaide.
To come away with three wins was a bonus and to see the game style he's looking to implement start to show what it will be capable of was as well, but more than anything Petrik was just glad to get to see his teams against fellow WNBL opponents before the season starts.
"It's crucial and especially for a team from Perth it's hard to organise games in the pre-season," Petrik said.
"Obviously we can try to organise makeshift games but even that is challenging now because we don't have an NBL1 team we can play against. At least with the Wildcats they were able to play NBL1 select team because it was still so close to the season finishing.
"Now that it's two months since the NBL1 season, we can't really pull together a team from that to play against so it's a challenge to play against anyone for us so getting those games in Brisbane was valuable for us.
"Especially because we know we need to be good from the start of the season, on paper at least Townsville, Melbourne and Sydney have loaded up. So we don't have the luxury of being able to start 0-5 and come home strong, we have to be good from day one. So playing well in Brisbane is important for us to try and be ready to play well in Round 1."
Style of play coming together
While Petrik has a vision of how he wants his Lynx team to play, until you see it in action with your full squad it's never quite clear how that will work in reality.
However, now that Petrik has got to put the running of the team in the hands of WNBA point guard Aari McDonald and has seen MVP Anneli Maley working with this group and then with the shooting prowess of Amy Atwell and Miela Goodchild, and inside presence of Emma Potter, and he likes how it's coming together.
"The conversations we had even before Brisbane was that of course we'd love to be good at a thousand different things, but that's not realistic," Petrik said.
"We want to be elite at three or four things in particular and one of them's going to be our pace. In pre-season you never care about the results at all, but we knew our transition game better look good because we've spent a lot of time on it and we return to see a reward for that time we've put into it.
"We clearly did and Townsville did slow us down a little bit, but the Adelaide and Sydney games we got it on our terms.
"You could see the pace and now with Aari having another two weeks under her belt, is three times quicker than she was before. Anneli Maley is also looking like an absolute beast inside our system so I'm happy with how we're looking so far but we think we can get a lot better with it yet."
Feeling a week out from the season
Now that there is under a week to go before the season starts with the Lynx hosting the Flames at Bendat Basketball Centre on Friday night, Petrik is starting to get excited for what lies ahead.
"It's year four now for us with me as head coach and year nine for me in total in the system, so you still excited for the start of a season but it's not the nerves of year one when you're not sleeping for weeks beforehand," Petrik said.
"Now it's about making sure we are all ready for the first game and doing everything right the best we can. I'm just ticking off each day on the calendar and we're where we are meant to be on our mud map, and as long as that continues we'll be fine."