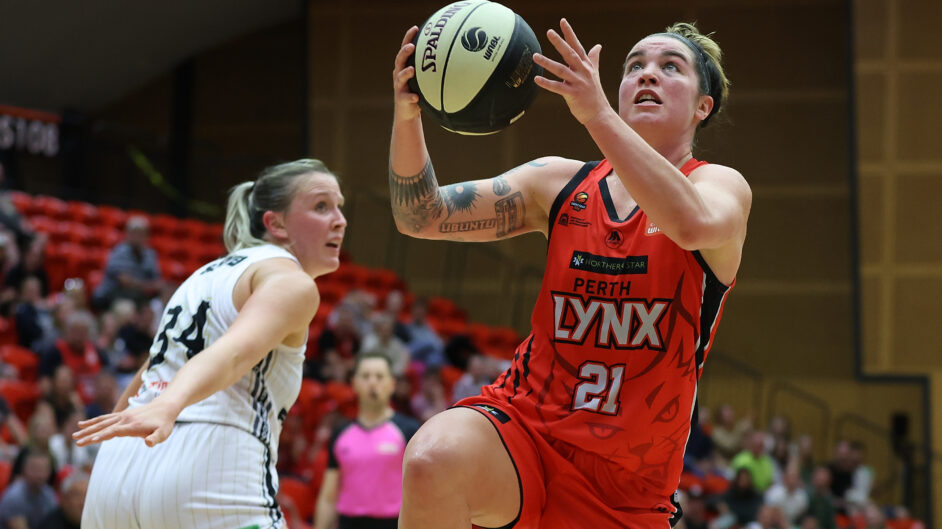 November 16, 2022 | Perth Lynx news
Despite leading much of the night, the Perth Lynx had to come from behind in the fourth quarter to head into the WNBL break on a two-game winning run beating the Sydney Flames 80-72 on Wednesday night.
Big Lynx finish
The Lynx did lead by as much seven just before half-time, but found themselves down eight at Bendat Basketball Centre with the Flames hitting the first seven points of the fourth quarter hunting their first win of #WNBL23.
However, the Lynx responded and it was Amy Atwell and Robbi Ryan the stars down the stretch. Atwell continued the terrific start to her WNBL career with three three-pointers in the final six minutes.
Ryan had her best performance of the season with the import point guard stepping up with two critical baskets, and a massive three for the Lynx to outscore Sydney 25 points to 11 in the last eight minutes.
That secured the eight-point win and to go into the week off at 2-2 following the first three rounds.
The standout performers
There was plenty to like in the performance from the Lynx as they shot as a team 47.7 per cent from the field opposed 42.7 from the Flames while hitting 13/31 from three-point land to 4/18 from Sydney.
Lauren Scherf put together another standout all-round performance made up of 14 points, 13 rebounds and four assists.
Chloe Bibby scored another 15 points with Amy Atwell finishing with 15 points, six rebounds and three assists, and Robbi Ryan produced her best NBL performance with 13 points, six rebounds, four assists and three steals.
Making Ryan's performance all the more impressive was that she played despite an eye injury that threatened her even playing in the game.
Sami Whitcomb finished with 13 points, six assists, five rebounds and two steals with Alex Sharp contributing seven points and four boards, and Mackenzie Clinch Hoycard three points.
Jocelyn Willoughby was impressive for the Flames especially in the first three quarters where she scored 24 of her 26 points to go with five assists.
Keely Froling added 15 points, nine rebounds and three assists while Hannah Sjervan contributed 10 points, nine boards, three steals and two assists.
How it all panned out
Chloe Bibby and Amy Atwell both knocked down three-point bombs to open the night for the Lynx but it was the visiting Flames who made the first break leading 18-11 with WNBA import Jocelyn Willoughby on fire.
Ryan Petrik called a timeout and it worked a treat with the Lynx coming out and hitting the last eight points of the quarter including closing it out with a dazzling no-look pass from Sami Whitcomb to find an open Alex Sharp under the bucket.
That saw Perth lead 19-18 at quarter-time before a couple of early buckets to start the second term saw the home team remain on top.
Lauren Scherf then knocked down a triple as did Atwell to maintain the advantage, and it got out to seven points on the back of consecutive threes to Mackenzie Clinch Hoycard and Whitcomb.
The Lynx were still up 39-35 at the half with hitting 6/15 from deep compared with Sydney's 2/11 the major difference at the long break.
Whitcomb opened the second half dropping a three-pointer but Willoughby continued to light it up for the Flames to keep things interesting.
Scores were soon back level and then it was Sydney on top 54-53 at three quarter-time on the back of late long-range bombs from Mangakahia and Willoughby.
Then it was the Flames who took that momentum into the fourth quarter with the opening seven points starting with a strong and-one from Keely Froling and then two baskets way too easy for Shyla Heal.
The Lynx needed to respond and they did starting with a basket to Bibby, then Ryan and Sharp to complete a 6-0 leading to a Shane Heal timeout with his team's lead cut to just two.
Soon after, Atwell and Sharp both knocked down three-pointers to put the Lynx back on top and they were able to build on that advantage from there.
Ryan then made a couple of tough shots, Bibby added another and then it was three-point bombs from Atwell and Ryan that pushed the lead out to eight. Atwell sealed the deal with another and the Lynx won by those eight points.
What's next for Lynx
The Lynx now don't play again until Friday December 2 in another home clash against the Melbourne Boomers in a chance to get revenge for last season's grand final and this season's opener.
CYGNETT WNBL ROUND 3
PERTH LYNX 80 (Bibby 15, Atwell 15, Scherf 14)
SYDNEY FLAMES 72 (Willoughby 26, Froling 15, Sjervan 10)