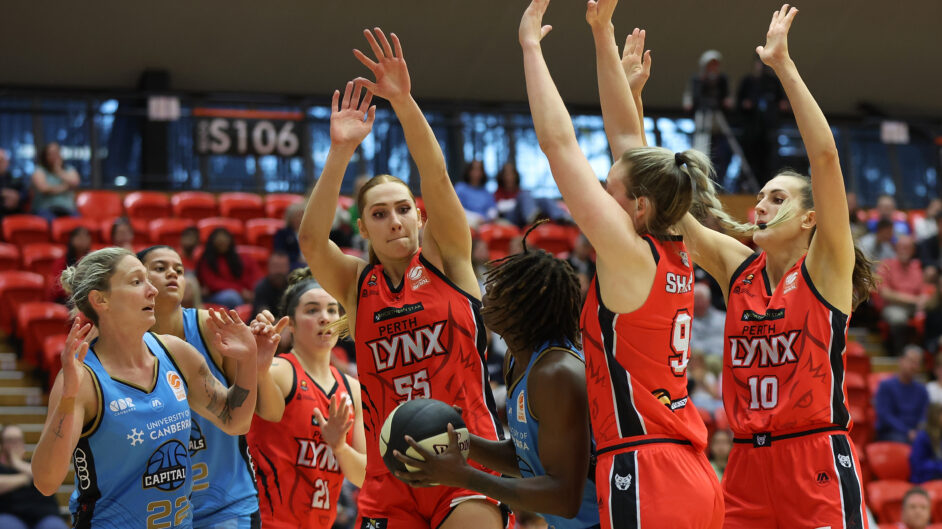 November 15, 2022 | Perth Lynx news
Feature Writer: Chris Pike
For the first time this WNBL season Perth Lynx coach Ryan Petrik was happy to see a glimpse into what his team is capable of with plans being executed against the UC Capitals which he hopes they build on against the Sydney Flames.
Most pleasing aspect of win
The Lynx lost their opening two games of the season to the Melbourne Boomers at home and away to the Bendigo Spirit, but coach Petrik didn't feel he could really judge if what they had been working on over pre-season could work.
That was largely because for the most part he didn't see executed what they had been working on at either end of the floor across the 80 minutes to get a good grip on if their plans could work or if they needed to go back to the drawing board.
That's why the Lynx focused on getting their execution right during the week leading into Saturday night's home clash with the University of Canberra Capitals, and things came together tremendously in the 97-62 win.
There was a lot to like in the performance but ultimately it was about following the plan more closely that pleased the coach.
"We spent the whole week getting into the playbook and wanted to find out if the playbook worked before deciding if we needed to change it," Petrik said.
"We obviously know after last season it worked fine and we've made tweaks obviously. We actually put the offence into rows when we code it and our No. 1 play against Bendigo was the question mark because we had no idea what that play was or was meant to be.
"Probably 10 per cent of that was pressure and 90 per cent of it was us, so we spent 90 per cent of this week focusing on getting us right."
Why defensive execution was critical
While the Lynx offence was tremendous putting up 97 points while shooting 51.8 per cent from the field, 36.0 per cent from deep and dishing out 32 assists in the 43 made field goals to go with just the nine turnovers, that's not what most impressed Petrik.
It was the defensive performance he liked even more with Lauren Scherf anchoring everything done at that end as they went on to win the rebound count by 10, restrict the Capitals to 38.0 per cent shooting and force them into 16 turnovers.
"I loved our defence and as important as looking after the ball offensively was executing our game plan defensively," Petrik said.
"If the game plan then doesn't work we'll fix it, but we wanted to see us actually execute what we wanted. When we go rogue on defence then we don't know what to fix as coaches so we wanted to see our plan actually put in place to see how it stood up.
"We're just trying to simplify some things and we're going to give someone one thing to do there, and someone one thing to do there and then they have no excuse.
"So the guards were on the same page and whenever they heard an on-ball the bigs knew exactly who they were going to guard and who they weren't. Playing harder was then the bigger adjustment.
"We just said to them that if they can nail the game plan and play at 3/10 intensity level it won't matter. We will have some bad defensive possessions X's and O's wise but if we can give 90 per cent effort then it will fix the mistakes most of the time. We just played way harder in this game."
Offensive end clicking better
There were times during the game on Saturday night where the execution offensively from the Lynx was picture perfect.
They tore the Caps defence to shreds at times especially during the second quarter where they would run the diversion play with a player rolling to the basket who the player up top could find for the open basket.
There were at least five of those plays run during the second term alone and Petrik was glad to see things they've been seeing in practice show up in a game.
"Well we have seen that happen plenty, it happened in all five pre-season games where we had no problems scoring. Then against Melbourne we had no problem scoring, it was just that one game against Bendigo," Petrik said.
"As always, you don't get too high with the wins and you don't get too low with the losses. We know we are better than the team we showed last week and we might not be 35 points better than Canberra, but things looked good out there. We just had to fix some things on our end.
"I know everyone was missing Opals in pre-season but we were probably missing the best one in Sam and you can see she plays a pretty important role with us. So getting her on the same page as Robbi and Amy was a big learning curve in just a week, and then we played two teams who everyone is predicting to be top three teams.
"We got them back-to-back and were in both games with six minutes to go. We should have lost both times but the end scoreline didn't really tell the story so if you look at it glass full, we knew if we could have fixed some things at our end we'd be OK. That's what we were able to do."
Seeing the playbook in action
Before making any decisions on the way the Lynx were going to continue to play, Petrik wanted to see how they looked when they carried out the current playbook.
That happened on Saturday night with Amy Atwell finishing with 21 points, Chloe Bibby 20, Sami Whitcomb 16 and Alex Sharp 12 to go with 11 rebounds with 10 of the 11 players to hit the court all scoring.
"The style of play is not quite equal opportunity offence, but almost. It's motion based and read based, and when it's bad it can have a lot of turnovers and it's very Golden State like," Petrik said.
"But then when it works it gets you very high percentage shots and we saw that out there, and it's hard to know who to guard. It's very five out and it's very modern and they have to choose to guard the rimmer or the three, and we'll choose whichever one you don't want to guard."
A couple of standout performers
It was hard to single out too many players given the strong team performance from the Lynx which began with Whitcomb and Atwell combining for 25 of the 27 first quarter points.
While Lauren Scherf might have only scored six points, she likely had the most significant impact of anyone on the floor finishing with 10 assists, nine rebounds, three blocks and two steals.
Petrik couldn't have been happier with the way she impacted the game in so many ways.
"She's playing that Tom Jervis role at Rocko or the Draymond Green role at Golden State where the ball's in her hands a lot up top and she facilitates," he said.
"She's almost point centre for us and she had nine assists in game on and 10 in this game. Had she finished at the rim she would have received an 11/10 because the rest of her game was fantastic."
Chloe Bibby was another Lynx player to produce another standout performance. She backed up her 28 points against the Spirit with 20 points, four rebounds, three assists and two steals.
What Petrik is happiest about with her is the hard work she's putting in which allows her to still play well even if her shots aren't feeling as well as she'd like.
"Chloe just plays her backside off. Clearly she has talent, but she just plays hard and when you've got talent and played hard, that can be a really deadly combination as simple as that sounds," he said.
"She's been fantastic and she didn't shoot the ball that well, but still stuffed the box score because she does everything else well. That's what's most scary about her because when she shoots well, my god she's going to be nuclear."
Flames challenge before break
The Lynx will now host the Sydney Flames on Wednesday night back at Bendat Basketball Centre.
They have only played one game this season to date which was a 20-point road loss to the Bendigo Spirit.
However, with a team featuring Shyla Heal, Tiana Mangakahia, Keely Froling and imports Hannah Sjerven and Jocelyn Willoughby coached by Shane Heal, Petrik knows they are going to be a significant test.
"We know they are loaded and as Shane's told everyone, they are the fittest team in the country," Petrik said.
"They only just played their first game and we know they are fit and super, super talented with two WNBA imports. We know they have a boat load of talent, a good coach, they are super fit and have played one game.
"It's just the same kind of thing coming back from the Bendigo road trip, it's 95 per cent us. As good as we were in this game, we're still probably only playing at 60 per cent of our ability.
"Once we start getting to 90 or 95 we'll start to hurt the opposition more. Clearly we'll scout the hell out of Sydney but we only have one game to go off so right now we have to nail our stuff."