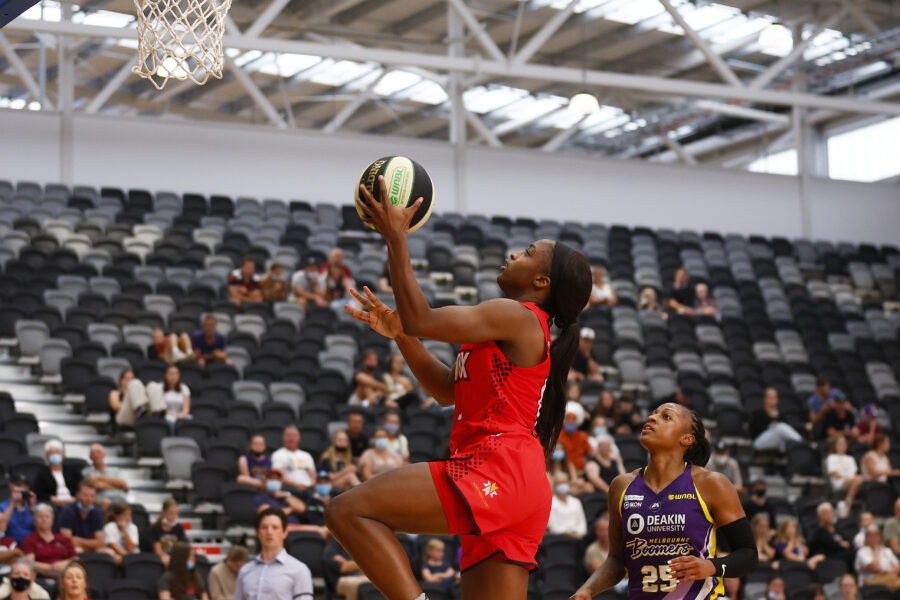 February 6, 2022 | Perth Lynx news
The Perth Lynx have consolidated top spot in the WNBL with a fifth straight win but had to do it the hard way without some superstars before overcoming the Melbourne Boomers 76-71 in overtime.
Both teams were missing a host of stars both courtesy of injury and the Australian Opals tour to Serbia. What that meant was they needed to find new players to step up and that it was a contest where precious little separated them the entire 45 minutes.
The Lynx were minus Marina Mabrey, Sami Whitcomb and captain Darcee Garbin with the Boomers missing Cayla George, Tess Madgen and Ezi Magbegor. That virtually cancelled each other out, but led to a fascinating battle at the Gippsland Indoor Sports Stadium in Traralgon.
The final five-point margin was the biggest gap to ever separate the teams but it took the biggest shot of her young career for Alex Sharp to force the game into overtime.
The Lynx had missed 13 of 14 three-point attempts for the game, but down three and with the shot clock turned off, she stepped up to nail the bomb from the corner.
Afterwards, Sharp who is the reigning NBL1 West MVP and Grand Final MVP with the Willetton Tigers just backed herself to catch and shoot after the play was drawn up.
"I think we were just focused. Ryan (Petrik) drew the play up nice and clear so I knew it was coming to me," Sharp said.
"I was drifting to the corner and just catch and shoot, that's all that I was thinking. When it comes down to it, you just have to catch and shoot whether it's been going down during the game or not. You just have to make it when it counts."
Then in overtime, Jackie Young took over with help from Alex Ciabattoni and Lauren Scherf for the Lynx to go on an 11-4 run to close the game. It's a fifth straight win for the Lynx who now maintain top spot at 7-2.
Young finished with 26 points, seven rebounds, six assists and two steals for the Lynx with Scherf adding 19 points, 18 rebounds and three assists in another monster performance.
But others had to step up to make up for the loss of 49.3 points, 15.5 rebounds and 8.9 assists a game without Mabrey, Whitcomb and Garbin.
Ciabattoni was huge with 12 points while Sharp added seven points and 13 rebounds, Tayah Burrows five points and two assists, Emma Gandini three points and three rebounds, Ash Isenbarger two points and six boards, and Emma Clarke two points and two rebounds.
Lindsay Allen top-scored for the Boomers with 17 points with Penina Davidson adding 13, Tiffany Mitchell 11 and Carley Ernst 10.
Lauren Scherf and Jackie Young knew extra responsibility rested on them in the absence of Sami Whitcomb, Darcee Garbin and Marina Mabrey, and they combined for the first six Lynx points.
However, the Boomers still managed to lead 15-13 by quarter-time despite a triple from Emma Gandini, which would be the only one from downtown for the Lynx until the dying seconds.
Young then brought scores back level to open the second quarter before putting Perth in front narrowly on back-to-back three-point plays as she attacked the basket. Emma Clarke, Alex Ciabattoni and Scherf all got to the foul line late in the half with scores tied at 34-34 apiece.
Scherf and Young had combined for 22 points and 13 rebounds for the Lynx before they went on a 5-0 run early in the second half. Neither side could open up much of a gap, though, and by three quarter-time Perth only led 49-47 courtesy of a pretty buzzer-beating clutch jumper from Young.
The game was right up for grabs heading into the fourth and Scherf extended the Lynx lead to four but Lindsay Allen then caught fire for the Boomers. When she hit her second three in a matter of minutes, Melbourne was up 57-55.
A couple of huge buckets from Ciabattoni kept the Lynx close, the second of which was with 13 seconds left to make it a one-point game. Tiffany Mitchell made her two free-throws leaving the Lynx needing a three having gone 1/13 from deep so far in the game.
It was Alex Sharp time and she nailed it from the corner and the game went into overtime in the most spectacular fashion.
Melbourne scored first in the extra period but then it was Jackie Young time for the Lynx. She made two free-throws and then after a massive offensive rebound from Ciabattoni, she put in the layup.
She then found Scherf inside for a finish to cap a game-turning 6-0 run to put the Lynx up four.
While there was still a nervous moment with the unsportsmanlike called on Young and leading to four Boomers points to again tie up scores, the Lynx finished the better thanks to Scherf scoring inside again and then Young capping the win with three clutch free-throws.
The Lynx now have until Saturday when they take on the Bendigo Spirit in Bendigo.
WNBL ROUND 10
PERTH LYNX 76 (Young 26, Scherf 19, Ciabattoni 12)
MELBOURNE BOOMERS 71 (Allen 17, Davidson 13, Mitchell 11)