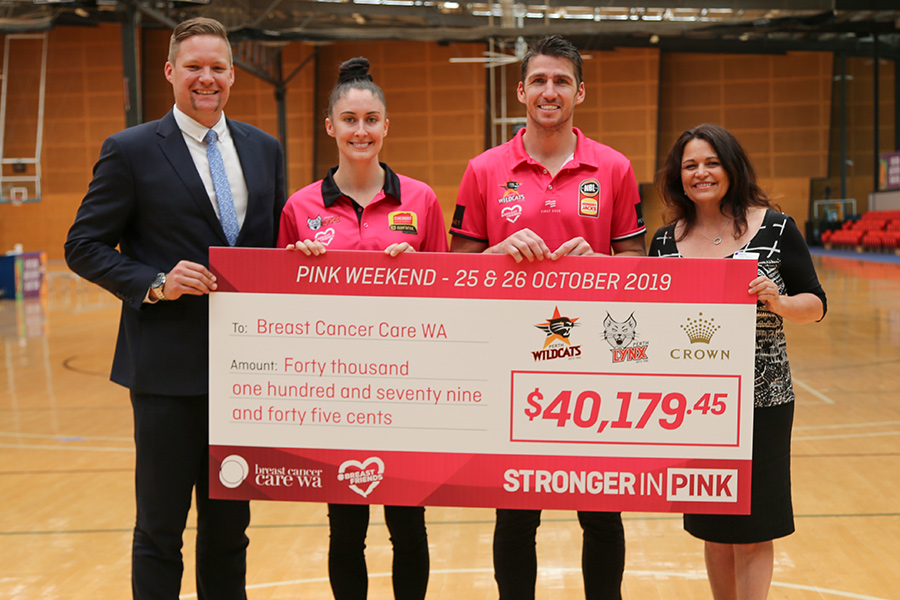 November 7, 2019 | Perth Lynx news
The Perth Wildcats and Perth Lynx have presented a cheque for $40,179.45 to West Australian charity Breast Cancer Care WA.
The organisation hosted its pink weekend on 25 and 26 October, with both sides switching their iconic red uniforms for pink for their home games.
It's the third Pink Game for the Wildcats, while it was the inaugural event for the Lynx.
Breast Cancer Care WA operations manager Tricia Leary was extremely grateful.
"We have to fund raise every dollar, there is no government funding. Everything we do is through sponsorship, it's through community events. To know we can rely on an organisation such as the Wildcats and the Lynx and Crows – it's a great partnership and we're really happy and excited that we've been chosen to support," she said.
"It's an honour to get a whole weekend from the Wildcats and Lynx. $40,000 actually means about three months of counselling, workshops and services."
Funds were raised through game-worn and signed pink jersey and other exclusive auctions, net profits of pink merchandise sales, through donations by fans at the games and through a partnership with Crown who hosted high tea events.
The Perth Wildcats & Perth Lynx would like to thank its fans and Crown for their generous donations and making the Pink Weekend for Breast Cancer Care WA a success.