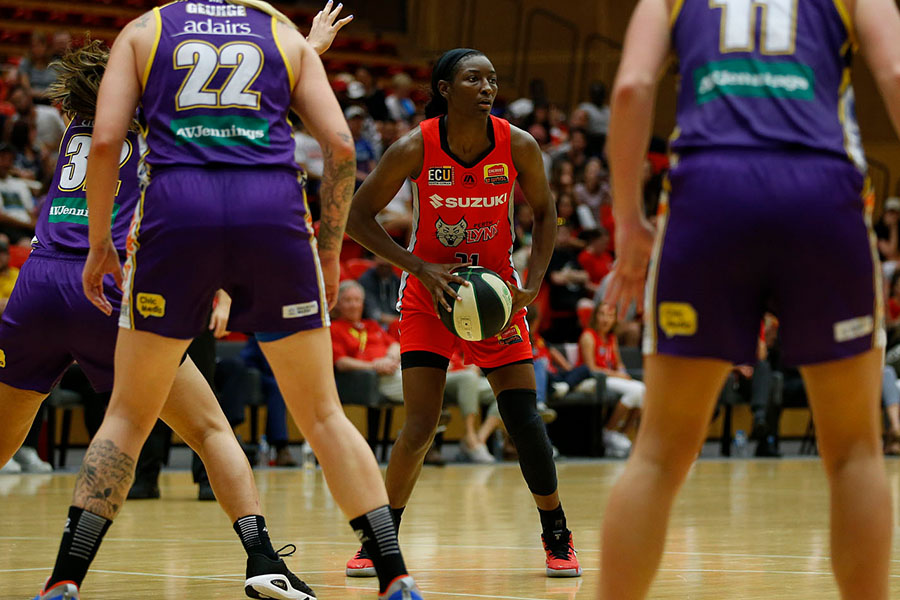 January 11, 2019 | Perth Lynx news
The Perth Lynx are still in the hunt for a home final, with an all-important win over the Melbourne Boomers on Thursday night, at Bendat Basketball Centre, 74-60.
In one of their best defensive games of the season, Perth held Melbourne to 20.8 percent from the three-point line.
The Lynx started out slow from long range, but ended up shooting an impressive 47.6 percent from behind the arc.
Asia Taylor was her usual self, scoring a game-high 29 points, eight rebounds, and two assists.
Perth took a 13-point lead into the second half, but a slow start in the third allowed Melbourne to within four points before Andy Stewart called a timeout.
"We just kept working at things, and it turned around," Steward said.
"Most of the game gets played in a little bit of an up and down, and when you're down, you've gotta try and stay with what you've talked about.
The Boomers score of 60 was their second-lowest score of the season so far, and Stewart credited Perth's hard work throughout the game to keep them to it.
"It's so useful against other teams, because they just don't like it," he said.
"You can see that they were scoring from areas that they don't normally score from because they had to, because we were taking a lot of stuff away from them."
Katie-Rae Ebzery scored 11 points and five rebounds, while playing tenacious defence on Boomers star, Lindsay Allen, keeping her to only six points, on 22 percent from the field.
Alison Schwagmeyer contributed 14 points, two rebounds, and had the hot hand, shooting 66 percent from the field.
Perth may face Melbourne again in the finals, depending on how the next week plays out with the top four order still to be set.
The Lynx will stay in Perth to finish out the regular season, as they take on the Adelaide Lightning on Saturday, 19 January.
Tickets are available here.
Perth Lynx 74 (Taylor 29, Schwagmeyer 14, Ebzery 11)
Melbourne Boomers 60 (Magbegor 16, O'Hea 12, Garrick 10)