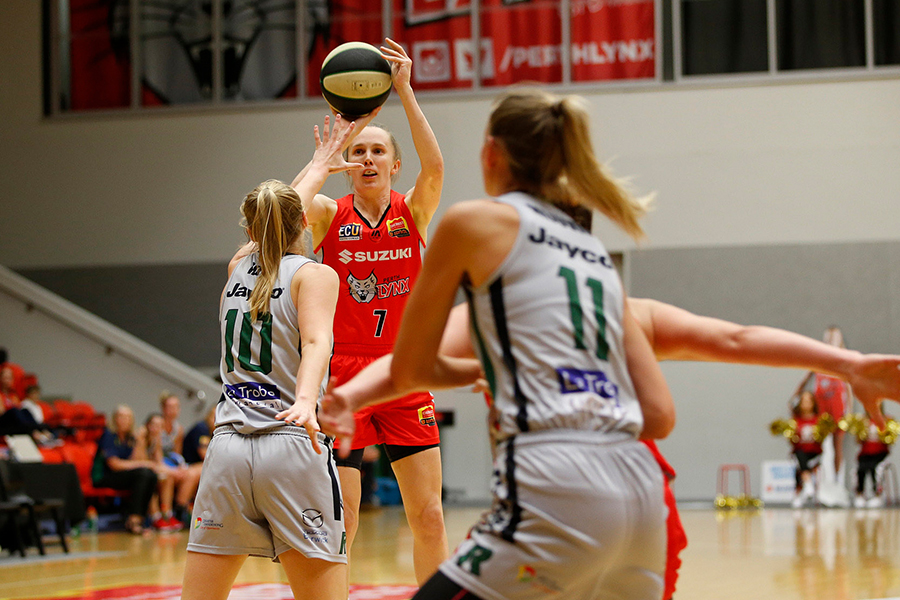 December 29, 2018 | Perth Lynx news
The Perth Lynx have won the series matchup against the Dandenong Rangers with an impressive four-quarter display in Perth on Friday night, 95 – 80.
The game was close at every break, with only three points the margin after three quarters.
Katie-Rae Ebzery said the team was persistent to keep up the intensity, to win the game in the fourth quarter.
"I think we defended well the whole game, but our fitness may have come into it and we were able to maintain a bit of pressure," she said.
"It was just a bit of a roll-on effect, just persistence really."
Ebzery finished the game with 10 points and six assists.
Asia Taylor was in fine form again, scoring 22 points, 12 rebounds and 4 assists, while keeping the ball safe – not committing a turnover in her 35 minutes.
Andy Stewart said her performance enables the whole team to score, because of the attention she gets from the opposition.
"We got 19 assists, and had five girls in double figures," he said.
"That makes it really hard to say 'we're going to shut down Asia Taylor.'"
"The ball is flowing around the floor, which we're pretty happy with."
Ali Schwagmeyer was the second player to hit 20 points, along with her two rebounds and two steals.
The Lynx will now face the Adelaide Lightning on Saturday morning, 9:00AM WST,  in less than two days time, in Adelaide.
Stewart said the team will be putting all their focus on the Lightning now, with such a short turn-around ahead.
"We're going to be doing stuff on the plane; scouting, stretching, recovery," he said.
"We just had to make sure we got this game, and all the preparation is being done off the side of that."
You can follow the game with the live stats here.
Tip-off is at 9:00AM WST.
Perth Lynx 95 (Taylor 22, Schwagmeyer 20, McPhee 15)
Dandenong Rangers 80 (Laney 21, Pedersen 14, Cole 13)