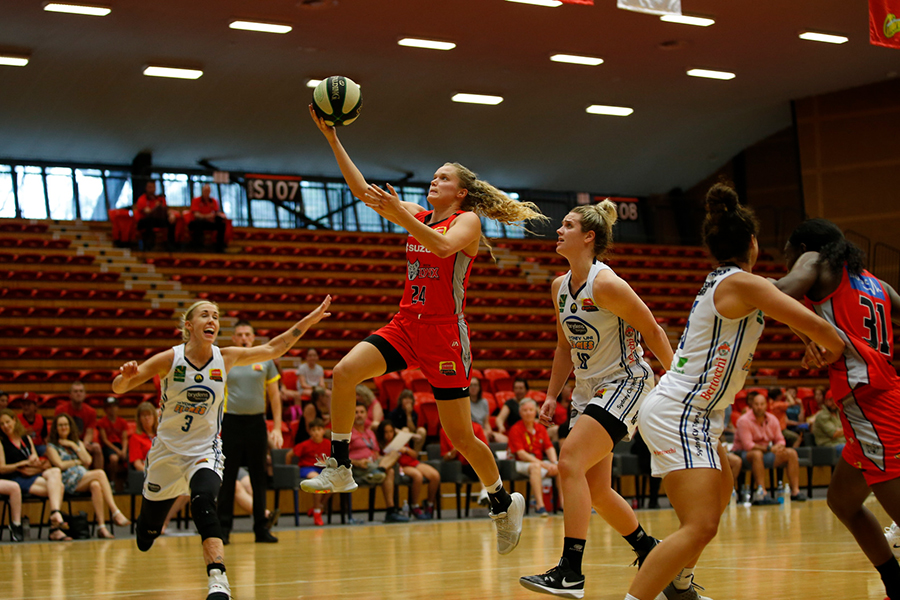 December 23, 2018 | Perth Lynx news
The Perth Lynx have defeated the Sydney Uni Flames in a thrilling finish at Bendat Basketball Centre on Sunday afternoon, 88-84.
The game went back-and-forth through it's entirety, with both teams leading by 13 points at different times.
Perth started well, outscoring the Flames 30-19, before Sydney fought back in the second quarter to take a six-point lead into the half.
The Lynx closed out the game with composure, with the score staying close until the final buzzer.
Asia Taylor said there was some new elements to their offence, but they did enough to get the win on the day.
"It was an emotional rollercoaster for us on the floor and I know for the fans too," she said.
"Sydney is a competitive team, so we knew they were going to fight, but we just kept chipping away."
Taylor had one of the biggest games of her Lynx career so far, with 29 points, 13 rebounds, six assists and two steals.
Andy Stewart said he was happy with the scoring, but her overall hustle in the game was incredibly pleasing.
"We've seen the scoring from Asia on a pretty consistent basis, but when you get 13 rebounds – that's the one thing we've been asking for," he said.
"You would have seen that some of those rebounds where she's launched herself into the air, stuck two hands on the ball like a footy mark and said that one's mine."
Alison Schwagmeyer finished with 14 points, five rebounds and five steals.
Stewart said the whole team's effort was special to see.
"We had good contributors across the board, everyone that hit the court today made a contribution," he said.
One of those contributors was Kayla Steindl who had 10 points, six rebounds and an incredible six steals to go along with her three blocks.
The Lynx will play another game at home this Friday night, as they take on the Dandenong Rangers.
Tickets are available here.
Perth Lynx 88 (Taylor 29, Schwagmeyer 14, McPhee 11)
Sydney Uni Flames 84 (Snell 25, Smart 12, Tupaea 12)