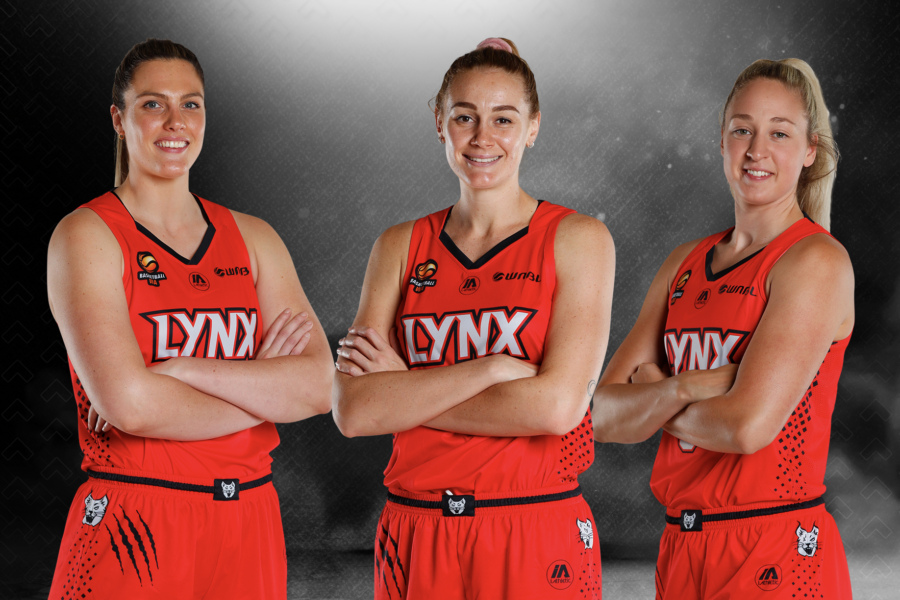 December 6, 2021 | Perth Lynx news
Congratulations Darcee, Alex and Lauren!
With less than 300 days out until the FIBA Women's Basketball World Cup in Sydney the much anticipated 24 strong Opals squad was finalised today. The squad will suit up for international duties starting in Serbia on 10 February with the goal of a podium finish on home soil in September 2022.
The squad consists of players from Tokyo 2020 including O'Hea, Tolo, Smith, Allen, Blicavs, George, Magbegor, Madgen and Talbot.  From their bronze medal finish in the September Asia Cup players include Aokuso, Froling, Garbin, Nicholson, Rocci, Scherf, Sharp, Wallace, Wehrung and Whitcomb.
The Basketball Australia Board ratified the squad late last week following an extensive assessment process.
Chairman John Carey said "basketball in Australia continues to grow at a rapid pace, with more girls playing at the elite level than ever before. The future is exciting for women's basketball, we wish Sandy and the squad all the best for their preparations."
Asia Cup All-Star five recipient Sami Whitcomb debuted for Australia at the 2018 World Cup in Spain with Australia winning silver. The opportunity to play on home soil is the ultimate dream and making the team has been at the top of her list since returning from duties with the New York Liberty. "Playing in a World Cup in Australia is everything, it doesn't get any better than this. It's such an honour to suit up in the green and gold and while you make the squad it doesn't guarantee making the team, so for now I'll keep my head down and keep working my butt off."
Looking ahead to the competition Sami said "no doubt it's going to be tough, the USA, Japan, China, France and Serbia are all fierce competitors, and they are here to win.  The home crowd advantage will be a factor for sure, the Aussies love a good cheer, but we are going to have to work like never before to take home a medal and I can tell you we are all committed to that. You don't play professional sport unless you really want the win and we do, the Opals have an incredible history, and we want to honour that by playing with passion and determination."
Following a strong performance at the Asia Cup Jade Melbourne is the youngest to be named on the squad and she is excited by the prospect of playing a World Cup at home. Melbourne said, "I'm excited to be named in a squad with such exceptional talented players, I have no expectations other than to give it everything and hopefully gain a spot in Sydney."
Coach Sandy Brondello is looking forward to getting the squad together for the short runway into September 2022.
Brondello said, "I am really excited about the talent we have in Australian Basketball and the squad that we as coaches have put together for 2022 is a great mix of experience and youth."
"I was particularly excited by some of the performances from the younger players in the Asia Cup post the Olympics who were given a taste of international basketball and there will be opportunities for those who work hard and make the most of their opportunities throughout the upcoming WNBL competition."
"I remember like yesterday how special it was to play in a World Cup on home soil.  We look forward to having the same support as we had in 1994 to help us get back on the podium.  Our goal over the next 300 days is to continue to grow, develop and be better as individuals and as group so we can achieve this goal."
The squad will remain fluid and can be added to as athlete's performances are assessed in various professional leagues over the coming months.
FIBA WOMEN'S BASKETBALL WORLD CUP SQUAD 2022
Rebecca Allen
Zitina Aokuso
Sara Blicavs
Rebecca Cole
Keely Froling
Darcee Garbin
Cayla George
Shyla Heal
Tessa Lavey
Eziyoda Magbegor
Tess Madgen
Jade Melbourne
Leilani Mitchell
Lauren Nicholson
Jenna O'Hea
Maddison Rocci
Lauren Scherf
Alex Sharp
Alanna Smith
Stephanie Talbot
Marianna Tolo
Kristy Wallace
Abbey Wehrung
Sami Whitcomb