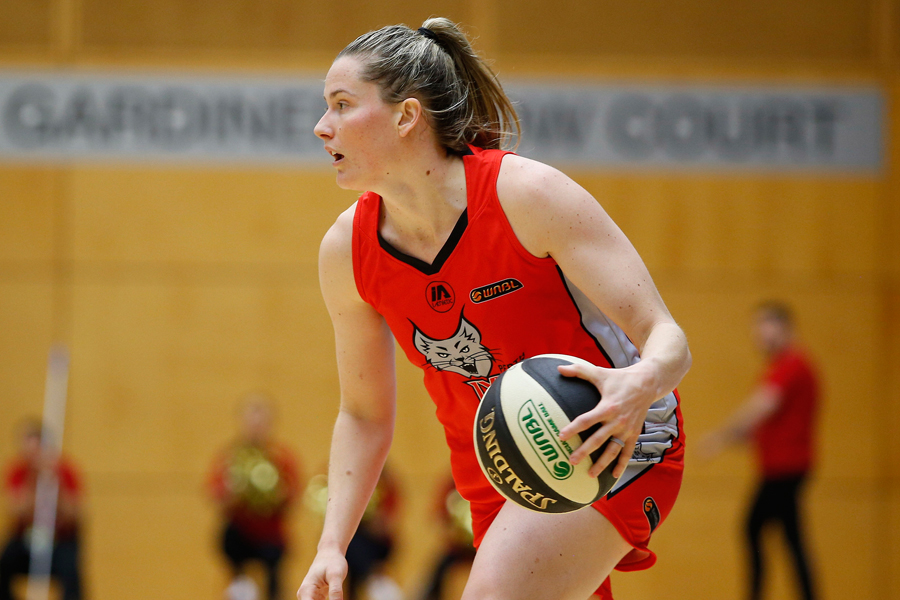 May 30, 2018 | Perth Lynx news
Two-time Perth Lynx MVP Sami Whitcomb has informed the club that she will exercise the European out clause in her contract, and will not be returning to the club for the 2018/19 WNBL season.
Whitcomb initially signed a two-year contract renewal with the Lynx in April 2017, which included an out clause should she receive a guaranteed contract in Europe.
The 29-year-old joined the Perth Lynx in 2015/16, where her outstanding play helped the club to their first Grand Final appearance in 17 years. She was named the team's Most Valuable Player and awarded a place in the WNBL All-Star Five.
In 2016/17, the sharp-shooting guard set the all-time WNBL scoring record, tallying 652 points in 27 games and knocking down a league record 105 three-pointers on her way to being named the runner-up WNBL Most Valuable Player.
Whitcomb enjoyed another strong campaign in 2017/18, being named co-captain of the Perth Lynx, helping the team to their first top of the ladder finish since 1992 and again being named in the WNBL All-Star Five.
Earlier this year, the Californian-born star became an Australian citizen, and trained with the Australian Opals squad ahead of the 2018 Commonwealth Games.
Whitcomb became the first Lynx player to be named to the WNBL All-Star Five for three consecutive seasons, was twice named Perth Lynx Most Valuable Player and twice received the club's Best Defensive Player award.
During her three seasons with the Perth Lynx, Whitcomb averaged 20.4 points, 5.4 rebounds, 3.7 assists and 2.6 steals per game.
"My time with the Lynx has been nothing short of transformative and fulfilling," said the All-Star.
"The people, the organization, the community; it's been a second family for me and I'm so grateful the Lynx organization took a risk on me and gave me an opportunity three years ago.
"Playing in the WNBL and for the Lynx has definitely changed my life.
"To the fans, I'll certainly miss playing at the Bendat Basketball Centre in front of them.
"Their passion and commitment to the team and what we were trying to accomplish these last three years was so critical to our success and to my enjoyment.
"Thank you Lynx fans."
The Perth Lynx would like to thank Sami Whitcomb for her contributions to the club and wish her well in the coming season.
The Perth Lynx will look to make several player announcements in the coming days.