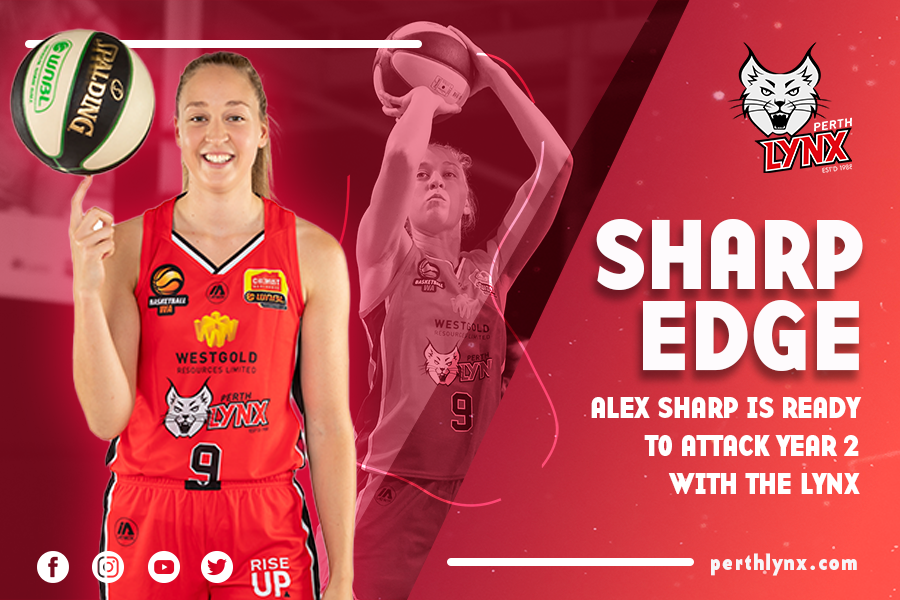 April 23, 2021 | Perth Lynx news
A surprise standout to many in the 2020 WNBL season was young gun Alex Sharp, who started most of the Perth Lynx games in Northern Queensland and found ways to dominate. Signing a two-year deal in 2020, the club's long-term commitment was a sign they knew the talent they were about to acquire. Leading the team in rebounds with 7.9 boards a game, Sharp also was the fourth highest scorer in the team, averaging 8.9 points.
Sharp, a two-time World University Games Gold Medallist, launched her WNBL career in style last season and will bring a level of intensity to this season. Assistant Coach Keegan Crawford had this to say about Sharp following her debut WNBL season "Sharpy had a terrific rookie year showing off her multiskilled approach to the game. The young guard showed an impressive ability to rebound, play make, score and defend."
Head Coach Ryan Petrik acknowledged the impact Sharp had on the WNBL hub season but said he expected nothing different, "We know she turned a lot of heads last WNBL season, but she played pretty much how we thought she would, we think she's that good. We've always loved her game, but seeing her work ethic and dedication to her craft firsthand, you know this kid is going to make it."
Sharpy acknowledged what a huge learning experience the 2020 WNBL hub season was and said, "I was given the opportunity to grow alongside some world-class players, and the guidance of Ryan and Keegan allowed me to establish myself within the league. This coming season, I'm excited to continue building upon what we started last year and to get in front of a home crowd here in Perth."
The Perth Lynx roster for WNBL 2021/22 features Darcee Garbin and Alex Sharp.
23 April 2021
END
For further information:
Brent Dawkins
Perth Lynx – General Manager
E: brent.dawkins@basketballwa.asn.au