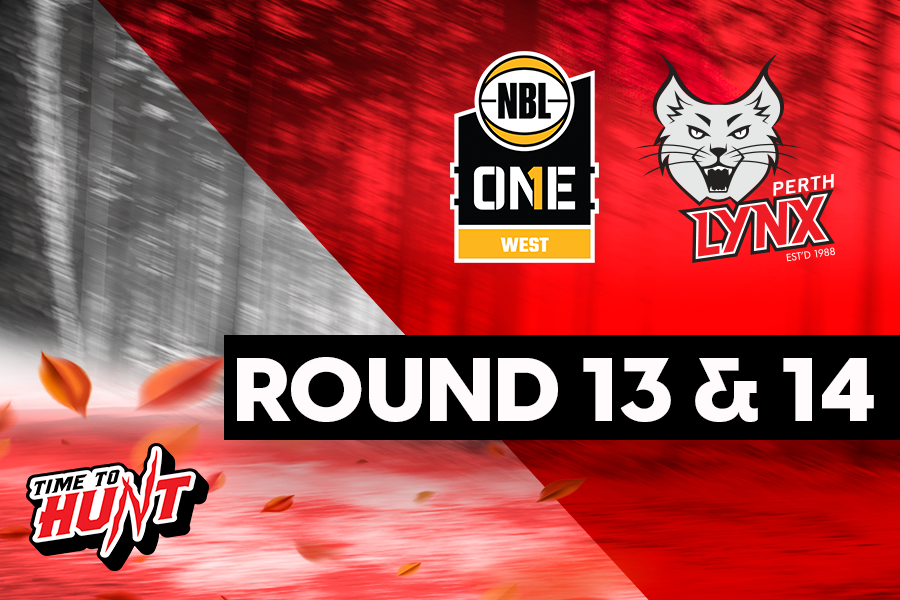 July 21, 2021 | Perth Lynx news
PERTH LYNX x NBL1 ROUND 13 & 14 WRAP
Written by: Marian Perez
ROUND 13
NBL1 featured Indigenous Round across all of Australia in line with NAIDOC week. It was a great celebration of the achievement and culture of Aboriginal and Torres Strait Islander people. Teams wore beautifully designed Jerseys featuring Indigenous art to make the event extra special. This round, a few of our Lynx players matched up against each other! Read on to see how they went.
Alex Ciabattoni
Rockingham Flames #NBL1West 
Chibba played a superb game against a top Willetton team. She played close to 39 minutes (more than anyone on both teams), and she made her presence felt for every second of it. She matched Sharpy's 11 points in the first quarter and continued to score for the rest of the game, finishing with 26 points. Her effort was impressive, racking 8 rebounds, 6 of which were offensive! And on defence, she blocked 3 shots and took 3 steals. Unfortunately for the Flames, the Tigers had outrebounded them 57-37 causing a 93-79 loss. 
Alex Sharp
Willetton Tigers #NBL1West 
Sharpy kicked off the weekend playing against fellow Lynx teammate Alex Ciabattoni. The two found themselves guarding each other on most occasions, fuelling an entertaining match. Sharp hit the ground running with 11 pts and 5 rebounds in the first quarter, setting the pace for a high scoring game. The game was close at the half with Willetton up by 4, but the Tigers turned up their defence in the 3rd, forcing the flames to 9 turnovers. Rockingham couldn't break the double-digit lead, causing a 93-79 Win for the Tigers. Sharp finished with 20 points, 14 rebounds and 4 assists!
Darcee Garbin
Frankston Blues #NBL1South 
The Blues matched up against 17th place Diamond Valley Eagles on Saturday night. Garbin had a monster performance as the primary scoring option, tallying a season-high 35 points at 48% and 13 rebounds. The Blues had a steady 11 point lead in the second which slowly deteriorated in the last 30 seconds of the fourth. Diamond Valley's pesky defence had forced the game to overtime. Overtime was challenging for the Blues, scoreless until the 3-minute mark. Momentum was on the Eagles side, causing 8 turnovers in 5 minutes, leading to a 79-73 upset for the Blues. 
Garbin faced Lynx teammate Lauren Scherf to finish off Frankston's doubleheader. The Blues were up early with a double-digit advantage. They were much cleaner with the ball than the last game, but Kilsyth was able to chip away the lead solely by making more shots in the fourth quarter. Once again, this pushed for an extra 5 minutes in overtime and where the Cobras continued to outscore them 76-71. Garbin had another outstanding performance with 27 points, rebounds and 2 assists, but it just wasn't enough to get them over the line. 
Lauren Scherf
Kilsyth Cobras #NBL1South 
Kilsyth versed Ringwood again, but this time on their home court. It was a slow start for the Cobras, unable to score in the first 4 minutes. Their offense flowed through Scherf, her teammates got the ball in her hands each possession, and she was able to create plays off the post up or even out in the perimeter. Scherf was a tough cover for the Hawks, often just shooting over the smaller defenders and on defence, altering shots in the key and blocking 2 shots herself. She also grabbed a season-high 16 rebounds to compliment her 25 points! Lauren's performance led her team to a slim 66-65 victory!
Cobras vs Blues showcased a great battle of the bigs featuring Scherf and Garbin. The two stars played the full 45 minutes to keep their teams at peak force. Cobras coming off a 2 game winning streak, had full intention of winning against the current number 1, Frankston Blues. Scherf led the attack with 27 points, 15 rebounds and 6 assists! On top of this stellar offensive performance, she tallied 4 blocks and 2 steals, playing with great intensity on both ends. The Cobras pulled off a 76-71 win! Congrats to Lauren and the team. 
—
ROUND 14 
In light of Victoria's five-day lockdown, NBL1 South decided to postpone all scheduled Round 13 games. Here in WA, our players continue to battle as the regular season is slowly coming to an end. 
Ash Isenbarger
Lakeside Lightning #NBL1West 
After 2 weeks of absence, Lakeside was back at it on Friday against 8th place Perry Lakes. The Hawks were un phased by Lakeside's zone, finding the open player and shooting at a high percentage. Perry Lakes controlled the game, rushing Lightning into their shots or forcing backcourt turnovers. Isenbarger was highly involved, from bringing the ball up to crashing the boards. She finished the game with 21 points 9 rebounds, 3 assists and defensively caught 2 steals and 4 blocks. Unfortunately, Lakeside couldn't get over the line, suffering an 89-72 loss. 
Lakeside played another game on Saturday night against the Redbacks, and it was an exciting match seeing Clarke and Isenbarger playing together again. It was a challenging game for the Lightning, shooting poorly from the field and relying heavily on 3 point shots to keep them in the game. They were out-rebounded by Perth, giving up 25 offensive rebounds, crucial to the game's result. Isenbarger herself had a tough matchup against former Lynx Player and defensive machine, Maddison Allen. Ash finished the game with a solid 18 points, 7 rebounds, 3 steals and 2 blocks. But the older Perth squad got the better of Lakeside, causing an 84-62 loss. 
Emma Clarke
Lakeside Lightning #NBL1West

Regardless of the game's result, it was great to see Emma back on court after two long months! Clarke looked comfortable on the court, attacking with intent, and creating plays for herself and the team. In the limited minutes she played, she was active in multiple areas and finished with 10 points, 4 rebounds, 2 assists and 2 steals! We can't wait to see more of Emma as Lakeside continues to push for a spot in the finals in the last 4 rounds! 
Alex Sharp
Willetton Tigers #NBL1West

Sharpy had another efficient night, shooting 69% from the field and leading her team for all 4 quarters. A dominant Tigers team out-rebounded Mandurah, with Willetton playing some solid team defence, forcing the Magic to low percentage shots and allowing very few second-chance opportunities. Sharp got into trouble with a couple of offensive fouls in the first quarter, but the coach kept her in the game, and she finished with 22 points 12 rebounds and 2 assists. This helped her team get the 74-55 victory! 
Alex Ciabattoni – NBL1 West / Bye
Make sure you don't miss a moment by heading to NBL1.com.au or the NBL App
#TimeToHunt #NBL1WEST #PerthLynx