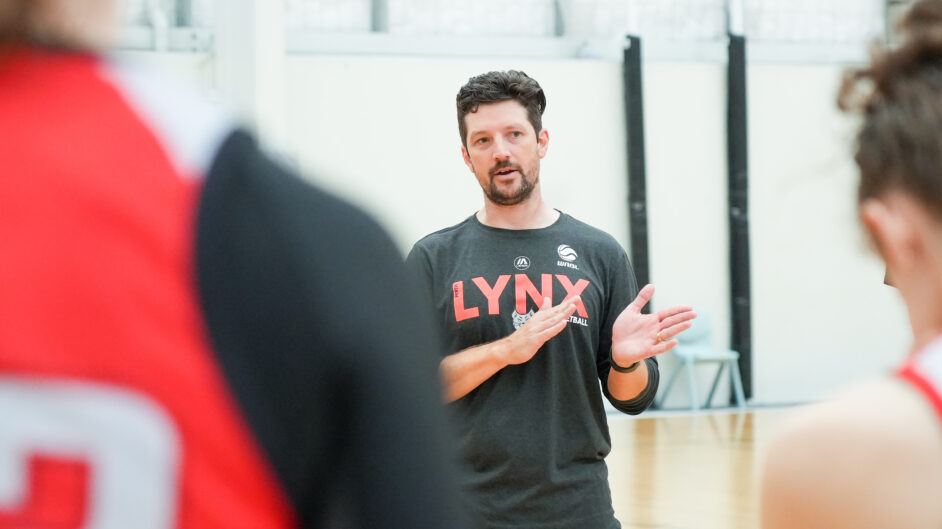 September 22, 2023 | Perth Lynx news
Perth Lynx coach Ryan Petrik is excited to be building a new-look team for the 2023/24 WNBL season around an exciting pure point guard with attacking weapons around her with pre-season preparations ramping up.
The Lynx are now about to complete the first two weeks of pre-season training leading into the WNBL season that begins on Friday, November 3 against the Sydney Flames at Bendat Basketball Centre.
It's a decidedly new-look Lynx squad as well, with only Mackenzie Clinch Hoycard and Amy Atwell back from the team last season that made a stirring run into the finals, while Chloe Forster has been elevated to a full roster position.
Then there's the new signings headed up by WNBA star point guard Aari McDonald along with perennial MVP contender and regular Australian Opals representative Anneli Maley.
Add in new big pairing Emily Potter and Ashlee Hannan, wing pair Miela Goodchild and Steph Gorman, and the return of experienced guard and new mother Alex Ciabattoni, and there's good reason for Petrik to like the squad he has to work with.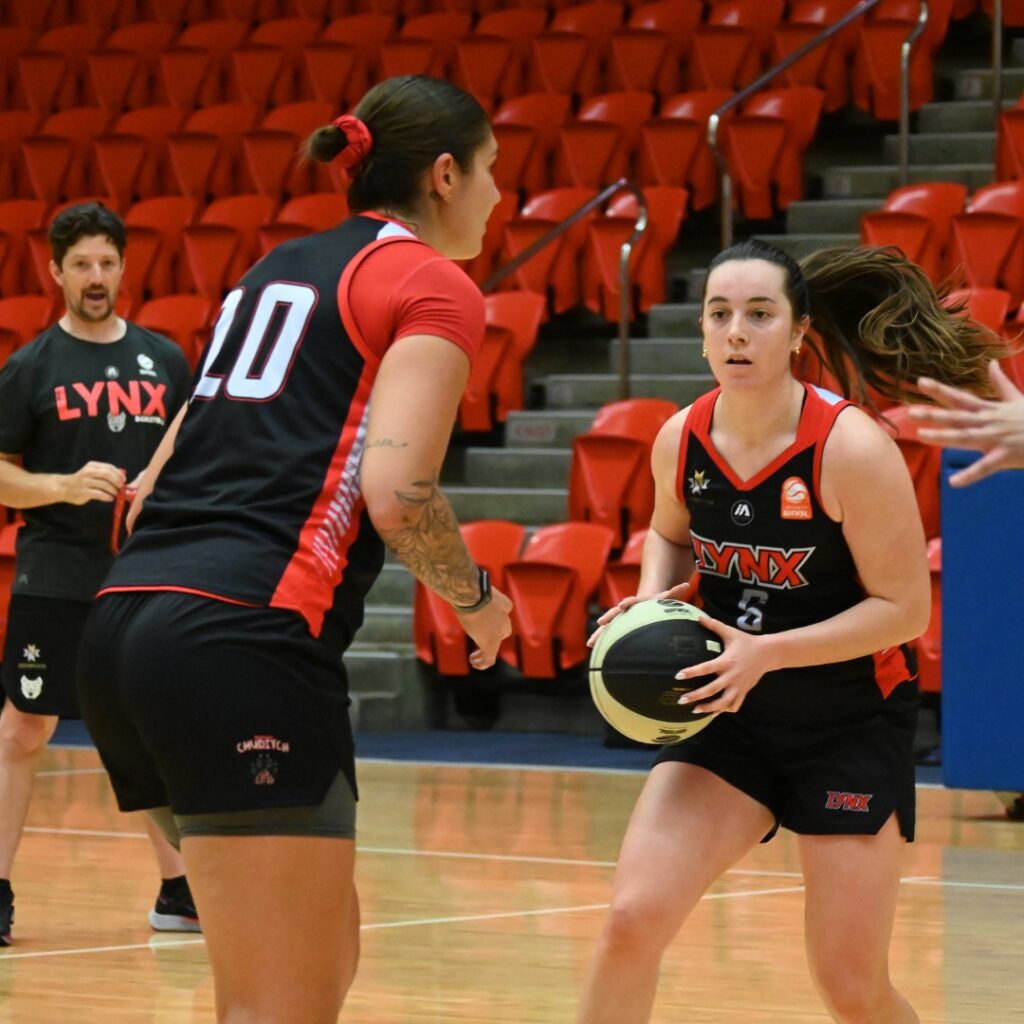 Almost starting from scratch with a new group
Given the player turnover and it's almost like starting all over again for Petrik with this playing group, but that creates an air of excitement as well and it appears to be a trend around the WNBL that it's difficult to keep a core group together season after season.
While losing Sami Whitcomb and Alex Sharp to rival clubs or Lauren Scherf and Chloe Bibby overseas wasn't in the plans, Petrik rolls with the punches, and it always creates a sense of excitement to have that blank canvas to almost work with to put together a new roster.
"I think most teams are going through something similar so we're all kind of doing it and that just seems to be a bit of an on-going trend on the women's side of things than in the men's competition," Petrik said.
"Going back to when I was part of the Perth Lynx coaching staff and the Wildcats owned us, and on the guy's side they had guys like Wagstaff, Knight, Hire, Robbins, Lisch, Redhage, Jervis, Martin for a number of years to build around.
"We were in the office next door and would have loved something similar, but it just seems it's a lot harder on the women's side. Then with us, we've had players move on to bigger and better things largely with Garbin getting a massive offer from Europe, the same with Lauren Scherf and Bibby.
"So we've got players going higher up, so you have to let those players go with your blessing, but it's also exciting to coach a new squad each year with the challenges it provides, even if it's certainly not the plan."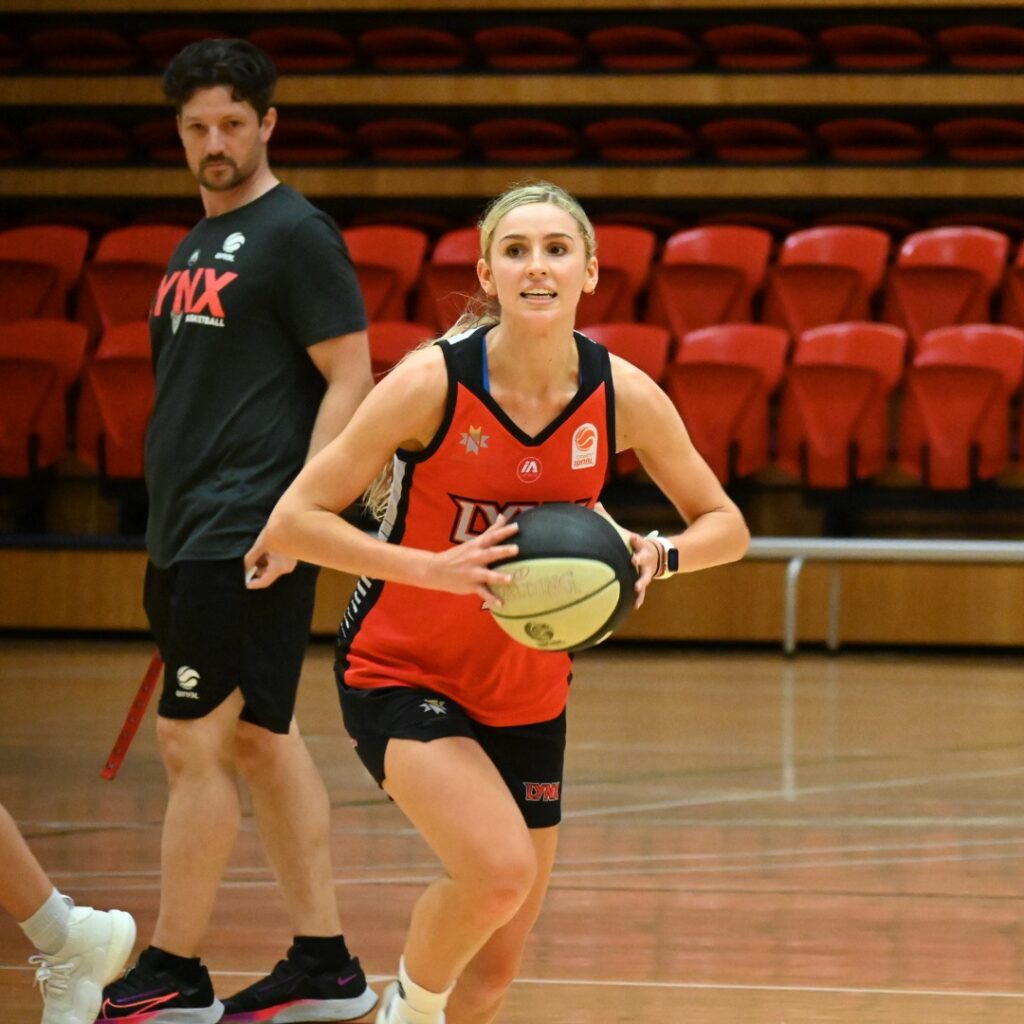 Adjusting playing style to the new personnel
While Petrik does have a style of play, he largely likes all the teams he coaches to play, whether it's going back to his SBL championship-winning Rockingham Flames women's teams, his title-winning Rockingham men's NBL1 teams, or indeed now at the Lynx in the WNBL.
However, there's always flexibility in that system to equate for the different personnel, so in a lot of ways, it's about trying to find the best pieces available on the market to sign and then figuring out how to fit them into the system and making whatever adjustments are necessary.
Even comparing this squad to last season's squad where Lauren Scherf played as that point centre and then there were combo guards Robbi Ryan and Sami Whitcomb, now Petrik has a genuine point guard to build in when Aari McDonald's WNBA commitments are over.
"Every team I've coached has been a little bit different depending on the personnel, but they've all played relatively similar in the style," Petrik said.
"If you watched the Rockingham Flames and Lynx play, you can see they have the same coach, albeit running slightly different stuff with different personnel. I've got an idea in my head of how I want my team to play, and then it's about going to get the players for that which is the best plan.
"But it's also about who the best player is on the table that we can get, and if they don't fit at all, then I have to change the plan. So this year with the Lynx, you'll see us play very differently because we have a genuine point guard, but last year, we had Lauren Scherf in that role.
"Everyone freaked out about that until it started working and then everyone thought it was genius, but we were just working with what we had.
"Now this season, I've never had a small, jet-quick point guard like I have with Aari, but she was the best player available, so it's all about how I can make that work. Anyone who is a Perth Lynx fan will watch us play and think it's roughly the style they remember, but it's also completely different because of the new personnel."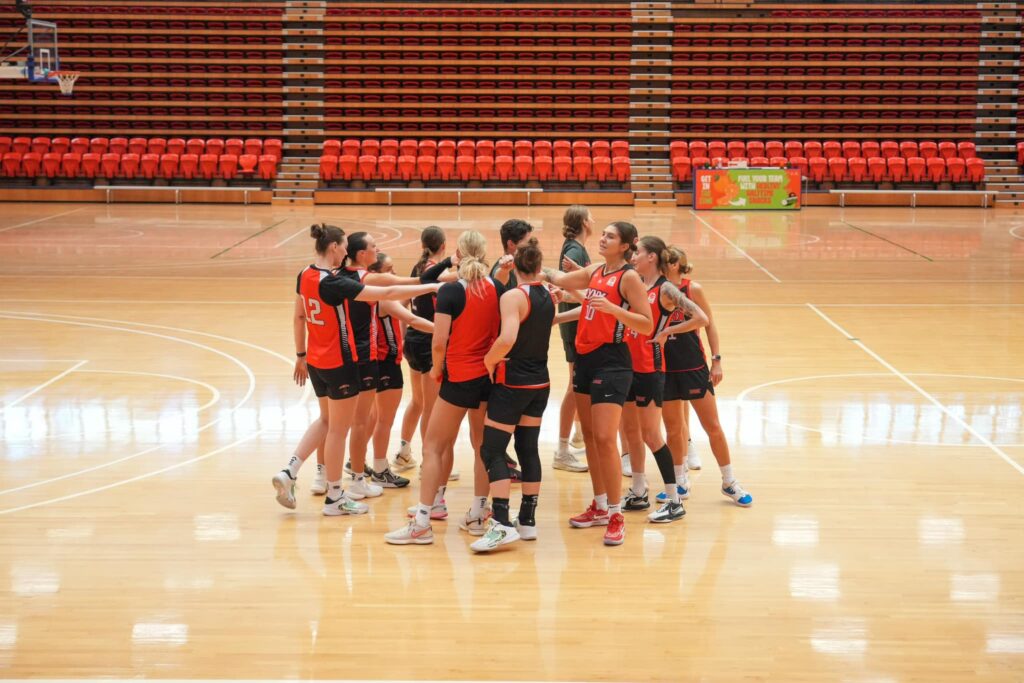 The challenge of starting without your point guard
The Lynx have now almost completed the first two weeks of pre-season, but without everyone available, it's had its challenges to make too much progress in terms of game strategy, but Petrik acknowledges the rest of the league is in the same boat.
The biggest adjustment for this Lynx team of WNBL24 is going to be having Aari McDonald as the point guard so until she arrives once her WNBA season is over at the Atlanta Dream, Petrik won't fully know how his team is going to run.
However, he's got the plans in place of what he implements, and he's got the vision of how he wants it to look, but he's also open to making some adjustments to make everything work once McDonald actually hits the floor with her new team.
"On one hand, we've obviously built a team based on her speed, so we tried to get as many matching pieces for that as we could, but the overall style and philosophy is pretty well set, and we can get that taught and moving now before she gets here," Petrik said.
"But it's more about the nuances and little intricacies of the offence that we will have to wait for her to get here because she'll have the ball in her hands a fair bit playing the one.
"We've never really had the true one in my time, so we're kind of putting in the base offence and then the stuff we know that we can run without her on the floor, which isn't so much for her.
"So we can get those basic things in now, but the finer details are things we want me to be able to figure out until we actually get her on the floor and can start working with her."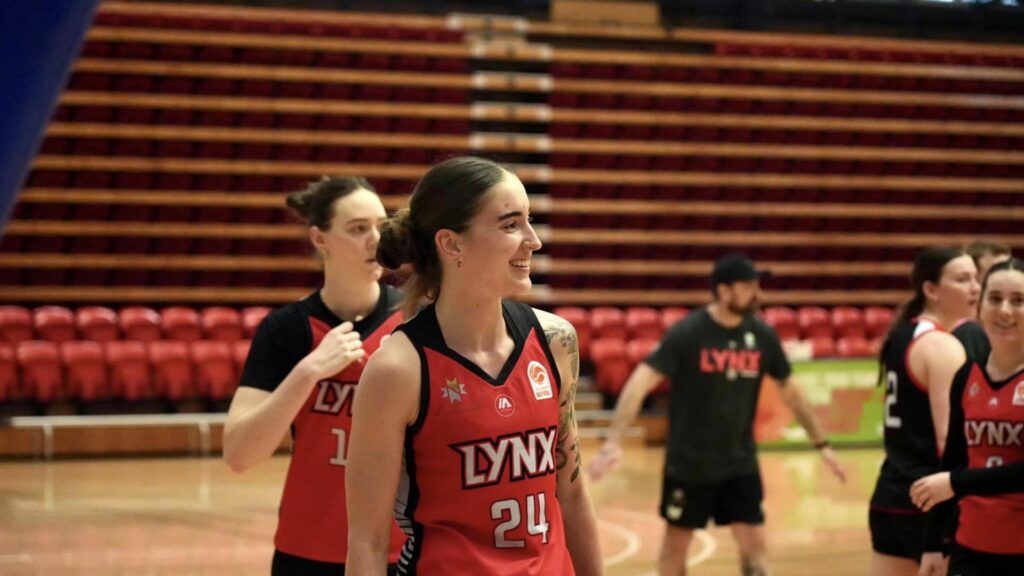 Fitting in Anneli Maley to the system
Another significant signature for Petrik and the Lynx to secure this off-season was bringing across Anneli Maley.
She has been knocking on the door of playing in the WNBA, she's a regular in the Opals, she's a well-established WNBL star, and quite simply, she's the best all-round player in the league because of everything she provides.
Maley is such a brilliant rebounder; she can bring the ball up the floor and distribute, she can create for her teammates, she can score when needed, and she can be aggressive going to the rack.
She can just about play any role on the team, and Petrik would love to have multiple of her, but for now, he's open to using her in various ways.
"She's a ripper, and you have these thoughts about how she would plug into this system by watching her from the outside," Petrik said.
"Again, we love versatile players who can play multiple positions and who can do various things and just play hard.
"She does all those things, and she's almost someone you'd love to have three of on your team because you can use her to pinch hit in the two if you wanted; we're using her exclusively as a three in practice right now, and then when Aari arrives, we might use her exclusively in the four.
"You can just use her wherever you need, and she doesn't need the ball because she'll go get it herself. Her work rate is off the charts; she plays harder, if not harder, than anyone I've ever seen. In this type of system, she fits the mould with the space and pace style we want to play so well.
"And obviously, we'll launch a lot of threes, so it makes sense to go and get the best offensive rebounder the league's ever seen to go get the ones you miss back to have another go at it."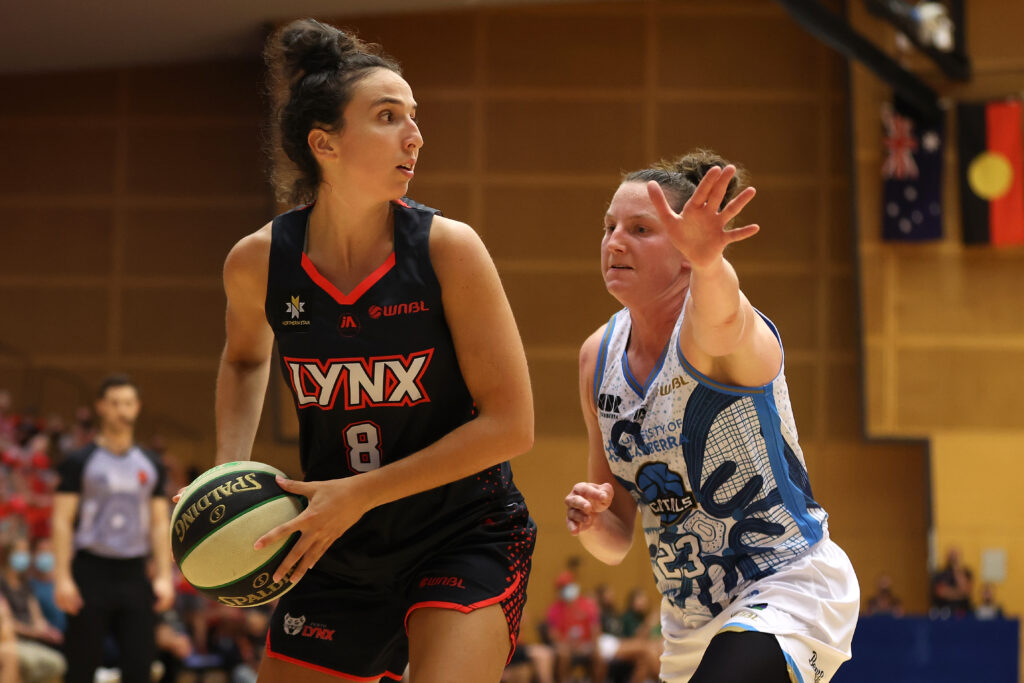 One new signing yet familiar face that Petrik is excited to be bringing back on board for this WNBL season is Alex Ciabattoni.
She was a vital member of the backcourt, going back to the team that made a Grand Final in 2022 before then stepping away to become a mother.
Ciabattoni then coached the South West Slammers in the 2023 NBL1 West season while also making a return to the court in bursts, and now, with her young son Elijah along for the ride, Petrik is excited to have her back for what she provides as a player but also a de facto assistant coach.
"I love the kid, and we're growing old together almost; we've been doing this for a while now. She was with us back in the second or third year at the Lynx, and this is the ninth year for me now, so we've been doing this a little while together," Petrik said.
"She's just rejoined us on the court, and when you try to catch her up on things, we can talk in the language we used two years ago, and she knows what we're talking about immediately.
"She knows what I'm looking for, the timing of it, and that's without needing to show her the entirety of the offence. That is really handy, and the other thing is, like Steve Kerr talks about with his Golden State team by getting Chris Paul, he needs smart players inside his system, and that's similar to us.
"The longer we do it, the more we learn and this system does require pretty smart players and Chiba's as smart a player as I've ever coached.
"She just knows how to play basketball, knows the timing of things and having IQ players who can make reads and play multiple positions are just invaluable. Getting her back and having Elijah on the side of the court as well is great, I love the fact she's involved again."