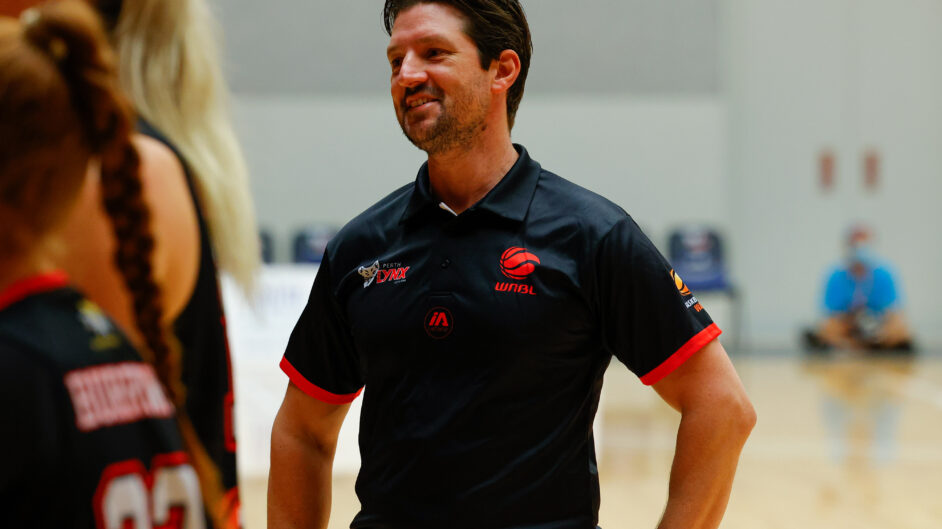 November 2, 2022 | Perth Lynx news
Feature Writer: Chris Pike
It was quite the off-season for Perth Lynx coach Ryan Petrik making history with the Rockingham Flames and he learned a lot from that whole experience that he feels now can translate into this WNBL season.
On the back of the WNBL season with the Lynx where Petrik took the team to the grand final and was subsequently named Coach of the Year, he settled back into coaching the Rockingham Flames men's team in the NBL1 West competition.
Having already led the Flames women to their first two championships, Petrik was part of more history in 2022 not only guiding Rockingham to a first ever men's NBL1 West championship, but to then also win the National Championship in Melbourne as well.
Lessons learned for Lynx
Now since that experience, Petrik has thrown himself into the pre-season with the Lynx over the past six weeks leading into Wednesday night's WNBL season-opener against the Melbourne Boomers at Bendat Basketball Centre.
He is looking forward to the grand final rematch and to get the season rolling, but even more so to see how this Lynx team has come together.
"I'm looking forward to starting the season, sure, but it's hard to describe the feeling," Petrik said.
"The last two seasons we haven't even really known when that first game would be so it's been hard to prepare for, but at least this time we've been able to get ready with that date in sight.
"We're certainly looking forward to it but then you start thinking about if you've got everything in or not in preparation.
"The other part is that we haven't had a lot of time with Sam on court, but when she's been here things have looked so good. So I'm looking forward to seeing how our team looks and playing our first game now."
How the Lynx can play
Not only did the Flames win their first State league title in 2022 but also the National Championship, and Petrik takes a lot out of what that Rockingham team did in Melbourne for that weekend that he feels can translate to the Lynx for this WNBL season.
Rockingham had to win the National Championship without the league MVP Devondrick Walker which meant they had to rely on their system offensively a lot more, share the ball and play as a cohesive unit more than ever.
That's now exactly how Petrik wants to see this Lynx team play for the upcoming WNBL season.
"Then the national title was just something that was a weird experience because it was such a whirlwind," he said.
"You start playing these games and then realise that some of these teams have two or three imports, and some of them didn't have to operate under a salary cap. So for us to compete against these teams when we are without Devondrick and Greg, two of our most important players.
"And then to win it anyway and to do it impressively where it's not like we won by a fluke, we played pretty well to do it. That was a bit of a whirlwind and that's actually given us a lot of confidence back here with the Lynx girls.
"We don't the luxury of chucking the ball to a Marina or Jackie like we did last season even though we do have Sam obviously, but we have less ability for the bail out plays.
"But what we found at Rockingham was that without Devondrick, the ball just pinged around because it had to and the offence had to do a lot more heavy lifting. We needed our system to work now and it did, and the shooting took over.
"That's the hope now we have with this Lynx team. We want the ball to fly around more this year because it has to without as many iso players. Then with all the shooting we've got, hopefully those two things turn us into a sum greater than our parts."
Coming off Senators success
The Warwick Senators also won the women's National Championship title and the Lynx have two players from that squad in emerging forward Mackenzie Clinch Hoycard, and development player Chloe Forster.
Petrik is sure that the confidence they will take from being part of that can only be a good thing.
"Winning helps everything so it's good that we've got a couple of girls from that Warwick team that won the national title too," Petrik said.
"Mac's pre-season has been great, she's healthy and going really good. Little Chloe has fitted in great and she's got to scrimmage a lot more since joining us. It was just a weird experience there in Melbourne where we watched the Warwick girls win before we played.
"I felt like the hardest part for us was watching the girls win first and then knowing we had to back that up, and do it without Devondrick. To win it anyway then obviously was pretty good."
Bringing success to Rockingham
Petrik has spent a lifetime at the Rockingham Flames. His father was a president of the association, he grew up at the club, he played for the Flames and then began his coaching journey as an assistant with the men's team.
He then went on to achieve tremendous success with the women's team which led to his opportunity to join the Lynx under Andy Stewart and now be entering his third season as head coach.
He has continued to coach the Flames men and having such success in 2022 meant everything to him, but not for any personal glory he was chasing.
What it meant to so many other people is what made it so special for him.
"It means a lot to me obviously, but that's not what makes it special. What makes it mean so much is because of what it meant to everyone else. I'm glad I was at a point where I could go back to help the club," Petrik said.
"Now that Warren Boucaut has the club in such a position where he has the resources to throw into the program to make it successful, but that only provided the team with a chance to do something special.
"What made it mean so much was seeing Travis Moore and Darren Russell get so much enjoyment out of it, and seeing what it meant to Ryan Godfrey and Justin Beard. Seeing those guys who have been around for so long and seeing their level of excitement.
"For me to go back and be a really, really small cog in that machine that won it for them was what meant the world to me because I got to see their reaction.
"I'm not doing it for recognition of anything myself but it means a lot for me to be part of because I got to see the club achieve something so special that meant so much to so many people."
Commitment of a star
Another thing that stood out to Petrik about what made his Rockingham experience so special was that even after Devondrick Walker had signed to the Brisbane Bullets, and was with his NBL team to play pre-season games in Melbourne, he was still fully invested in the Flames too.
"Speaking of Devondrick, he actually came to the first game we played and what makes him such a good person was how he conducted himself," Petrik said.
"Some of the Bullets guys did turn up to their Gold Coast games in civilian clothes, but Devondrick actually arrived at our game dead on time so he wasn't a distraction. But he did it while wearing his full Rockingham gear.
"So he had taken that with him to Brisbane and then brought it down to Melbourne knowing he wanted to rock up to our game in that full kit. Even post-game, he got to sing the song with the team in the change room and he just wanted to be part of it with us."