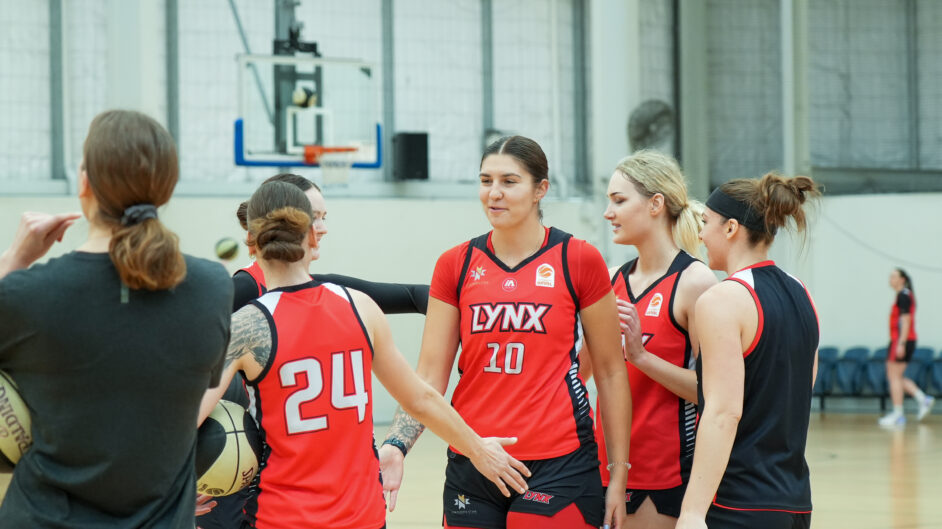 September 26, 2023 | Perth Lynx news
Canadian centre Emily Potter always set herself the goal of playing in the WNBL and couldn't be happier to be at the Perth Lynx and is ready, willing and able to adjust her game to suit the style coach Ryan Petrik will be running.
While Winnipeg, Manitoba, Canada where Potter grew up was hardly a basketball stronghold, it was always in her blood and it didn't take her long to realise she wanted to take her game as far as she could.
That saw her play four strong seasons at the University of Utah where she averaged 12.9 points and 8.4 rebounds across the 116 games in four years, and became the sixth player in the Utes' history to have 1500 points and 1000 rebounds while also being the all-time blocked shots leader.
The 27-year-old, 196cm centre has continued to represent Canada with pride since including being part of the bronze medal winning team at the recent AmeriCup while also joined Panathinaikos in Greece for the end of their EuroCup regular season and playoff run earlier this year.
While she might have all the tools to play as a traditional big, she likes the style that the Lynx will be using with a fast pace, up tempo style with lots of shooters on the floor, and is more than willing to fit in however she's asked to.
Settling in to a new life
Potter is now settling in to both life in Perth living near Scarborough Beach and enjoying the recent good weather, and also finding her feet on the court three weeks into pre-season training with the Lynx.
"I feel like I'm getting settled in. The first week was an adjustment just with the time change and the first week of practice but now I've got another week and-a-half of practice under my belt and feel like things are starting to click," Potter said.
"I think you can tell even from the first week of practice to now that we're really starting to gel more as a team. Obviously we don't have all the pieces, but we're slowly adding more and more pieces of the team each week so it's been super fun so far. I really don't have any complaints which is a good sign."
The desire to play in the WNBL
While Potter grew up in Winnipeg, went to college at the University of Utah and has continued to represent Canada since graduating and most recently played in Greece, playing in Australia was always a goal of hers.
She had heard nothing but good things about the basketball in the WNBL and the lifestyle in Australia, and the challenge of the fellow bigs she will come up against, and in a lot of ways it's a dream come true to now be here.
"Honestly even right after coming out of college, I graduated in 2018 and I thought Australia would be amazing just because of how easy of a transition it is," Potter said.
"There is no language barrier and it's a great place to live, the people are super friendly and nice, and then I've just seen a lot of good bigs play in this league. That was something that was really appealing to me and to be able to have that competition against other really strong and skilled bigs.
"I thought that would only help my game and I think being a part of the Lynx will be great for my game to play a fast paced style of game. I do really like to get out in transition and I think it's going to fit well with how I like to play, and then there's going to be great shooters all around me.
"I'll be able to share the ball and take advantage of any helps, mismatches and if people want to dig into the post, it will be a super easy kickouts to any of the many shooters we have on the team."
Being suited to the Lynx playing style
Lynx coach Ryan Petrik has a unique way he likes to use his centres in his system and that was highlighted last season when he had Lauren Scherf as the main playmaker on the team a lot of the time.
It worked a treat and while Potter is open to being used not like a traditional big, she doesn't expect to quite take on that role of Scherf exactly.
However, she is committed to being a more than willing passer to help her dangerous teammates thrive, she will run the floor hard, she will crash the glass and she feels like the system Petrik will have in place will suit her perfectly.
"I might not be quite as much as a point post player as Lauren Scherf by any means, but Ryan knows that obviously and he is adjusting his playing style to how the new personnel will work because we have such a new team," Potter said.
"I think it's kinda fun to be starting over with a new group and we only have a couple of people with Mackenzie and Amy who really know the lay of the land from previous seasons. But other than that we can kind of find ourselves through this pre-season and figure out what works for us.
"It's been really great fun so far just being able to build chemistry as a completely new group. There's no underlying groups of people on the team who stick together or anything like that, everybody just can start from zero and build together.
"I love that aspect of being able to be on the same page with everybody to figure things out as we go, and Ryan sees that and is able to make adjustments because things will be different to how the team played last year.
"But we'll still play that fast paced style where we want to take the most threes, get the most offensive rebounds and really lead the league in pace."
Being a post player in the system
What has Potter most excited about the season ahead is the fact that if she does receive the ball in the post, the opposition team can't risk double-teaming her and leave a shooter free for her to find with a pass.
That has her looking forward to any chance she will get to perform down in block but she is also more than willing to find the shooters she will be surrounded with.
"I love having good shooters around me because nobody can really double in the post and that opens up my game, and my ability to play and score so much more," she said.
"If we share the ball like we have been in practice, there's just so many different weapons and on any given night somebody can have 20 points. It's just going to depend on who you're helping off of and what the match ups are so I'm really excited to see how it plays out."
The wait to get full team together
While the pre-season training has been going smoothly so far for the Lynx, they haven't yet got the full squad together and that won't happen until Aari McDonald's arrives now that her WNBA playoff run with the Atlanta Dream has ended.
Fitting in your starting point guard and the main player who will determine the way you play means that in a way things are on hold in terms of going full on at practice for the Lynx, but for Potter it's important everyone is fully up to speed on everything for when McDonald does get on deck.
"I definitely think it is a little bit difficult, but every team is dealing with something similar and Ryan has talked to us about how we want everybody who is here on the team to understand what we're doing," Potter said.
"If 90 per cent of us grasp everything then it's going to be a lot easier to insert Aari once she gets here. She's smart and is playing at a high level so I'm sure she will pick things up quickly, but having everyone else around you who also knows what's going on will only speed up that process as well."
Thoughts on life down under so far
It might be still early days in Potter's time living in Australia, but so far so good. Living near Scarborough Beach with the weather coming good is certainly something that will make a good impression on anybody and she's no different.
But it's the overall lifestyle and culture she's noticed so far that has made her immediately feel right at home.
"There's definitely similarities and differences for sure. I love the beach type of aspect here which is similar to Greece, but everyone seems a lot more laid back than the hustle and bustle style that you get in North America sometimes," she said.
"I mean when you're living down the street from the beach, why wouldn't you be just enjoying life. When you live in a place that is already an amazing, beautiful vacation destination, then I think your quality of life just goes off the charts.
"Having so many days of sunshine just impacts your mood so much and it makes you happy. It's just an enjoyable place to be and everyone has been super nice so far."
Choosing to play basketball growing up
Growing up in Winnipeg and it's not exactly a basketball stronghold, and Potter did even play a little bit of ice hockey in her younger days, but basketball was in her family's blood.
Combine that with the height she continued to grow to and it did feel like a natural fit to play basketball. She's never regretted it since while is also pleased to see how the game is continuing to grow throughout Canada.
"My height definitely helped contribute to that and I did play some hockey growing up, but I kinda switched to more court sports once I hit high school," Potter said.
"I tried out volleyball, basketball and everyone in my family actually played basketball. My older sister did play in university and I have another sister who played high school, and both my parents played in high school and my dad was a coach for a number of years.
"So since I was little I was kind of in the gym with him when he would be coaching and I just knew that when I got to be a teenager, and started junior high, I would start playing basketball. I didn't know I would fall in love with it to this extent though.
"There's not a huge culture for basketball where I was from but since I started playing now, it has really improved a lot and that's even right across Canada.
"After the Raptors won the NBA championship, that was a big boom for people to start playing more basketball and putting their kids into basketball, and it's been super cool how far the game has developed since I started."
Most looking forward to
The WNBL season might still be five weeks away when the Lynx open up by hosting the Sydney Flames at Bendat Basketball Centre on Friday November 3, but Potter already can sense that it's going to be a team that's a lot of fun to be part of.
With plenty of time to build their chemistry on and off the court, Potter already has a great feeling about this team and can't wait to see how it all grows from here and then to how they attack playing games together come November.
"I'm just looking forward to every opportunity to get on the court. I don't take it for granted and the season is still five weeks away, but I really do like this group that we have a lot," Potter said.
"It's honestly been very easy to get to know everybody and to start to feel comfortable with them. We have great chemistry on the court but even off the court I think we can all be great friends and that can be rare when you get to the professional level.
"There's so many players on this team that aren't from Perth so that gives all of us who are away from home the opportunity to bond outside of practice. We have a lot of time outside of the court to go out to cafes, go to the beach, go to a work or any sort of activities.
"That's helped build the team chemistry so much and I'm really excited to be on the court with this team, but also with these teammates to celebrate each other and hopefully put out a super great product on the court."