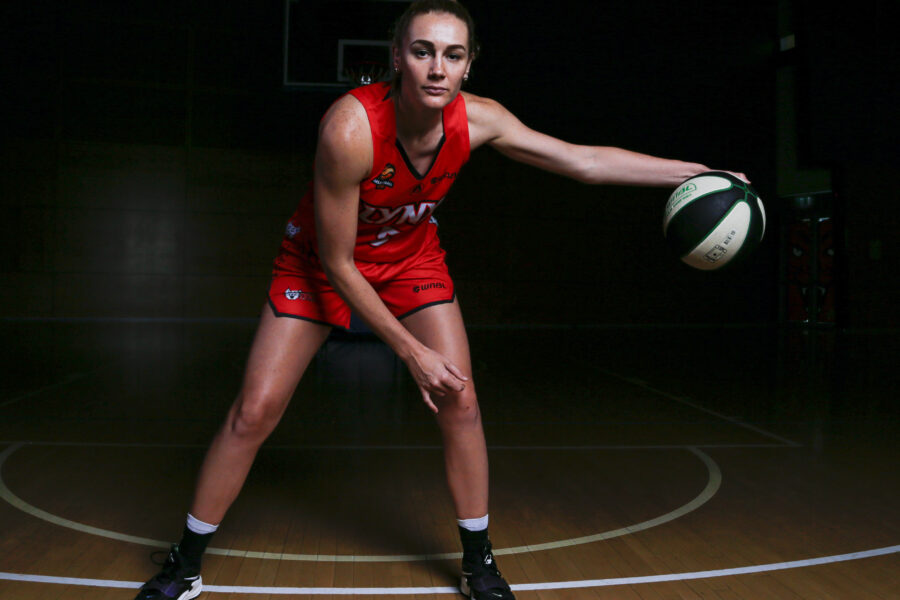 January 1, 2022 | Perth Lynx news
Captaining the Perth Lynx is a source of tremendous pride for Darcee Garbin but she comes into her first WNBL season as skipper with high expectations of what the team is capable of at the same time.
While Garbin enjoyed great championship winning success early in her WNBL career at the Townsville Fire, there was always a pull home to play with her hometown Perth Lynx.
She was back at the Lynx last season leading the charge in the campaign that was played in the North Queensland bubble, and now the Australian Opals forward couldn't be more proud and excited to be named captain coming into the 2021/22 WNBL season.
The WNBL season might be up to Round 5 already, but the Lynx will now enter the fray on Sunday against the Adelaide Lightning in Adelaide with Garbin unable to contain her excitement.
"I'm just super excited that we have a game so close to happening. It's been more than a year since we've played a WNBL game and I just can't wait to get out there and play," Garbin said.
"I am so excited to be playing for the first time with this team because we're all sick of playing against each other at training. There might be a little bit of nerves there but I'm definitely mostly excited."
Another fascinating aspect for this Lynx team for the 2021/22 season is that coach Ryan Petrik, captain Garbin and superstar Sami Whitcomb all come together attempting to replicate the success they enjoyed together in the SBL, now NBL1 West, at the Rockingham Flames.
"We've known each other for a long time now and it's very special. Ryan has been coaching me in one way or another since I was 15 or 16 years old now so we do have that special connection I guess," Garbin said.
"It's just crazy to see where it's all come. None of us would have believed we'd be here now when we won that first championship with Rockingham back in 2012.
"If you told us this is how it would pan out, we wouldn't have believed you but it really is quite special that the three of us have sort of come full circle to be in this position at the Lynx."
Garbin also can't hide her sense of pride in being named captain of the Lynx especially given she grew up in Rockingham dreaming of representing Western Australia on the national stage.
To not only be a player for the WA team in the WNBL, but to be captain is something that is one of the highlights of a career that at 27 years of age already has had plenty of high points.
"I'm extremely proud about being captain. Growing up as a WA girl to now getting to captain the team that represents the state is an absolute dream," Garbin said.
"I don't feel like I'm too young, but I felt like I would be able to bring my style to the role at this stage and I'm extremely proud to captain my home state team in this WNBL season.
"For sure it's one of the proudest things to happen in my career to be named captain. Obviously I'm extremely proud any time I get to represent my country with the Opals and pull on the green and gold, but to captain my home state team is something I'm definitely proud of.
"It's something that I am very grateful about too and I'm appreciative to everyone in the team who made it possible. It's something that is extremely important to me."
Having had four rounds of the season played already before the Lynx get to join in the competition is something unparalleled in professional sports, but for Garbin and the Lynx, they just had to try and make the most of the situation.
The positives are that imports Jackie Young and Marina Mabrey have been able to now spend time training with their new team having got out of two weeks of quarantine without being thrown in the deep end of playing games straight away.
The extra time also allowed for the Sami Whitcomb situation to be resolved and with her announced as the last signing by the Lynx for the season.
There's also the bonus of being able to watch what the other clubs have been doing, putting some time into scouting them and now coming into the season in Round 5, Garbin hopes the Lynx can take the positives from the situation and maybe even be fresher than their opposition.
"It has been a bit frustrating for us because we have been together for the most part and ready to go for nine or 10 weeks now, so there's that frustration," she said.
"But it's also good for us to have that time together to work on getting better, and making sure we are really well prepared for this first game in Adelaide. It's obviously a strange situation to be in, but we've been trying to take the positives out of it and having that extra opportunity to get ready for the season is nice.
"We have a few new players, we have imports who were in quarantine and have now had the opportunity to get out and back on the court without having to play straight away from two weeks off is another good thing. It has given us an opportunity also to see how other teams are playing and hopefully that opportunity to get our preparation and scout right turns out to be a good thing for us.
"Hopefully we can also be a bit fresher than the teams we now play and I hope we can roll into the season, and not take too much time to warm up and get used to playing games again. Because we are cramming some extra games into a short period of time, hopefully we cope with that straight away and get off to a good start because we don't want to be playing catch up from the start too much."
While last season was more than a year ago now, Garbin hasn't forgotten how little fun it was being part of a team that only won four games and she has high hopes for what they can accomplish this time around.
"Last year we only won four games so I'm definitely motivated by that and we have gone out and recruited two really good imports, and have brought in some other new players and I think we have the potential to definitely be a top four team," Garbin said.
"Hopefully we do go into the finals and that's our expectations coming into the season. We aren't holding back on that, we do want to be a team that is pushing for a championship come April when it's that time."
Once the Lynx get done with the first game in Adelaide, they will be based out of Ballarat up until they are allowed to return home to WA.
While that is hanging over their head, Garbin doesn't want to look any further ahead than the job at hand and making sure they hit the ground running in this first game on Sunday.
"It is still kind of too far away to be thinking about us getting back home and all my focus is just on this first game to start with, and for me that other stuff is so far in the back of my mind," Garbin said.
"We are athletes, though, and this is year two of COVID where you are having to pick and move, and just have to roll with it. Especially for me, I'm getting more and more used to this now and am getting used to deal with it, and coping with change.
"I will be shocked if the current schedule that's out now will be the one that stays that way, I'm sure there will be some changes along the way and COVID will continue to have an impact on some things.
"That's out of our control but all I'm focused on now is this first game, hopefully getting that win and then worrying about what comes next and rolling with it. The team that copes the best with all these changes will be better off for it because if you drop your heads and don't cope with the change that can affect what you do on the court."
Written by Chris Pike