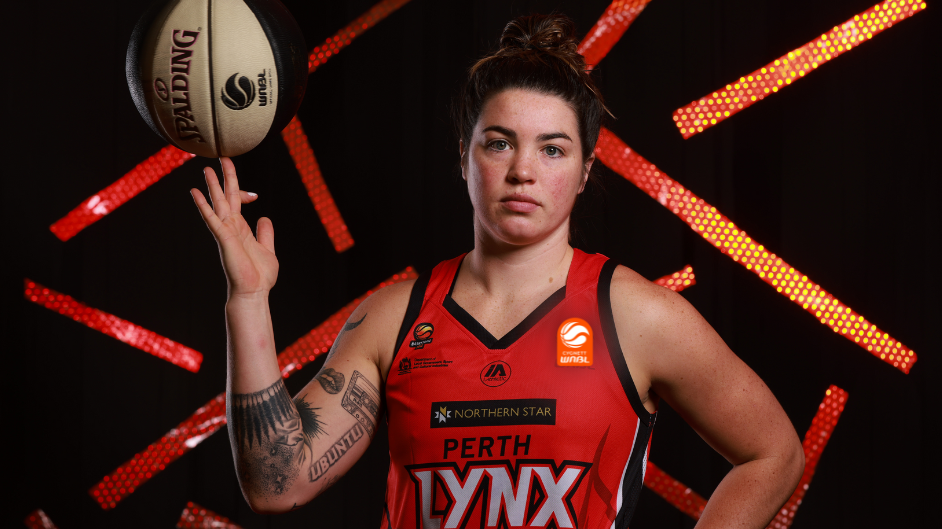 October 25, 2022 | Perth Lynx news
Feature Writer: Chris Pike
Robbi Ryan initially came to Western Australia to give NBL1 West a crack but she was so impressive at the Joondalup Wolves that she is now preparing for the WNBL season at the Perth Lynx and to share the back court with Sami Whitcomb.
Why Perth?
When a then 24-year-old Wyoming native was weighing up where to next continue her basketball career after a first season as a professional in Iceland following her college career at Arizona State, the chance to come down under instantly became appealing.
The first aspect to grab her attention was simply that it would provide her a chance to play almost year round just because of when the NBL1 West season was run. She then liked what she heard about the Joondalup Wolves and coming to Australia in general.
Now, Ryan impressed so much at the Wolfpack that she was named to the All-First NBL1 West team for the 2022 season and now will be a key member of the Perth Lynx team for the upcoming WNBL season as her stay in Australia extends much longer than she ever anticipated.
"I try not to look too far into the future so when I first decided to come down to Australia for the state league with the Wolves, that was kind of the only thing on my mind," Ryan said.
"So this extra opportunity has been great and I'm really excited about it. I can't wait to see how it goes this season.
"A big reason was just because the state league comp is one of the few competitions being played around that time of year for basketball other than the WNBA obviously.
"So I just saw it as an opportunity to keep playing and I had never been to Australia before I came here six months ago. I just wanted to keep playing and Australia seemed like a great place to experience so I was all in."
Settling in at the Wolfpack 
Ryan had no trouble fitting in with the Wolves for the 2022 NBL1 West season and while she did have a hiccup missing four games through injury late in the piece, she was superb on floor averaging 21.1 points, 6.5 rebounds and 5.4 assists a game.
She played largely as the main playmaker and scorer on a team that finished with an 18-2 record before falling short in the preliminary final, and went on to finish high up in MVP voting and grabbed the attention of Lynx coach Ryan Petrik along the way.
Once the chance to extend her stay in Australia by playing at the Lynx presented, it was an easy decision for the now 25-year-old.
"It clicked for me pretty quickly playing at the Wolves and the club there was great, and the girls were all great to play with. We all got along with and created a great little community there so it wasn't hard to enjoy everything about it," she said.
"Towards the middle of the season or the back end of it I had some contact from the Lynx and that's when it became a possibility that they might be interested in me. I was immediately excited about that opportunity so jumped at the chance."
Coming on board at the Lynx
The Lynx have now had a month worth of pre-season training ahead of the WNBL season beginning at Bendat Basketball Centre on Wednesday November 2 against the Melbourne Boomers.
Ryan might be feeling a little fatigued from the hard work she and the team have been putting in, but that's only for a good cause and now she can't wait to start playing games with her new teammates.
"Pre-season has been good and obviously we've been going a lot so I've been a bit tired, but that's a good thing because it means you are working hard," Ryan said.
"Getting to know the girls and players and everything has been great. Having some games now to look forward to is an exciting opportunity for us to keep putting some things together.
"Currently I'm a little tired so that's mainly how I'm feeling, but seriously I'm excited about this opportunity and am kind of grateful for the Lynx having the faith in me.
"You never know where basketball can take you and what opportunities can arise so I've just tried to stay in the moment and be grateful for those chances, and be grateful for what's ahead. I'm just focused on working hard to do the best that I can along with my teammates."
Playing alongside Sami
One player who Ryan will now play alongside who she already was well aware of is Whitcomb and the similarities for the pair are stark.
Both came to play in the NBL1 West (then SBL for Whitcomb) competition looking to shine after mixed results overseas starting their careers out of college, and went on to star to a degree that they found spots in the WNBL.
Now Whitcomb has gone on to win a WNBA championship and a Women's World Cup bronze medal, and now for Ryan to be sharing the back court with her is something she can't wait for.
"Obviously Sami is an amazing player with a lot of experience and even back home in the States I knew about her before I came here for what she's done in the WNBA," Ryan said.
"It will be a really fun experience to play with her and I'm excited just to learn off her, and play with her. I think there's so much you can just absorb from being around someone like her so I'm going to make the most of that opportunity."
Finding a home
Anyone who saw Ryan play at the Wolfpack will know what an explosive all-round talent she is. She is capable of running an offence and being the main playmaker on a team, and creating for her teammates.
She can then drive and get in the paint where she can attack the basket herself or find her shooters there waiting, or also equally capable of creating her own shot and catching fire as a jump shooter.
On this Lynx team, she has the chance to create quite the dynamic combination with Whitcomb in the back court alongside the likes of Amy Atwell, Emma Gandini and Tayah Burrows.
But really, she'd rather just let her game do the talking.
"I guess people can expect to see me working hard out there first of all and someone trying to get into the paint, and to create for my teammates and look for myself when I need to," she said.
"I'll try to penetrate when needed and create looks for a bunch of our shooters that we obviously have throughout the team."
Having grown up in Sheridan, Wyoming and then going to college at Arizona State, the weather and lifestyle for Ryan here in WA is something she is loving and is probably more to what she enjoys than she found in Iceland.
"I love Perth and I love the vibe of the place," Ryan said.
"It's very laidback and I do really enjoy life here, Australia is great, and I'm very thankful for the places basketball has taken me and this is definitely up there."
Don't miss our Opening Season Game vs Melbourne Boomers – November 2 – BUY TICKETS