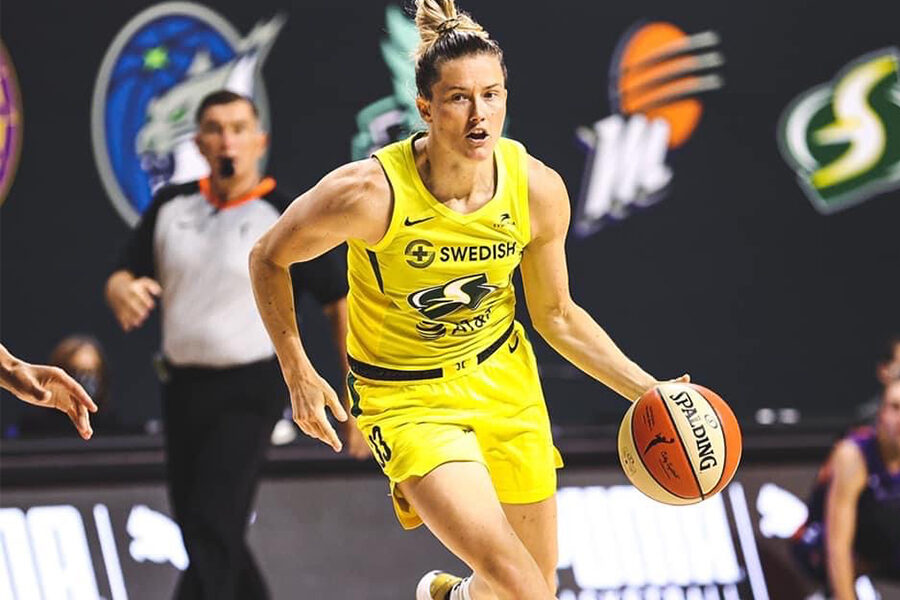 October 5, 2020 | Perth Lynx news
Article by: Chris Pike (Chris Pike Basketball – SBL Shootaround)
Photo: Seattle Storm
She might be back in Australia a little bit earlier than she hoped but Sami Whitcomb is confident her Seattle Storm can become WNBA champions without her as she prepares to become a mother for the first time ahead of returning to the Perth Lynx.
After an absence of two years, Whitcomb will resume her WNBL career with the Perth Lynx for the 2020/21 season in a significant boost for the club under coach Ryan Petrik who was the one that brought her down under in the first place to play at the Rockingham Flames in the SBL.
Whitcomb was always excited to return to the Lynx for the upcoming season having spent the past two WNBA off-seasons in France with Basket Lattles.
But with her and wife Kate Malpass expecting their first child any day now, she wanted to be back home to be with her family although the ramifications of COVID-19 have meant that has become a little more complicated than it otherwise would have been.
The challenges of getting back to Perth from the United States has meant that Whitcomb had to leave the WNBA bubble in Bradenton, Florida once the Storm qualified for the Finals to initially come to Sydney and go through two weeks of quarantine.
Once that is done she needs to do another two weeks of quarantine in Perth, which she desperately hopes she can do at home with Kate about to give birth within the next month.
That all adds up to quite the exciting time for Whitcomb with motherhood on the way and she still is confident the Storm will earn her another WNBA championship ring as she now prepares for her eventual Perth return with the Lynx.
"I'm super excited to be back. I've been away from Perth for most of this year and I was really only in Perth for a month and-a-half or whatever it was in that interim when I was back from France and before I went to WNBA," Whitcomb told the SBL Shootaround podcast.
"It has been a long time away so I'm excited to be there for that and excited to at least see and hear what's happening with the WNBL season and what it's going to look like.
"I'm interested to see what they come up with and how it's going to look, and what that will mean for me moving forward. But I'm definitely very excited to be back home for the foreseeable future."
Given their history together in Rockingham as head coach and superstar where they won back-to-back championships in 2014 and 2015, it's no surprise that when Petrik was appointed coach at the Lynx that Whitcomb was quick to sign on the dotted line to return too.
With no imports in the WNBL this season, the addition of a WNBA star like Whitcomb is massive for the Lynx and to add in the chemistry she'll have with not only Petrik, but former Rockingham teammate Darcee Garbin and others in the group is going to make her return exciting to watch.
"A big part of deciding to play with the Lynx and come back to Perth was Ryan becoming the head coach, I have a lot of confidence in him as a coach and obviously I'm familiar with him," she said.
"And then with Darcee and Katie signing, they were a big part of why I wanted to come to Perth because I have so much respect for both of them as players and competitors.
"And it's a really exciting group of other players as well and I remember coaching against Alex Sharp and she's a tremendous talent.
"I love Alex Ciabattoni and I think she's an amazing player as well, and Tayah Burrows was here when I was training before going to the WNBA and I've followed the West Coast Classic and seen how well she's done in that.
"Across the board all of those local girls, it's really exciting just to be able to bring them all together and be able to play together in Perth. A lot of them will be excited by that opportunity too so for sure that familiarity and crop of talent we are bringing together should be exciting.
"I'm just disappointed that our Perth fans won't get a chance to come to games and be a part of it in that way."
That is all what is to come, but it's fair to say it's been quite the dramatic and hectic week for Whitcomb.
Firstly she was part of the Seattle Storm team that wrapped up their series to book in another trip to the WNBA Finals, and then she made the announcement that her and Kate had decided she had to get home to Australia as soon as possible or risk missing the birth.
There is still every chance that Whitcomb might have to self-isolate in hotels for the next four weeks with two of them in Sydney and two more in Perth even though she's hoping that's not the case, so it really was now or never in terms of getting home even if the WNBA Finals were taking place.
"So we swept in the semis to make it to the Finals again which is really exciting, and then I was kinda faced with the difficult decision of staying for the Finals Series and potentially missing the birth of Kate and I's first child or leaving at the stage," Whitcomb said.
"Obviously with all the restrictions and travel issues to get back into Australia, and to Perth specifically, it was just going to be too risky and too close to call.
"Kate and I decided that it was more important for me to be back for that so I got on a flat earlier this week and even with that I had tried to fly to Perth, and the route I was going to take I had book in two separate itineraries.
"I was going to fly into Singapore and I had booked a separate flight to Perth, but then at the airport they told me I wasn't allowed to do that even though they had booked it for me.
"That was a whole separate saga and once they told me I couldn't do that I had to rebook and fly through Sydney which was worse-case scenario because it added two weeks' extra quarantine.
"So I'm in Sydney now for two weeks and then I'll fly home to Perth and hopefully I'll be able to do a home quarantine, but that remains to be determined. Regardless I'll need to quarantine again and then by the end of October and beginning of November I will be free, and then Kate is due a couple of weeks after that in November."
The positive at least in her hotel in Sydney is that Whitcomb has access to fresh air, a kitchen and a laundry despite being locked inside for two weeks, but she'll be glued to the WNBA Finals and with the Storm already up 1-0 over the Las Vegas Aces, she's confident of a second championship in three years.
"I'm pretty optimistic and it sounds like thing are kind of improving and changing in terms of the restrictions between NSW and WA anyway so I'm hoping because I have had two weeks of quarantine here first that they will make an exemption," she said.
"Hopefully I will qualify with having a very pregnant wife on compassionate grounds but I know that at the end of the day that these restrictions are for a reason so I'll just deal with it as it comes."
But really in the big picture as much as basketball means to Whitcomb and as much as she would have wanted to be there to help the Storm try and win another WNBA championship, nothing trumps being there for your family for the important milestone moments.
She would have never forgiven herself if she put basketball ahead of the birth of her and Kate's first child at the end of the day. The support of everyone at the Storm was fully supportive of the decision too.
"If anything I think this whole year with the pandemic and everything has just reminded us of what's important and what our priorities are. Obviously basketball is important to me and it's something I love to do, but at the end of the day family comes first," Whitcomb said.
"It wasn't so much the decision itself that was difficult because Kate and I were in agreement on it and it was simple knowing what we wanted to do. But it still meant I was going to leave the team and miss the Finals so there were still aspects for it that were hard and unfortunate to have to experience.
"It sucks I was in a position to have to choose but at the end of the day it wasn't like I sat there for two or three days to decide. I knew what I was doing and it was just about making it happen, and then when I knew I was leaving it was always going to be sad but I really had no alternative."
Don't for a second think that Whitcomb isn't still fully committed to her Seattle Storm, though, and she'll be glued to the screen for every game of the WNBA Finals as she hopes she gets her second championship with the club in three years.
"I think we will win. We feel like we have sort of unfinished business from the 2019 year," she said.
"We won in 2018 and then we lost Stewy and Sue to injuries, and still battled, and I think gained a lot of great experience for the players that played the following season, but we never felt we got a chance to defend our title.
"That's always something that teams that win is a special opportunity and you want that chance to win again, and defend it.
"We didn't feel like we got that and i know our team isn't exactly the same, but for the most part the core group is back and it's special we've now got the chance to prove we are the best team again.
"Vegas is a very good team as well but I just think that our experience and desire to win in these circumstances is hopefully going to be what sets us apart and gives us that victory ultimately."
Nothing about life wherever you have been in the world in 2020 has been normal and for Whitcomb and the rest of the WNBA players, playing out of the bubble in Florida has been quite the experience.
It has had its positives and negatives but in the end for Whitcomb what it did was highlight just how close the group at the Storm are and the chemistry they have. She has no doubt that's a big reason they are now closing in on that championship.
"It's different certainly in that you are surrounded by all of the other teams and the refs, there's no sort of avoiding each other in that sense. You are constantly walking past each other and seeing each other so in that regard it's quite different," Whitcomb said.
"Then even in the sense of seeing your own teammates all the time, we do hang out a lot together  usually when we are in Seattle or on the road and on our off days, but it is different when you are stuck in a place and you can't get any of your own time either.
"Our hang outs were different from what we'd usually because we were limited in what we could do. We would literally just play cards or sit by the pool but sometimes everyone wanted their own space too after we were around each other 24 hours a day.
"Sometimes you'd want to be alone to get a lot of that balance and not everything being basketball so it was hard to find that balance. But because we are all so close we found that balance a bit easier than other teams might have.
"We didn't have to force bonding or team activities in the bubble because we are close and friends, and if we want to hang out we will. That chemistry we have is a product of some of us playing together for six years and I've been there for four years now.
"It's genuine chemistry and friendships off the court, and respect for each other which is something that has been a separator for us for sure."
While Whitcomb hopes to earn another WNBA championship over the coming days and can't wait to get back underway in the WNBL at the Lynx, ultimately what's occupying most of her mind right now is looking forward to her and Kate welcoming their son into the world.
"I'm really excited. It's something that we've wanted for some time and have been working at for some time because it's obviously not quite as simple for us as it is for other couples," Whitcomb said.
"It's been a long time coming really and it is an emotional journey but we are super thrilled to be at the part of it now where we are actually going to get to meet him and start the more fun part of it.
"It's been hard to do this apart and obviously I haven't been able to be there for her throughout this pregnancy, so it was special for me to be back home now for the birth and everything after.
"We are really excited to be mums and to meet him and this is obviously going to be the most exciting adventure that we will go on as partners."