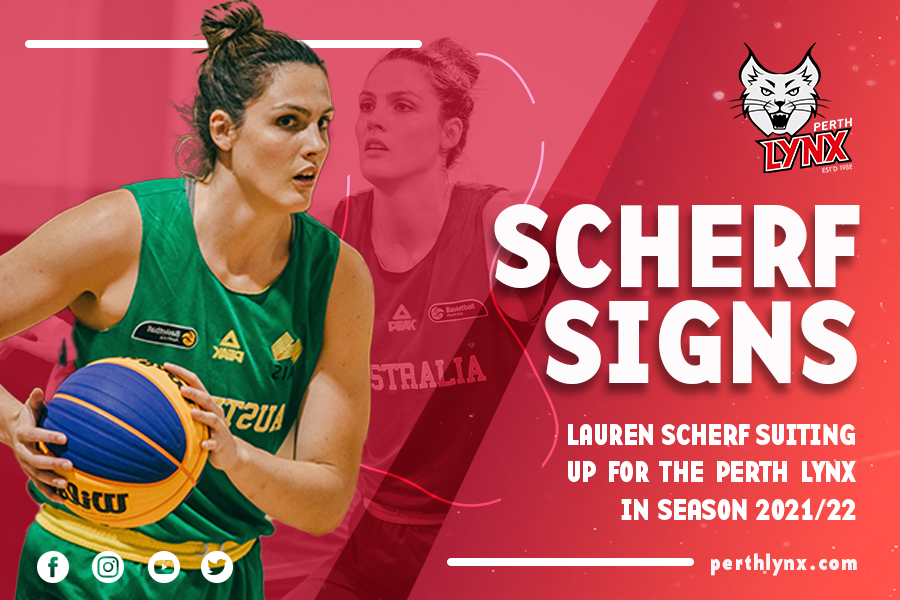 April 30, 2021 | Perth Lynx news
The Perth Lynx are delighted to announce the signing of premier centre and 3×3 Olympic Squad member Lauren Scherf to the roster for the upcoming 2021/22 season.
An elite centre, Scherf posted solid numbers in her 2020 WNBL hub season for the Sydney Uni Flames, averaging 11.0 points, 7.2 rebounds and has most recently been named in the extended seven-woman squad for the Australian Women's 3×3 2021 Tokyo Olympic Team.
Averaging 21.0 points, 12.9 rebounds, 2.7 assists, 1.0 steals and 1.5 blocks per game in her NBL1 2019 Season, the Lynx expect a similar dominance when she steps on the court in the red and black for the 2021/22 season.
Head Coach Ryan Petrik believes Lauren will bring a wealth of experience to the team, saying, "Scherf has a real presence on both sides of the ball, and we think her ability to play both inside and out makes her a tough cover in our system."
"Partnering her alongside Darcee Garbin gives us a real 1-2 punch in our front court. We're looking forward to seeing the two of them bring out the best in each other"
At only 25 years of age, Scherf has an impressive resume, including being a former U19 Australian Gems star, winning the WNBL Rookie of the Year honours in 2015 and helping lead the Canberra Capitals to the league championship in 2019. Currently playing for the Kilsyth Cobras in NBL1 Women's South Conference, Scherf is one of Australia's best young talents and will bolster the stocks of the Perth Lynx squad.
Lauren is pumped to get over to Perth and get started, "I'm excited to be joining the Perth Lynx. Our line up of players is exciting, and we are a great group of professional women. I'm looking forward to being coached by Ryan Petrik, who I have heard great things about. Being able to expand my game and contributing to the team achieving great results this season is a big motivator."
The Perth Lynx roster for WNBL 2021/22 now features Darcee Garbin, Alex Sharp, Ashleigh Isenbarger and Lauren Scherf.
30 APRIL 2021
END
For further information please contact
Brent Dawkins
Perth Lynx – General Manager
E: brent.dawkins@basketballwa.asn.au