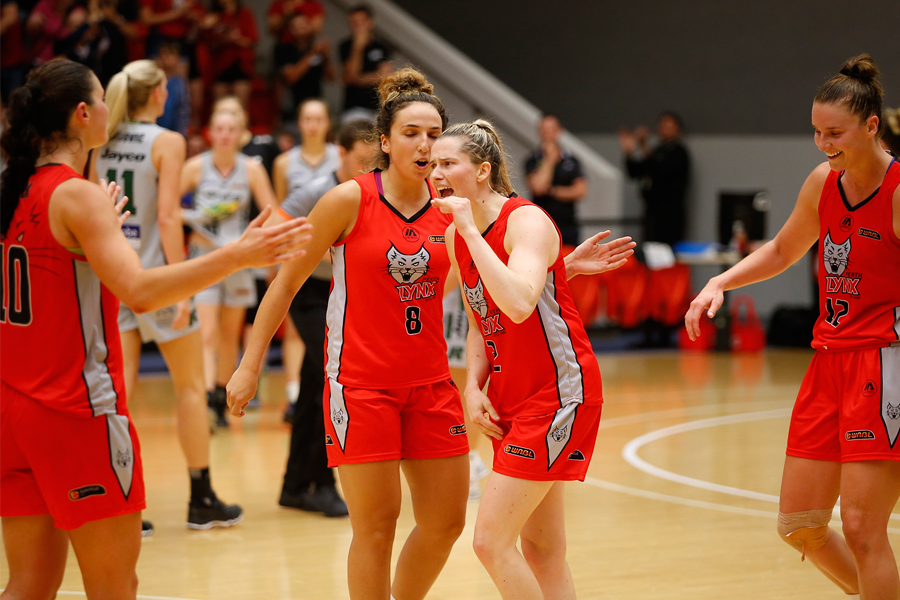 December 7, 2017 | Perth Lynx news
The Perth Lynx have won a remarkable tenth consecutive game, after another stirring second half performance saw them snatch victory from the Dandenong Rangers, 78-73.
Leaving the 1021 strong crowd on the edge of their seats, an inspired comeback victory saw the Lynx tie the club's all-time record for consecutive wins.
"We've been building for three years," said head coach Andy Stewart, "to get this sort of result is great for the club."
"The swell in numbers sitting in the grand stand is the indication that the public is starting to support this."
For the second straight week, Perth trailed by as much as 16 points in the first half, before some lockdown defence and a Sami Whitcomb master class spurred the Lynx to victory.
Whitcomb (21 points, eight rebounds) scored six three-pointers after the main break, finishing with seven in total, while Courtney Williams (27 points, eight rebounds, five assists) was again at her unguardable best.
"They are world class players producing world class results in a fast paced, exciting two hours of entertainment. It's real."
Natalie Burton left the game early in the first quarter after landing awkwardly on her ankle, with the sportsmanship shown by Dandenong's Laia Palau, to roll the ball out of bounds in the aftermath, a highly commendable gesture that allowed Burton to be helped to the sideline.
"What I witnessed there was some of the best sportsmanship I've seen in professional sport ever."
The Lynx attempted 75 shots, compared to just 55 from the Rangers, a testament to Perth' relentlessness in chasing down loose balls and extra possessions.
Holding an 11-4 record, the Perth Lynx now fly across the country to take on the Sydney Uni Flames on Saturday 9 December, chasing an all-time club record 11 consecutive victories.
Perth Lynx 78 – (Williams 27, Whitcomb 21, Kunek 13)
Dandenong Rangers 73 – (Pedersen 19, Blicavs 13, Todhunter 12)