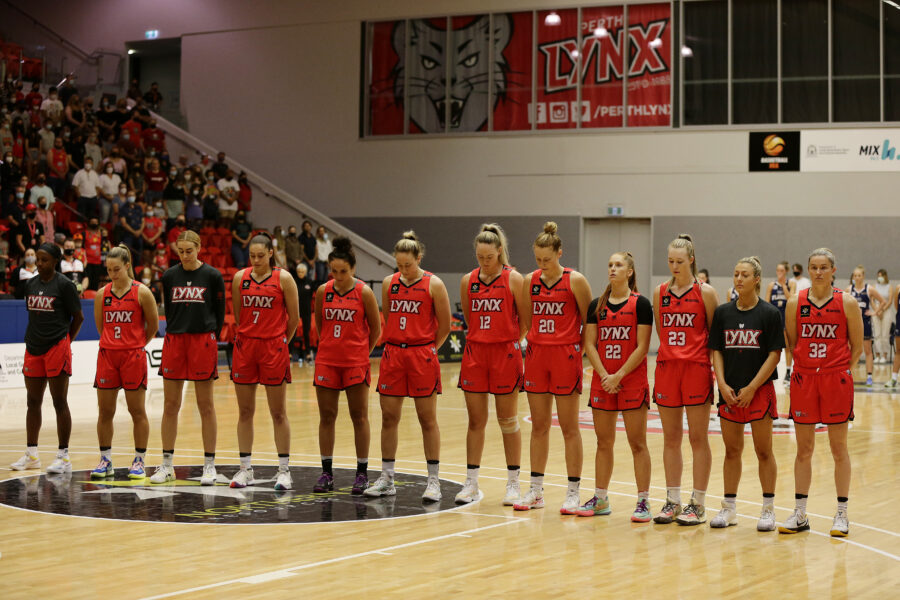 April 1, 2022 | Perth Lynx news
The Perth Lynx are on the eve of competing in just a second WNBL Grand Final series this century attempting to win a first championship since 1992 and what a wild and woolly ride it has been to get to this point in 2022.
As the Perth Breakers, the club was an early force in the formative years of the WNBL competition which included winning that championship in 1992. There were two more Grand Final appearances over the rest of the decade as well, but the going has been tougher since.
While the names might have changed from the Breakers to Lynx and West Coast Waves, there was a 15-season stretch of some lean times for the franchise in the WNBL. During that stretch there were just 52 wins from 329 games without a finals appearance.
However, the turn came under the Lynx banner again with a new ownership coming from the Perth Wildcats, and suddenly they were a force reaching the Grand Final in 2016, and semi-final appearances the next three seasons.
The last couple of years again have had their challenges, but now all of a sudden we are on the eve of the Lynx being back in a WNBL Grand Final series which begins in Melbourne on Saturday against the Melbourne Boomers.
Game 2 will then be back at the Bendat Basketball Centre on Wednesday night and if required, the deciding Game 3 will be back in Melbourne next Saturday.
The Lynx are two wins away now from what would be a second ever WNBL championship and first since 1992, but it has been quite the rollercoaster ride to get to this point in 2022.
Firstly, the team that was pulled together through general manager Brent Dawkins and head coach Ryan Petrik, and team, was one built around playing an exciting and high-tempo style of basketball, and let's be honest – to win.
Darcee Garbin returned to play for her hometown team and was named captain with Lauren Scherf signed to join her in a formidable front court.
The import duo of WNBA stars Jackie Young and Marina Mabrey was well and truly worth getting excited over too with the pair having played together at the University of Notre Dame, and now going on to professional careers at the Las Vegas Aces and Dallas Wings respectively.
Reigning NBL1 West MVP and Grand Final MVP Alex Sharp was also on board along with a string of talent from the local league to round out the roster including Emma Clarke, Alex Ciabattoni, Ash Isenbarger and Tayah Burrows along with Mackenzie Clinch Hoycard, Emma Gandini and Mia Satie.
The last piece of the puzzle to fall was superstar WNBA and Australian Opals guard Sami Whitcomb to mark her return for the Lynx, so in terms of putting a squad together things could have hardly gone better.
But that's when the hurdles and obstacles came into play.
The WNBL season got underway back on December 4 last year, but that was without the Lynx part of it. There was a period where because of the on-going closure of the West Australian borders and an inability for teams to come and play in Perth without needing to quarantine for two weeks, it became an impossibility for any home matches.
However, not wanting to leave home with a return date unknown, it was a wait and see game to see what would happen in terms of the Lynx's participation in the 2021/22 WNBL season.
Things were getting hairy and at one stage there was a genuine possibility that the Lynx would not be able to be part of the season, but thank goodness that isn't the way things eventuated.
The decision was made that the Lynx would join the WNBL season from Round 5 onwards but because of WA's borders still being closed, they would need to be based out of Ballarat in regional Victoria.
So the Lynx players, coaches and support staff packed up and headed east at the end of 2021, but before getting there they started their season with stop off in Adelaide to play a finals bound Lightning team.
The scene was then set for the rest of the season in what was a dramatic first game of the season for the Lynx but it turned out to be a heartbreaking 88-86 loss despite the heroics of Mabrey with 30 points and some remarkable three-point shots on her WNBL debut.
The Lynx then went on to settle in Ballarat with no real guarantees of when they were going to be able to return home, and if they would get to play in front of the Red Army at Bendat Basketball Centre for the first time in two years.
However, they knuckled down and came out impressively on January 12 on their adopted home floor in Ballarat to score their first win of the season downing the Southside Flyers 83-79 on the back of 23 points, nine rebounds and five assists from Mabrey, and 23 points and 10 boards from Scherf.
The Lynx then made a trip to Canberra and produced quite the emphatic performance to beat the team who would ultimately become their semi-final opponents, the Capitals 88-69.
It showcased what this Lynx team was truly capable of with another 27 points from Mabrey, 15 from Garbin, 14 from Young, 11 from Sharp and 11 to go with 12 rebounds from Scherf.
The first taste of the Grand Final that was to come then saw Perth take on Melbourne for the first time in Ballarat on January 17. It was the Boomers who took out the thrilling 80-77 victory despite 18 points from both Garbin and Scherf.
Just two days later and the Lynx did a good job to bounce back and again beat the Caps 102-73. That saw them really unleash their offensive potential with 24 points and nine rebounds from Garbin, 15 points and 14 rebounds from Scherf, 19 points from Isenbarger, and 10 points and six assists by Young.
It was the beginning of a five-game winning streak as well which included an 86-81 win in Sydney against the Flames, an 85-78 victory in Melbourne against the Flyers, and then 90-82 win against the Bendigo Spirit in Ballarat.
The second match up with the Boomers then took place on February 6 in Melbourne and the Lynx levelled up their season series with the 76-71 victory.
That saw the Lynx deal with the absence of Mabrey to a foot injury, and Whitcomb and Garbin to the Opals impressively with Young taking over delivering 26 points, eight rebounds and six assists. Scherf also stepped up big time with 19 points and 18 boards while Ciabattoni delivered 12 points and three assists.
While the Lynx had momentum, they wouldn't play another game for a month as the WNBL season continued around them. They went into that break with a 7-2 record and returned home to Perth ahead of the relaxation of COVID restrictions and opening of the WA border.
Finally, the Lynx were able to play a game in front of their fans, despite 50 per cent restrictions still in place, for the first time in more than two years up against the Sydney Uni Flames on March 5.
It didn't quite go to plan, though, with Shane Heal's team coming into Perth and causing the party spoiling 66-63 upset victory.
The local fans only had to wait two more days to see their team in action and this time they got to celebrate a victory with the 104-79 hammering of the Lightning.
Young was a dominant force as point guard with 30 points, seven rebounds and five assists with Whitcomb delivering 22 points, Ciabattoni 13 along with six assists, Garbin 14 points and six rebounds, and Scherf 12 points, four boards and three assists even with Mabrey still sidelined.
Mabrey made her return in limited minutes two days later again against Adelaide and Perth produced another impressive performance to win 84-73. There was a lot to like again for the Lynx with 18 points from Whitcomb, 17 from the returning Mabrey and 16 from Scherf.
The home momentum didn't quite continue into the final match of the home stand with the Caps beating the Lynx 96-80 in what was a fourth game in a week at Bendat Basketball Centre.
The Lynx were guaranteed of a playoff appearance heading back on the road for the final three games of the regular season, but still needed to lock in a top two spot, and potentially the regular season championship.
They started with a hard earned 84-72 win in Sydney over the Flames with Whitcomb outstanding with 23 points, six rebounds and five assists, and Young 17 points and four assists.
That led into two games in Townsville to close the regular season and the Lynx began that challenge with a first up 75-68 win with 20 points from Mabrey, 17 points and four assists from Young, and eight points and 15 rebounds from Scherf.
Destiny was then in the hands of the Lynx with one game to go to determine if they'd finish first or second. They couldn't quite get the job done with the Fire winning 91-77 but the Lynx had done a tremendous job to end the regular season at 11-5 in second position.
After the great uncertainty over when or if they would take part in the WNBL season, spending more than a month away from home and then returning home to be greeted with four games in seven days, it's been quite the ride.
However, the Lynx shook all of that off to deliver a supremely impressive performance to win Game 1 of their semi-final series against Canberra 91-77 at Bendat Basketball Centre.
There was a lot to like as well with Whitcomb finishing with 20 points and 11 rebounds, Mabrey 19 points, Young 16 points, seven boards and five assists, Garbin 16 points and eight rebounds, and Scherf 15 points to go with eight boards.
Ultimately, that win would see the Lynx advance to the Grand Final with COVID decimating the Capitals playing squad leaving them unable to complete the series.
That's just another piece of drama to add to a season that has been nothing short of remarkable in terms of what has been thrown at the Lynx, but through it all they are in the Grand Final and that quest for a championship begins Saturday against the Melbourne Boomers.