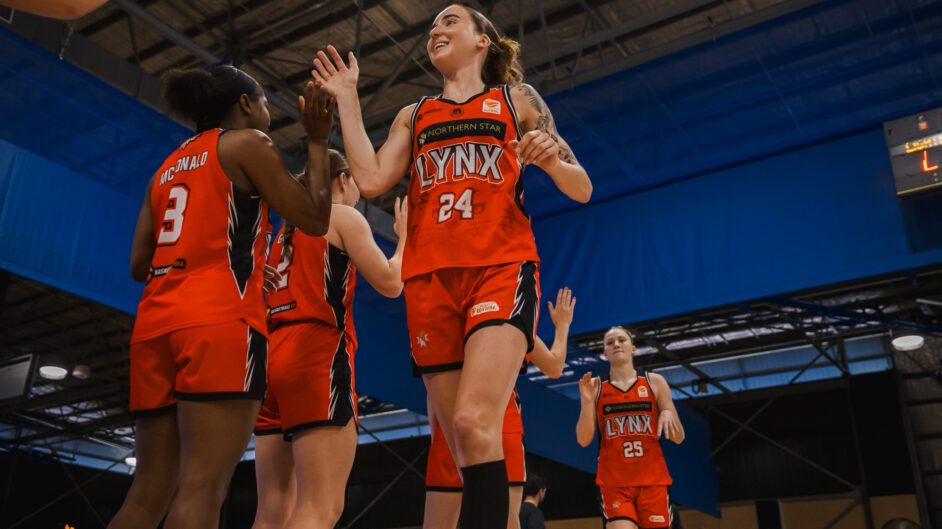 November 1, 2023 | Perth Lynx news
Anneli Maley might be new to Perth but already feels at home and couldn't hold back the tears when appointed captain of the Perth Lynx and while WNBL success is a priority, ultimately what she wants from the move west is to find happiness.
All you have to do is watch Maley play on the basketball court and you know that a competitive athlete she is, what remarkable energy she plays with and that you won't find a player with more spirit or determination in everything she does.
However, there's much more to Maley than the rebounding machine who will never give up on hunting any loose ball who also loves to get out and run, and just do whatever she can to make her teammates, and ultimately her team better.
She genuinely cares about each and every one of her teammates, on and off the court, and while she's yet to officially play a game for the Perth Lynx, the 2022 WNBL MVP is embracing being captain already.
While having success on the basketball court is a focus, it's about the bigger picture for Maley as well and that's why she was so excited about the chance to move to Perth.
Now after being unveiled as the Lynx captain, Maley can't wait for Friday night's opener at home to the Sydney Flames at Bendat Basketball Centre before she grabs the microphone again for the NBL game on Saturday and then welcomes fiancé Marena Whittle to town on Sunday.
Settling into Perth already
Sure, she thought it would be a good basketball fit with the teammates she would have and playing under former Coach of the Year Ryan Petrik, but it's about the basketball-life balance too and Maley felt living out west would give her the best chance to find true happiness in her life.
So far that couldn't be possibly working out any better.
"I feel like I got home the day that I got here, that's how it feels," Maley said.
"Honestly from the day I landed I felt so welcomed not just by the team and management and staff, but by the basketball community here and the people of Perth in general.
"They are all just so nice, everyone says good morning when you walk past them and I am living right near the beach and I think for my basketball-life balance this was a really great move for me.
"I'm a bit of a free spirit hippie at heart so being in Perth really suits my lifestyle and my biggest goal this season is to work on my happiness. I want to be a happy person and to find joy in my everyday life.
"I know that sounds a bit different and weird when I'm so competitive as a basketball player and it doesn't take away from that, but my biggest goal is to be happy.
"I think being in Perth and living here, and making the move to Perth is giving me the best chance to do that and I feel at peace here. Even on the hard days there's always the beach."
Thoughts ahead of season opener
It's now just days away until Maley will make her debut with the Lynx on Friday night at home to the Flames, and she can't wait to lead her new team into battle.
"I'm really excited. We're a really dynamic, fun and supportive group, and I think we will put on a great product and I think that the people watching will enjoy what they see," she said.
"It will be a fun environment and I'm just looking forward to us putting the pieces together. It will be obviously something we build towards, but the sky's the limit as they say."
Reaction to being named captain
When Maley agreed to join the Lynx after starting her WNBL career at the Southside Flyers, Sydney Flames and the Bendigo Spirit, she was just hoping to find an environment where she could have a positive influence and enjoy her basketball, and life away from the court.
The last thing she expected was to be named captain of the Lynx before even playing a game, but the 25-year-old is such a natural leader and such an inspiration person and player that it was a no-brainer for her to be handed the role.
It's something that is still yet to fully sink in with her, but she couldn't be more proud of the honour to be the Lynx captain heading into the 2023/24 season.
"It's something that I really struggle to put into words because it's not something I was expecting," Maley said.
"I cried so hard when Sam called me to tell me just because I've achieved some pretty big accolades in my basketball career for my ability and I think being able to represent my team like this now as captain is such a huge honour.
"Especially this group of incredible humans and I truly love my teammates even though I've only been here for what feels like a second.
"It's truly an honour and I wasn't expecting it, and my leadership style might be a bit different to others in the way that I'm pretty supportive and soft in my conflict resolution approach.
"I want to keep things positive and I want everyone to feel confident and happy, and if I can do anything in my power to make someone feel even two per cent happier or more confident in their basketball then that's what I'm aiming for."
Another aspect of being captain is that Maley hopes that the example she sets through her sheer work rate and dedication will set the standards for the young players at the club as well.
"I also pride myself on working really, really hard and I'm hoping that for the younger players that are able to see how hard not only how hard I work, but also Amy and the other more experienced players so that we can all kind of bring up the standard," she said.
"I just feel so honoured to be captain of this group of players and it has to be one of the most special achievements in my basketball career because it says something about me as a leader and a person, and the things that I can bring off the court that the coaching staff and players saw in me."
Style the perfect fit
To watch Maley play and what is immediately obvious is how hard she plays, the energy and hustle she brings, and her ability to perhaps be the most tenacious rebounder the WNBL has ever seen along with having plenty more strings to her bow.
In a lot of ways this Lynx system under coach Petrik looks ideally suited to her where she will be able to help push the pace with the ball in her hands as she cleans up the glass, and helps set up her dangerous shooters she'll be surrounded by.
"I'd like to think it's a great fit for me and I'm sure Ryan would like to think so too. It does feel good being out there so far and it feels good in practice, and I feel like my game complements a lot of the people here," Maley said.
"I feel like I can support a lot of the really talented offensive firepower that we have with my ability to rebound and push the ball. It feels good but now we have to see how it goes in the season."
Embracing opportunities away from playing
Maley is also embracing every opportunity that comes her way to not only build her profile and career, but more importantly to open up chances for female athletes to do the same, and she is a natural behind the camera or microphone.
That includes hosting her podcast called Under The Surface which is all about providing a safe space for players share their stories, experiences and struggles.
"My podcast is my passion project and a lot of the time I feel like I'm learning so much by all the conversations I'm getting to have," Maley said.
"I feel so blessed I'm in a position where I'm being able to interview and learn from these incredible athletes whether they are male basketball players, female basketball players, AFLW players, netballers or whatever they are.
"It's pretty amazing that we are getting to have these open and honest conversations, and what I'm trying to do is create a safe space and community for athletes to be able to explore who they are, listen to the conversations and maybe feel more empowered to have those conversations with other people in their life.
"So that podcast really is my why and it makes me feel less alone when I'm having these conversations with amazing athletes who might be going through a lot of the same things I've been through or am going through.
"It kind of lifts the vale on the holistic athlete experience and allows us to be seen as human and to struggle with things isn't always the grace we get. I feel privileged that I get to do that and get to grow my platform in that space."
On top of that, Maley has also been featured for the NBL this season as the courtside commentator for Perth Wildcats games at RAC Arena.
She couldn't be prouder or more excited to be involved in the NBL having been a fan her whole life dating all the way back to her father, Paul, being star of the league over 270 games at the Westside Melbourne Saints, North Melbourne Giants, Victoria Titans and Adelaide 36ers.
"I just enjoy the courtside commentating too, I have so much with that. I love watching the NBL. My dad played so I've always watched the NBL and it's a league that I've always enjoyed watching, and I don't watch the NBA," she said.
"I only watch the NBL, that's my league and it's the league I love to watch and to see the Aussie talent take on overseas talent, and the standard of the league.
"For me to be able to be there to talk about basketball and to have the guys doing the commentary asking for my opinion makes me feel very valued as a female athlete in that space.
"That's super cool and I feel valued as a basketball player and a female athlete in one of the best leagues in the world in the NBL, so that's pretty cool. I hope to continue growing in that space and I'm learning off some pretty cool people."
Big weekend upcoming
Not only is this weekend the start of the WNBL season for Maley with the Lynx on Friday night, but she'll be back on the microphone at RAC Arena on Saturday as the Wildcats play the Adelaide 36ers, and then best of all her fiancée Marena Whittle comes to visit on Sunday.
Whittle is currently starring with Spanish club Movistar Estudiantes in the EuroCup with 19.7 points, 7.0 rebounds and 2.0 steals a game.
"It is going to be a very big weekend. Marena is also coming to visit in Perth for a week starting on Sunday too so I get to have my fiancé around which I can't wait for," Maley said.
"She has been amazing with how well she's playing and I'm so proud of her. Just to be able to watch her doing what I've always known she's capable of, and anyone who has seen her play would know that, but to see her do that in the EuroCup, she's such a superstar."
GET TICKETS: https://bit.ly/PerthLynx2023