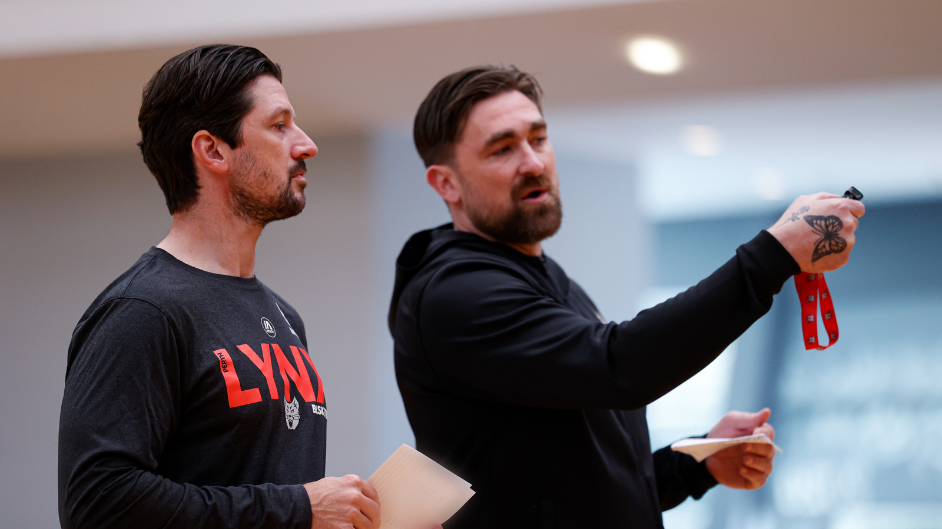 October 19, 2022 | Perth Lynx news
Feature Writer: Chris Pike
Winning combined with providing opportunity for West Australian talent is the goal of the Perth Lynx as coach Ryan Petrik makes the most of having a proper pre-season preparation for the 2022/23 WNBL season.
Petrik has been in charge of the Lynx for the past two seasons having served an apprenticeship under Andy Stewart and honing his craft by winning NBL1 West (then SBL) championships at the Rockingham Flames.
He banged down the door for an opportunity to be a head coach in the WNBL, and got to live out his dream when appointed ahead of the 2020/21 season as Basketball WA took charge of the Lynx back from the Perth Wildcats.
Pre Season Preparation
However, the past two seasons have been anything but normal with the first played in the North Queensland hub and then the second seeing the Lynx join the season late, be based out of Ballarat for most of it and face plenty of obstacles.
They still managed to reach the Grand Final and get within one game of a drought breaking championship while Petrik was named WNBL Coach of the Year.
Now, Petrik is finally getting to have a proper pre-season preparation leading into Round 1 of a season which for the Lynx begins Wednesday November 2 at the Bendat Basketball Centre against the Melbourne Boomers.
"Compared with the last two years it's a way better preparation. It's actually been weird that it's been normal," Petrik said.
"Every team went through it to a degree, but we really went through it in Perth and we didn't even know when we would start, but this year we've had a six-week pre-season block leading into a game.
"We were thinking the other day and three weeks has gone already and how fast it's gone. Last year we did however many weeks and then just stopped, gave them a week off and restarted to go again.
"It's been a weird first two and-a-half seasons obviously, but this is much more back to normal and we're in as good a shape as we can be considering the Women's World Cup happened.
"That's great but then a lot of teams lost key players so it's been a bit of a weird pre-season in that regard, but compared to the last two years a million times better."
Big Picture Planning
In the bigger picture, Petrik is fully aware that he has a dual sided role as coach of the Lynx. The ultimate goal is to always put together a team capable of competing for a championship, but he also knows it's important to show there's a clear pathway for WA talent to find spots at the Lynx.
If you look at the roster put together for this upcoming season, there are superstars with Sami Whitcomb, Lauren Scherf and import Robbi Ryan called in, but then there's a whole string of local talent.
Tayah Burrows, Jessie Edwards, Mackenzie Clinch Hoycard and Emma Gandini have been development players but all hold full roster spots now with Chloe Forster, Desiree Kelley and Ruby Vlahov on deck as DP's.
That's something Petrik is proud of and to be able to win and develop at the same time isn't always easy, but it is the ultimate goal.
"Especially with this program now owned by Basketball WA, you are trying to achieve two goals at once and first and foremost, you are trying to win championships," Petrik said.
"When we were under the Wildcats banner, that really was the only goal with that motto of 'Inspire and Entertain Through Excellence'. We had that drilled into us and win at all cost was pretty much the brief.
"But now being owned by Basketball WA, you still want to win but also develop and play as many West Aussie kids as we can. We're trying to tick two boxes at once. If we went all development and lose, then I'm in trouble, and if we go all out win without developing, we lose in the long run too.
"We're trying to tick two boxes and not every team might be worrying about that same thing, and might be more focused on win now. We clearly still want to win, but want to play as many West Aussies as we can.
"What we've been most proud of over the first two seasons is that we've got more DP's turning into roster spot players than any other club. Whether it's Gandini, Burrows, Hoycard or Edwards, they have been development program players for us and turned into roster spot players.
"That doesn't happen at most other clubs. We are trying to turn our development players into contract players if we can help it and we've had some success doing it."
It's GO Time – WNBL 23
In terms of preparing for the upcoming WNBL season, not only is Petrik glad to have a six-week block of pre-season training to prepare, but with a normal home and away schedule, and up to a week between games, it adds extra opportunity to grow and make changes in-season.
"I did five years under Andy as his lead assistant but we never had a Women's World Cup where we lost players and with us losing Sam, we might have lost the best one of the lot," he said.
"As you would expect, our offence is built around her and I know these sound like first world problems. The bit I'm looking forward to is a week in between games, having home games and having the ability to adjust things in fly in season.
"That's what we are really looking forward to because in the first two seasons whatever your playbook was at the start is what you had. You might be able to add a wrinkle here or there, but you couldn't bring in a whole Iverson package, a whole Horns package or anything with only a day or two between games.
"But now with a week in between, you can put in a package of three or four things during the week, and have it run pretty well on the weekend. We've not had that luxury the last two seasons, but neither have the teams we've played. Looking forward to that would be an understatement."
Our Squad Is Set
While Whitcomb is fresh off winning bronze at the World Cup in Sydney where she played as the point guard, Petrik is looking forward to putting her mostly back into the shooting guard role this season with the Lynx.
That will be putting a lot of faith in Ryan, Burrows and Gandini largely to hold down the one spot even though Whitcomb will still have the ball in her hands a lot.
Petrik is also excited by what centre Scherf is going to provide this season, and then it's all about fitting in everyone around his two guns including WNBA draftee and another WA product, Amy Atwell, Alex Sharp and Chloe Bibby.
"It's a very different roster this season and it's been a different off-season for every team. The WNBA imports haven't come back for the most part like Marina & Jackie" Petrik said.
"Those level of imports have been really hard to come by because of Europe so we've had to go a bit unconventional. What we do know is that our team can shoot it and that the type of players we've got suit the system we've got.
"Then uncorking Lauren Scherf and getting the full experience out of her is a focus. She did some things last season that were crazy and we think we are only scratching the surface on what she can do.
"Then we've always built our teams around our two or three best players, and having everyone fit around that. We obviously speak with a bias, but we think we've got the best two in the league with Sam and the best five in the league with Loz. It's then all about if we have enough around those two. We are pretty bullish on what we can do."
What Has He Learned
What Petrik learned this past NBL1 season where he took the Rockingham Flames men to both the West and National Championships is how successful having multiple playmakers can be.
He had Ryan Godfrey, Marshall Nelson and Devondrick Walker there with a dominant centre in Tom Jervis. He's looking for something similar now at the Lynx with the likes of Ryan, Atwell and Whitcomb in the back court, and Scherf up front.
"The question is always over the playmaking and something I've learned as I've got older is that I've always valued shooting, but what we are drilling in on more these days is the playmaking," Petrik said.
"Looking at the guys team I just coached at Rockingham, with Godfrey, Nelson and Devondrick, having three playmakers at once became really tough to guard. I want the same here and Robbi can get her feet in the paint whenever she wants.
"Everyone knew how good a player she was, the thing we loved about her was how often she could get her feet in the paint in the NBL1. I know what kind of player can work in this league and she fits that.
"Then moving Sam back to the two where she's just a nuclear warhead even though clearly she can play the one. But at the two, she has so much gravity and that's why we wanted to bring in Robbi to play that one and work alongside Sam."
Don't miss our Opening Season Game vs Melbourne Boomers – November 2 – BUY TICKETS