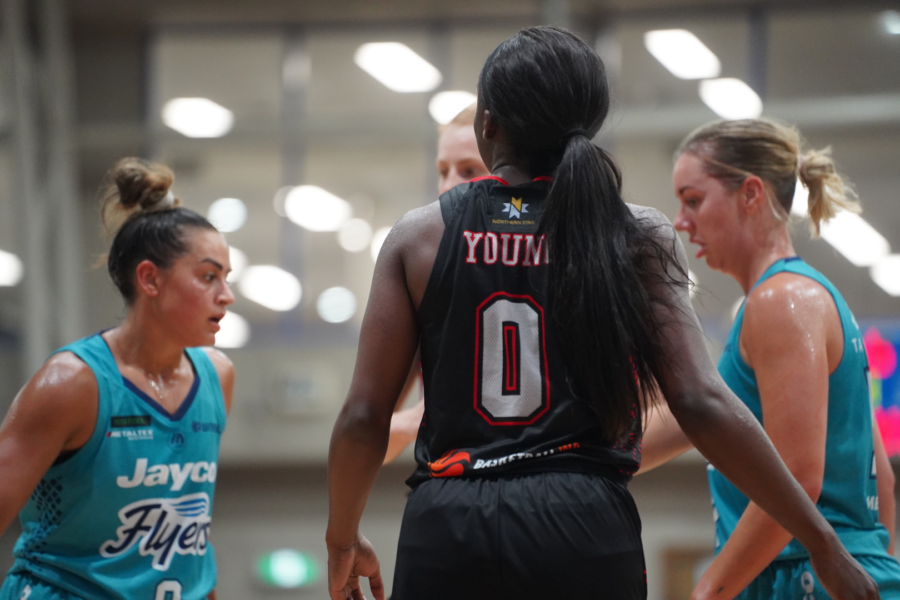 January 27, 2022 | Perth Lynx news
Jackie Young produced her best performance in Perth Lynx colours and her teammates were along for the ride in an impressive 85-78 victory over the Southside Flyers in Dandenong on Thursday night.
Young had been happy to play facilitator across the opening six games of the WNBL season for the Lynx. She was doing that well with 3.3 assists a game to go with 10.2 points, but she showed more of her offensive prowess at Dandenong Stadium on Thursday.
She put up 12 points in the first half and then hit the game-clinching long jumper late in the fourth on the way to 19 points, five rebounds, two assists and two steals with the Lynx scoring their third straight win this WNBL season.
As good as Young was on the night, she wasn't even the top-scorer for the Lynx showing just how talented, deep and impressive this team is becoming even after joining the WNBL season five rounds in.
It was Young's back court partner and long-time teammate Marina Mabrey who again led the scoring for the Lynx with another 22 points, five rebounds, three assists and three steals.
Sami Whitcomb had a good night too for Perth with 16 points, four rebounds and two assists including going 4/11 from downtown while captain Darcee Garbin finished with 16 points on 6/11 shooting.
Alex Ciabattoni's influence on the final result was far more significant than her three points, four rebounds, three steals and two assists suggest while Lauren Scherf added seven points, 11 rebounds and five assists, and Alex Sharp two points and five rebounds.
Kate Gaze went 4/4 from downtown for 16 points for the Flyers while Abby Bishop, Sara Blicavs and Kristy Wallace added 14 points apiece.
It took almost two minutes for the Lynx to first score but when they did, they put up six straight points to take up a 6-3 advantage. Southside responded with the next five points before a steadying three from Sami Whitcomb for Perth.
It was basket for basket the rest of the first quarter including a triple for the Lynx from Alex Ciabattoni and and-one play from Darcee Garbin with scores locked away at 21-21 by quarter-time.
The Lynx did threaten to open up a handy lead early in the second period and with Jackie Young continuing her strong start on the way to 12 first half points, and Whitcomb and Marina Mabrey dropping threes, Perth were up as much as six on a couple of occasions.
However, the Flyers fired back and went on their own 10-0 run to turn a six-point deficit to four-point lead before the Lynx steadied thanks to five quick Garbin points, and Southside's lead was just two by half-time.
The Lynx came out impressively to start the second half and hit the opening six points with four of them going Young's way.
Lauren Scherf then drained a three ball to stretch the lead to five, and while it was only two by three quarter-time, that much of an edge was maintained with a pair of bombs from Whitcomb even if the Flyers were lucky to get a bucket awarded on the buzzer.
A three-point play early in the fourth helped the Lynx back out to a five-point edge before it was three offensive rebounds on consecutive possessions, with two of them from Ciabattoni, that proved critical.
From those, Mabrey and Garbin both connected on three balls to put the Lynx on top 78-70 with just over five minutes remaining.
The Flyers were able to close the gap back to two, but the Lynx responded starting with a huge long-range jumper from Young on the back of yet another o-board. Mabrey then sealed the deal at the foul line for the Lynx to win by seven for the third consecutive win.
The Lynx will be back in their home away from home stadium on Saturday in Ballarat now to take on the Bendigo Spirit.
WNBL ROUND 9
PERTH LYNX 85 (Mabrey 22, Young 19, Garbin 16, Whitcomb 16)
SOUTHSIDE FLYERS 78 (Gaze 16, Wallace 14, Bishop 14, Blicavs 14)