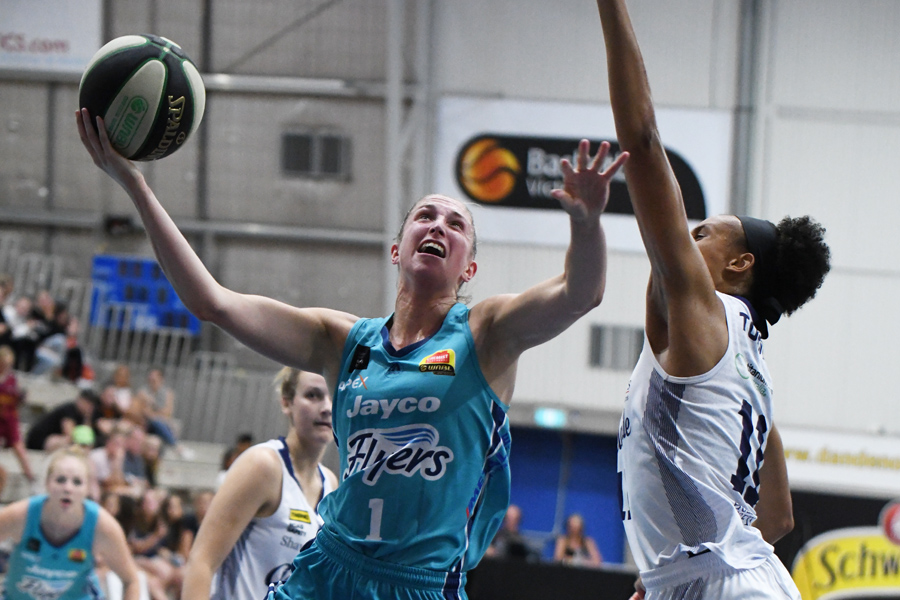 February 24, 2020 | Southside Flyers news
It was more than an away victory; it was a clean sweep of the semi final series and a spot in the WNBL Grand Final series for the Flyers in Adelaide on Saturday night.
After a 3-point victory (68-65) at home against Adelaide Lightning on Tuesday night, the Flyers again prevailed by 3-points (82-79) to take the series and become the first team through to the Grand Final series.
Both teams started the game in red hot form, shooting more than 50 per cent from the perimeter during the first period with the Flyers taking a one-point margin into the first break.
The second period was the decisive one for the Flyers as Aimie Clydesdale shot three three-pointers from her three attempts and the Flyers scored 13-ponts from turnovers to go into the half-time break with an eight-point lead, 51-43.
While the Flyers started the third period well, the home side was always going to make a run and with the home crowd lifting the Lightning, they fought back and tied the game up before a Rebecca Cole buzzer beater gave the Flyers a three-point lead (66-63) at the final break.
Leilani Mitchell seized control of the game early in the final quarter helping the visitors to a double-digit lead before Lightning again came back and had two opportunities late to send the game into overtime but were unable to convert.
Rebecca Cole had a double-double with 19-points and 10 rebounds, along with five assists. Aimee Clydesdale, playing against her former team, had 18-points, playing over 33 minutes for the game.
Leilani Mitchell just missed a double-double with 18-points and nine assists, Mercedes Russell added 15 points and Sara Blicavs 12-ponts as all five starters for the Flyers scored in double digits. Anneli Maley again played a great defensive role off the bench with five rebounds and two assists in just under 15 minutes of game time.
Your Southside Flyers are the number one seed in the Grand Final series and will hold homecourt advantage, with the first game to be played at Dandenong Stadium on Sunday 1st March at 5pm. The only question now is who the Flyers will play with the UC Capitals and Melbourne Boomers playing game three of their semi final series in Canberra on Wednesday night with the winner to join the Flyers in the Grand Final series.
Chemist Warehouse WNBL Grand Finals Schedule for the 40th WNBL Title:
Game 1: Sunday, 1st March at 5pm (Dandenong Stadium) click to purchase tickets
Game 2: Wednesday, 4th March at 7:30pm (TBC)
Game 3: Sunday, 8th March at 1pm (Dandenong Stadium if necessary)