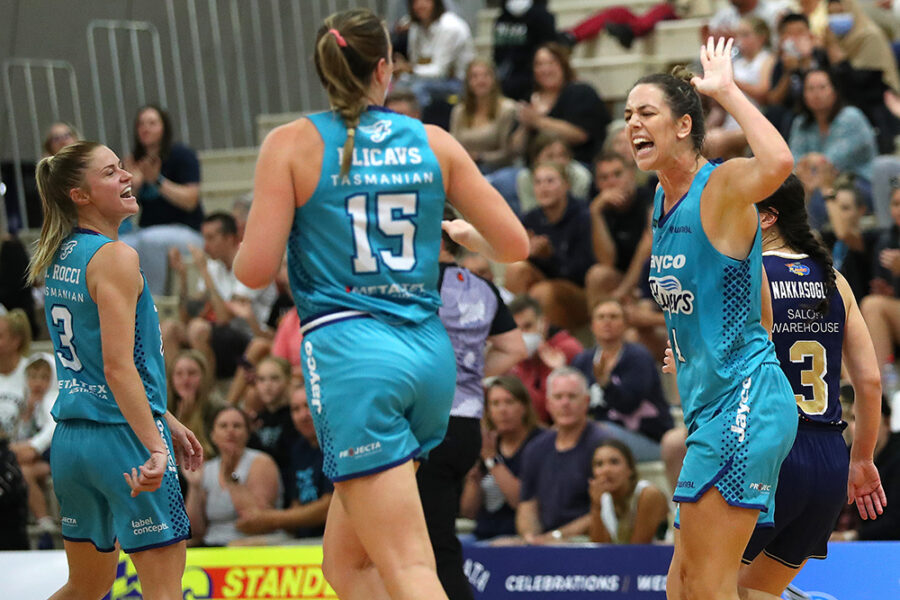 March 20, 2022 | Southside Flyers news
Last night would be Jenna O'Hea's last game of WNBL basketball having recently announced the retirement from the game. The Southside Flyers were up against a strong Adelaide Lightning, but the script couldn't have been written better for O'Hea.
You could tell Southside wanted to send their captain off in the way she deserved as the Flyers hustled all night for their opportunities. After fourth quater comeback, Flyers would claim victory, 87-79, and make the game one to remember.
As O'Hea said in her interview after the game, the girls were playing with freedom which allowed them to also have fun. Have fun O'Hea did as she again added five three pointers to her stat sheet finishing with 17 points, 4 assists, 3 rebounds and many memories.
The game started off tight as no team could quite break away with a lead, trading buckets until O'Hea opened her account with back to back threes for the Flyers giving them a spark to make the push out early. Emilee Whittle-Harmon continue to provide size and buckets inside and they would go into the first break with an 8-point lead, 22-14.
The second quarter was won by Adelaide as they clinched back their lead, led by Alana Smith who again recorded a triple double over the Flyers.
The Flyers would record twenty-seven rebounds in the first half which meant $810 raised for Lymphoma Australia. Organised by Lymphoma Australia Ambassador, Bec Cole, every rebound the Flyers tallied last night would be $30 to the cause. The players also wore green scrunchies in their support for the round.
Adelaide still wanted this game as it meant they could skip a trip to Perth for their finals and they showed grit in the third where they took the lead for the first time in the game. Kylee Shook would take over this quarter and give the Lightning the run they needed to head to the last break with a lead, 68-60.
As we know it is never say die with our Southside Flyers.
Maddison Rocci played a floor general role in the fourth as she recorded some crucial buckets along with Cole to even up the game. It was then of course no other but Jenna O'Hea to land her final three that would put Southside in front with the lead and one they wouldn't lose for the rest of the game.
Walking away as victors, 87-78, the emotions were flowing on the court as everyone around Australia watched and said farewell to one of the greats in the WNBL. The court will miss Jenna O'Hea and we are so thankful for what she has given us these last 299 games. There will never be another with such class, leadership and talent.
That was all she wrote for the Southside Flyers season, one of interruptions, injuries and just bad luck. It is always bigger than basketball though as the team were still able to notch wins and have fun doing it. We thank all our faithful fans, amazing members and family & friends; we cannot wait for our return next season, bigger and better than ever!
GO FLYERS!