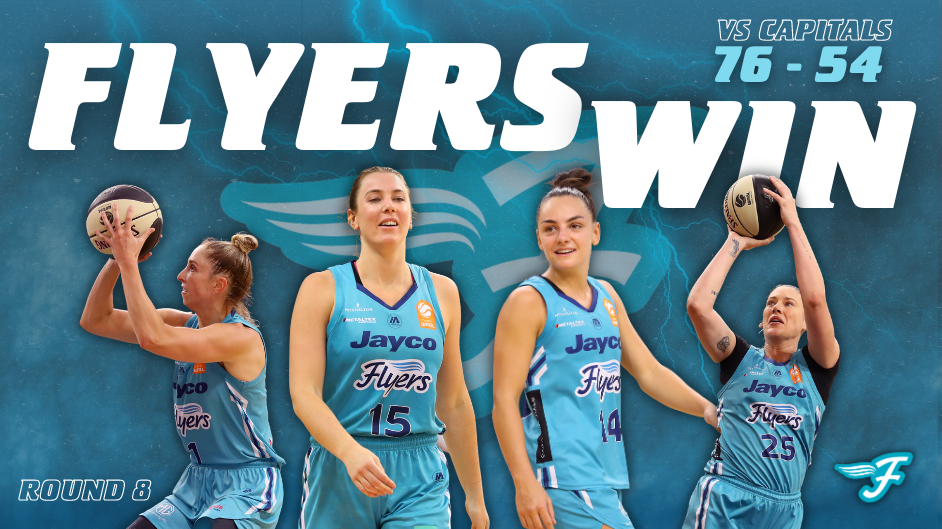 December 29, 2022 | Southside Flyers news
Flyers celebrate Blicavs 250 with a strong victory.
It was a fitting start to the game with Sara Blicavs, celebrating her 250th WNBL game, opening the scoring after just 5 seconds of play. It was the start of a good night for Blicavs and the Flyers who led for the entire game, outscoring the UC Capitals in every period, to enjoy a 22 point victory at the State Basketball Centre.
A good start was important, and the Flyers jumped out to a 15-2 lead after five minutes, on their way to a 10-point margin (24-14) after the first period with Blicavs, who finished the game with 14 points, and Maddy Rocci, who had another double-double with 11 points and ten rebounds, getting on the board early.
The lead was 15 at the half and this was extended to 19 after the third period with the scoring being shared around in another team performance, highlighted by another 21 assists for the game and a dominant display on the boards 43-29 in the Flyers favour.
Blicavs top scored with 14 points, Kayla Thornton 13, Maddy Rocci 11, Bec Cole and Lauren Jackson both had nine points and Carley Ernst and Nyadiew Puoch both scored 8, in what was a balanced scoresheet for the Flyers in front of another good home crowd.
The Flyers have finished the year with three victories and can now look to some big games in the New Year. Starting with the away game against Melbourne Boomers at Parkville on January 4 before a home game at the State Basketball Centre against Bendigo on Friday January 6. Tip Off at 6:30pm.
Purchase Tickets to all Flyers Home Games at the State Basketball Centre