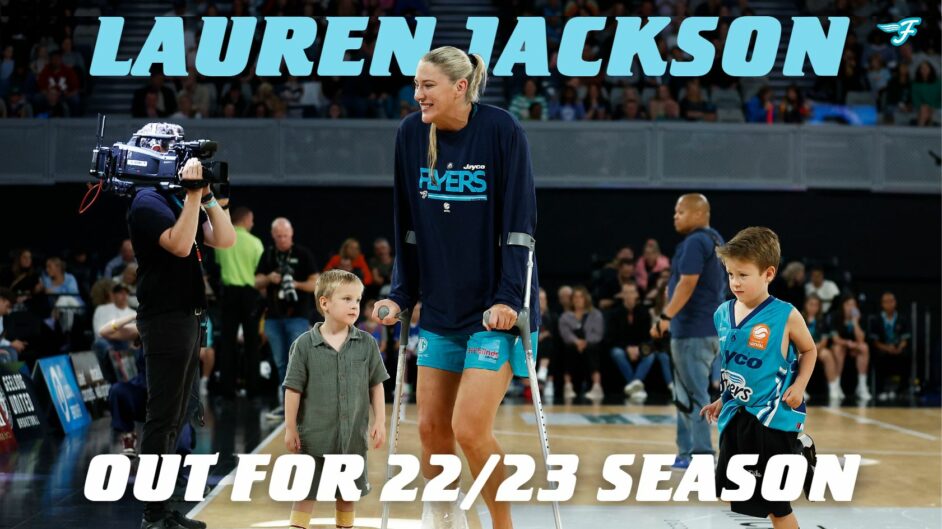 February 5, 2023 | Southside Flyers news
SEASON ENDING INJURY A DOWNER ON A RECORD-BREAKING NIGHT
Scans today have revealed Lauren Jackson suffered a partial tear in her right Achilles in the opening minute of the Southside Flyers record-breaking home game at John Cain Arena on Saturday night.
While the injury will end her 2022/23 WNBL season, surgery will not be required.
Jackson said she "heard something pop" in the opening minute and was immediately forced to the bench and was on crutches on the sidelines for the remainder of the game that attracted a record WNBL crowd of 7,681 to celebrate her incredible career and women's sport.
"It was an absolutely incredible night, magnificent for women's basketball in this country, but it was a shame I couldn't play more than a minute. To have a crowd like that in Melbourne, hopefully it is just the start of games like this," Jackson said after the game.
Looking at the future, Jackson said nothing had changed from her thoughts prior to the game.
"I was always waiting to see how the surgery on my fractured foot (she has been playing with a fractured foot since early December) in the off-season goes before making a decision on my future. That is still my plan, to wait and see how I recover from this injury and the surgery on my foot, before I look at my future," Jackson said.
"While my season is over, I will continue to be part of the team and help where I can, to ensure we continue to work to earn the success we are capable of. I'm very, very proud to be a Flyer," Jackson added.