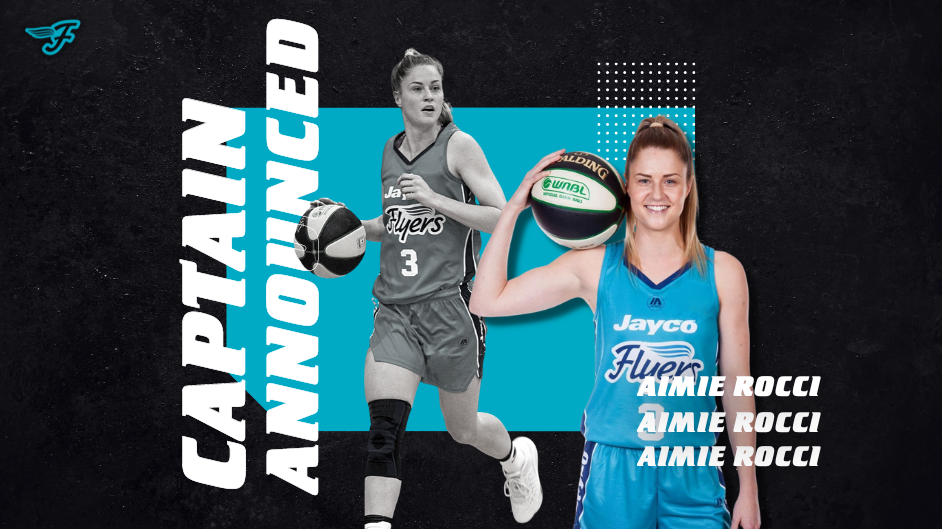 October 26, 2022 | Southside Flyers news
Aimie Rocci has been announced as the Flyers new captain for the 2022/23 WNBL season.
The announcement was made to the team at training on Monday and officially announced at the Flyers season launch at The Prince Hotel in St Kilda on Monday evening. Aimie becomes the Flyers second captain, taking over the role from the inaugural captain, Jenna O'Hea, who retired at the end of last season.
"It is an incredible honour, it really is, I can't say that enough. I love this club, have been a Flyer since the club was established and we are fortunate to have such great people around us.
"I really pride myself on being a good teammate and that's what I'll continue to do. It's humbling and lovely that the players consider me a leader," Aimie said at the season launch.
As for taking over from former Opals captain Jenna O'Hea, Aimie said they were big shoes to try and fill so will not look at trying to do that but rather be herself and walk in her own shoes.
"I am not going to try to walk in Jenna's shoes, that is not me, I will be myself. We are very fortunate to have some outstanding leaders at the Flyers, and great role models, particularly for our younger players to learn from.
"As for me, I am sure I will be learning plenty from Lauren Jackson and asking her plenty of questions during the season. I still can't believe I am going to be playing with her at the Flyers. It is great for us and great for the league," Aimie added.
Players and staff were joined by corporate partners at the launch. For Kayla Thornton, who arrived in Australia from Dallas on Sunday afternoon, it was an introduction to the Flyers family. She said the feeling at the club was great and after talking with her new teammates she is looking forward to meeting the supporters and the extended Flyers family at the upcoming games.
Be there and be part of history on Saturday November 5.
Tickets for the Flyers opening game against Adelaide on Saturday November 5 at the State Basketball Centre are now available. Tip off is at 7:00pm in what will see the return of Lauren Jackson to the WNBL and Aimie Rocci in her first game as captain.
Membership is still available for all nine Flyers home games the State Basketball Centre, with Members receiving a special price and the best seats in the venue. Don't miss any of the action this season, become a member today and join the Flyers Family.