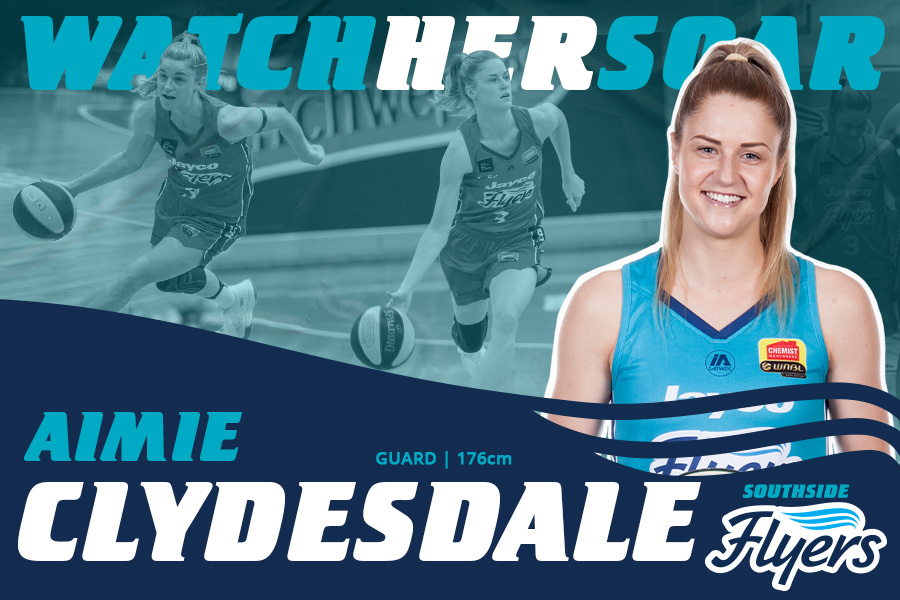 July 22, 2020 | Southside Flyers news
Aimie Clydesdale enjoyed being back home in Melbourne in 2019 and has confirmed her commitment to the Southside Flyers, looking forward to a second season with eyes on another opportunity to get back to the WNBL Grand Final series.
"It was really exciting for me to come home and be a part of the Flyers inaugural season last year. The girls and the coaching staff brought the fun back into the game for me, so it was a no brainer to be back for year two, with a goal to go one better," Aimie said.
Aimie enjoyed a successful season with the Flyers on her return to Melbourne after two seasons with Adelaide Lightning, standing up when captain Jenna O'Hea was out injured in the later part of the season. Playing around 20-minutes a game, Aimie's court time was around 30-minutes a game while Jenna was sidelined, with a highlight being her 18-point performance in the thrilling victory in Game 2 of the WNBL Semi Final series against the Lightning in Adelaide.
2020-21 MEMBERSHIP INFO WILL BE RELEASED SOON – REGISTER YOUR INTEREST HERE
Flyers Coach Cheryl Chambers knows the importance of having Aimie as part of the team.
"Aimie is a super athlete, quick on her feet, can shoot the 3, pull ups and get to the rack. She can also find the open teammate and has a great basketball IQ.
"Importantly she is a terrier on defense. The way she defends puts real pressure on the opposition and she can upset the other teams ball carriers with her tenacity. She's an awesome teammate and I'm really loving coaching her at the Flyers," Cheryl said.
Aimie started her basketball journey with the Dandenong Rangers Under 12s and was an Australian Junior representative in the Under 17s and then in the Under 19s. She was part of the Gold Medal winning Australian Under 19 team in the Oceania Junior Championships in 2010 and a member of the team that finished 4th in the FIBA World Championships the following year. In 2017 Aimie was a member of the Gold Medal winning team at the World University Games.
Her WNBL career started with the Dandenong Rangers in 2010 and was a member of the Rangers WNBL Championship team in 2012. She moved to Adelaide to join the Lightning for two seasons in 2017 before returning to Melbourne to be part of the inaugural Flyers team last season.
Want to #SoarWithUs in our second WNBL season? 2020-21 WNBL Membership information will be released soon, to register your interest click here.