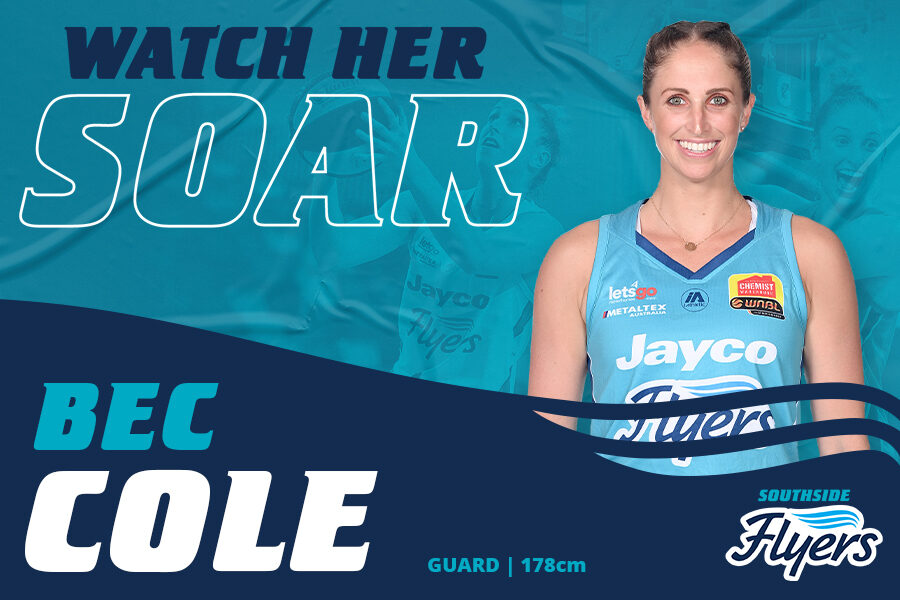 June 16, 2021 | Southside Flyers news
Another Fan Favourite stays with the Flyers
The challenge to win another WNBL Championship with such a great group made the decision to stay with the Flyers a very easy one for Bec Cole.
"It is so enjoyable being part of the Flyers, this was a no brainer. Obviously winning the Championship was the icing on the cake but it is more than enjoying team success on the court, it is such a great group, fantastic teammates, great coaches and support staff. It is hard work but it is also fun," Bec said when discussing her commitment to Southside Flyers.
"We certainly have a big challenge and there will be no resting on our efforts of last season, we want to enjoy more success, so we have a lot of work to be do," Bec added.
Flyers coach Cheryl Chambers said Cole has established herself as a key player in the league, being an important player for the Flyers who continues to build her game, striving to be the very best she can.
"Bec is such an important player for our team, she shoots the 3, she is quick, drives to the basket and she defends strongly. It is even more than her obvious basketball talent.
Her determination and work ethic are first class, and she certainly sets high standards at training and in games. Combine that with her bubbly personality and the enjoyment she gets from playing and being around the team makes Bec very important for us," Cheryl said.
Bec is another fan favourite thanks to her infectious smile and obvious love of the game, combined with her incredible will to win.
An Australian 3×3 player in the 2019 basketball World Cup and the recent Olympic Qualifying Tournament, Cole's on court hard work is matched by her work off the court.
Passionate about health and wellness, Bec is also the Ambassador for Lymphoma Australia, working closely with the organisation to build awareness and advocacy campaigns to support their work.
With Bec Cole on the team, the Flyers Family know there will be plenty to look forward to in the coming season.
Register your details now and be the first to know the latest news from your Flyers – click here.