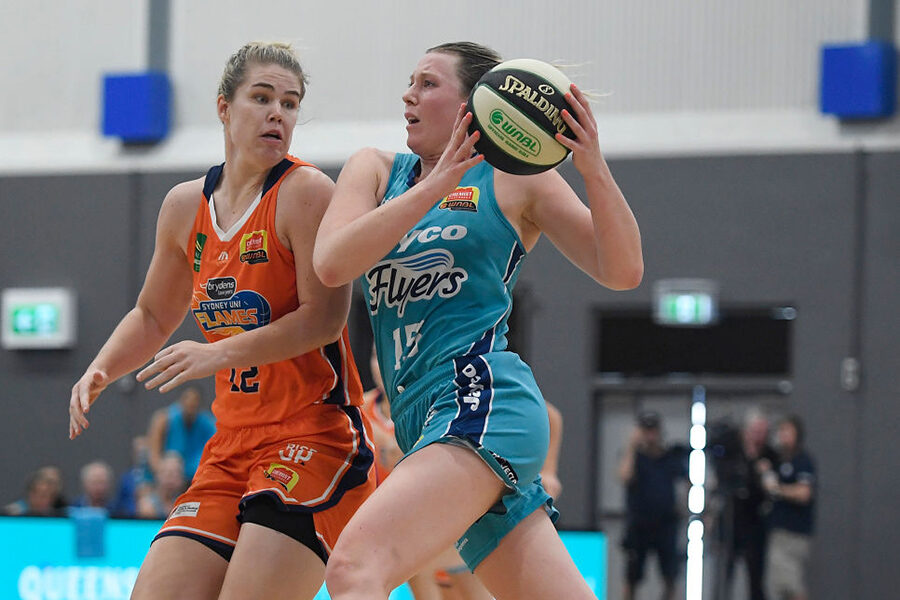 December 19, 2020 | Southside Flyers news
Match Preview via wnbl.basketball 
This 2020 Chemist Warehouse WNBL season has been all about redemption for the Jayco Southside Flyers and Sara Blicavs is desperate to not let them fall at the final hurdle while knowing it will take their best to overcome the JCU Townsville Fire.
From the moment the Flyers lost last season's Grand Final series in two tight games to the UC Capitals they were on a mission to make amends.
None of them could have predicted that would still end up being in the 2020 calendar year and that it would spending six weeks in a North Queensland hub, but the Flyers finished the regular season in first place on a seven-game winning run.
That stretched to eight beating the Fire 106-93 in Wednesday's semi-final to advance to Sunday's Grand Final at Townsville Stadium.
The pain, though, of the loss to the Capitals earlier this year remains with Blicavs and her teammates.
"I don't want that feeling at all again. I feel like we've come this far and now is our chance to win it. For us we are the ones who can lose it tomorrow, it's going to be on us," Blicavs said.
"We just have to come out ready, but knowing how it felt last season to lose who wants to go through that again. I want that winning feeling and I know that our whole team does.
"We can't add any extra pressure to ourselves, we just have to realise we're a good team and if we play well as a collective then we should be fine. But that's easier said than done at the same time.
"If all of us come out firing we are a hard team to beat but we can't have patches of not playing well or where our defence is off. We have to play the full 40 minutes because Townsville will be doing that no matter what."
While knowing that the heartbreak of losing another Grand Final with such expectations would be magnified for the Flyers, Blicavs instead is taking the positive approach of thinking just how good of a feeling it would be to win.
She did win previously in Bendigo in 2014 but her season this year with the Flyers has been brilliant with 13.9 points and 7.2 rebounds a game. Her drive to experience that championship feeling again has never been greater.
"For me personally that gives me motivation thinking about winning. I've won with Bendigo and then in NBL1, I won with Geelong and that feeling of winning especially in a great team where you all get on well is unreal," she said.
"It's a great feeling and it's something I want to go through again, and anyone who has won a championship on our team feels that way. It's more about getting the girls to understand it's one of the best feelings in the world and we want to experience that."
While anything but a championship was never going to be acceptable for the Flyers, Blicavs knows how dangerous Townsville are especially with no expectations, a home crowd behind them and superstars Lauren Nicholson and Shyla Heal who had 30 points each on Wednesday.
"Their defence, pressure and high intensity will always be there, and we know that and they have absolutely nothing to lose," Blicavs said.
"If they don't win tomorrow they will still be very happy with their season. They will come out firing as a result and throw everything at us, but we've probably learnt and picked up a few things we can do differently from playing them.
"We know that they are two very dominant scorers and they base their team really around Shyla and Loz. Both are playing extremely well and Shyla is an absolute ball of confidence right now.
"As much as we have to focus on the whole team, if we can lock at least one of them down and make their other players step up to see how they go that is what we'll try to be doing."
Blicavs went along to Townsville Stadium to watch the Fire beat the Melbourne Boomers in Friday's preliminary final to get herself ready for the Grand Final opponent.
She now is remaining as calm as possible leading into the game but knowing she is part of such a close group with the Flyers who have grown even closer, and with her parents now in town it has her excited for what could happen Sunday.
"It's very rare to have a team where every single person is totally great with everyone, and with the staff as well so we're lucky with that. This experience has made us closer, though, and that's a good thing coming into a Grand Final," Blicavs said.
"We are now playing so we can win it for everyone else, for our coaches, our staff and teammates. We've also got a lot of family members up here too so we have a bit of a support crew even though it won't top the Townsville crowd.
"My parents flew in last Saturday and I was living in Geelong so in the last eight months I'd only seen them just before we flew out so it's great having them here. It's so nice that they can now go through this with us and if we can it will be so nice to go over there and give them a big hug."
Chris Pike is a freelance contributor to WNBL.basketball
Broadcast Details
Jayco Southside Flyers v JCU Townsville Fire
At Townsville Stadium
Sunday 20 December 2020
2.00pm AEST / 3.00pm AEDT
LIVE on Fox Sports Ch 507, Kayo and the ABC primary channel plus ABC iview